Custom Rostering System FAQs
Answers to some frequently asked questions about eRostering and our Custom Rostering System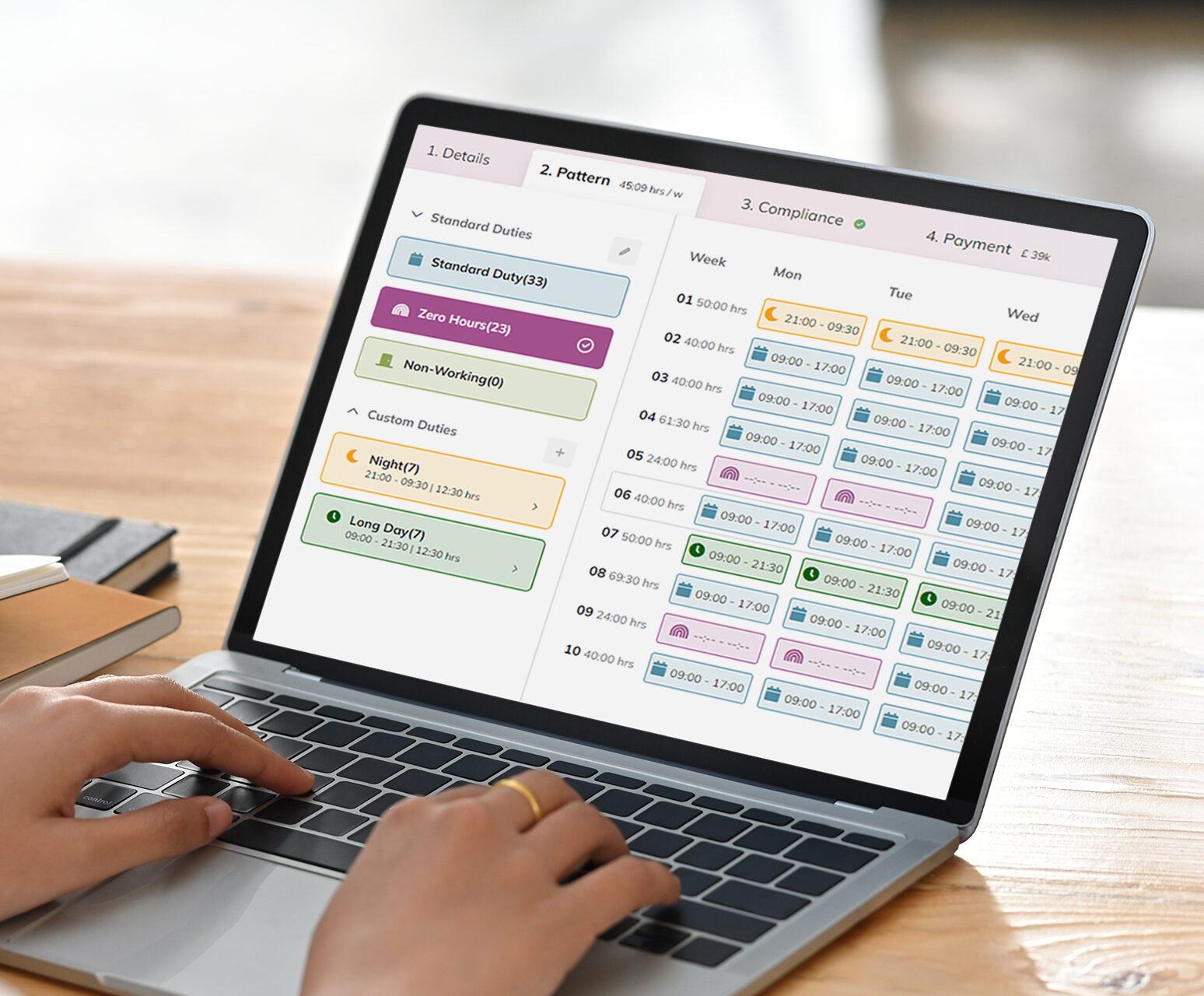 Our new Customer Rostering System (CRS) contributes towards safer, more efficient hospitals by helping produce compliant rosters for any clinical staffing group. Now, ensuring that the right person is in the right place at the right time, takes minutes, rather than hours.
Additionally, with CRS, reporting is customisable, meeting the needs of each user, providing 'your data, your way.'
More information about CRS can be found here, where you can also arrange to speak with one of our rostering consultants.
For any staff member, you'll need to make sure they are compliant with their own specific terms and conditions, found at NHS Employers.
These T&Cs are all captured within CRS as a series of rules that can be applied to a work pattern or rota. The T&Cs ensure that staff are working safe and compliant hours and achieve sufficient rest.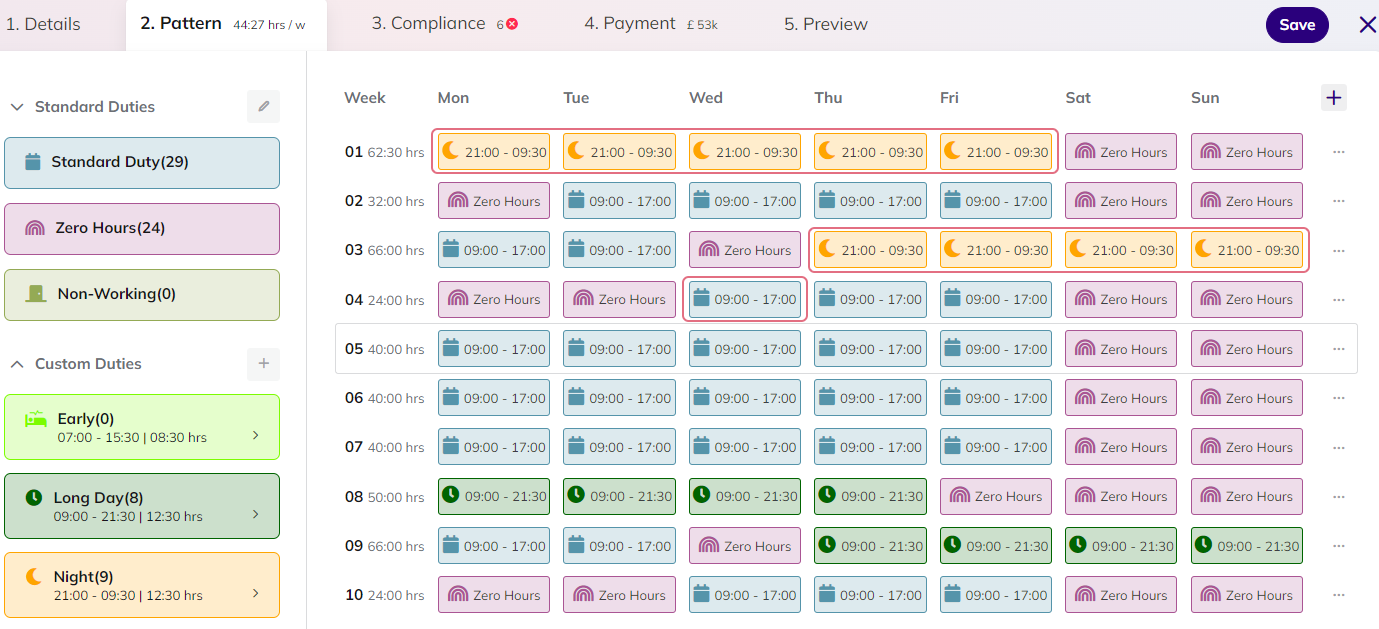 CRS highlights any compliance issues as soon as they occur and gives a full breakdown of the problem. This can be carried out for any contractual T&Cs. Any combination of rules can be added to the system, alongside the standard defaults, such as European Working Time Directive (EWTD), or the 2016 Junior Doctor Contract.
Yes, all of your staff can be included on CRS, giving you visibility for every staff member on one single platform.
Each staff member on CRS has their own user profile, which controls how their work is managed. This includes their standard working hours, compliance regulations, their leave and absence settings, their roles, grades and competencies, and their rostering preferences.
CRS's custom roster views allow you to add any combination of staff, so you have visibility of the staff you need.
Yes, within CRS you can see all staff that are rostered to work at any time, on any day. This "all staff" roster will show every shift for every worker within the hospital, and help you find whomever you need in an emergency.
Yes, LTFT staff can be handled entirely within the system. Their own individualised contracts can be configured to account for their personal circumstances. Their work patterns can also be amended to account for their own unique circumstances.
LTFT work patterns can be amended to account for their own personal contributions to weekends and availability allowances. When these staff are added to the roster, their personal work patterns will be added too, along with their personal hours expectations and leave entitlements.
Yes, CRS can be used to manage leave for any member of staff on the system. All leave types in CRS can be customised, and the typical configuration accounts for annual, study, sick, special, and time off in lieu. Each individual on the system can have the leave available to them amended and controlled, so that leave for one staff group can be managed differently to their peers. Everyone has a leave entitlement, and these can be configured to reset on a rolling basis.

CRS includes a staff analysis tool called "coverage rules". These rules can be used to make sure you have the right staff available, on the right duties, during particular days or times of the year. These cover rules can be used explicitly on bank holidays, or during known busy periods, to check how many staff are available or unavailable, how many are on a particular shift at a particular time, and how many have the skills that you need. Any time these rules are not met, you will receive warnings from the system to highlight any changes you need to make so the roster is compliant again.
Bank holidays in particular are based upon your organisation's location and region and are updated automatically when any changes occur, such as in 2022.
Staff can view, manage, and request leave from any device. They can review each of their entitlements, and all records for upcoming, taken, or pending leave requests.
CRS is an online rostering platform, available on any browser, and accessible anywhere, any time. An app for your staff will be available soon for both Apple and Android devices.
If your organisation is using CRS, please contact your system administrator for registration details.
Yes, the duties within CRS can have any colour associated with them. For example, different types of night shifts could be given distinctly different colours and icons to help differentiate between the different nights. Alternatively, stock duties can be used to create templates that are shared across the whole organisation. All night duties across the system could be given similar colours, with unique names and icons, such as all nights being different shades of green, to differentiate them from non-night duties.

Yes, each exception report allows users to notify others within the organisation. This could be colleagues who may be nervous to submit an exception, it could be department heads, guardians of safe working hours, Directors of Medical Education, or it could be the medical staffing team.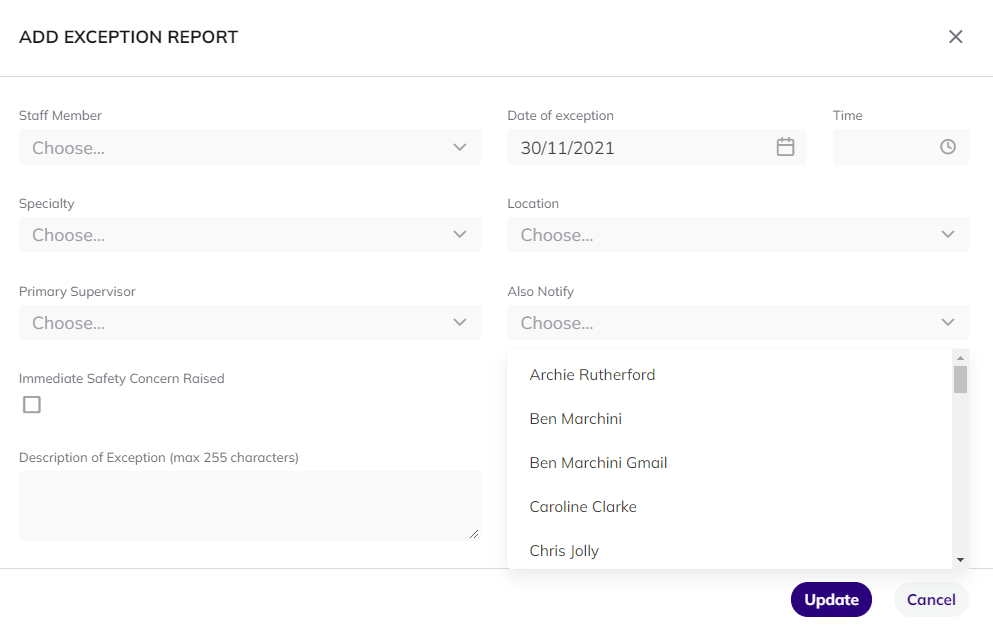 Yes, access permissions within CRS allow organisations to have greater control over who can access which parts of the system. Each user can be given their own unique combination of user roles, to reflect their responsibilities outside of the system.
Yes, any duty that is not being used within an unpublished work pattern can be removed from the duty list. The duty list should reflect the list of duties a person may end up undertaking as part of that work pattern or live rota, so defunct and old duties can be removed for forthcoming rotas.
Within CRS, each work pattern has a notes section that can be used by medical staffing users to keep a record of any extra data they require, such as who created the work pattern.
Any exception report in CRS can have a note added to it to mark it as erroneous. This can then be filtered out accordingly when carrying out further analysis on Exceptions overall.
Yes, any exception report can have notes added to it by anyone who can view the exception. This is carried out separately to responding or actioning the exception and allows the data in CRS to act as a single source of truth for the exception.
If a supervisor has changed after an exception report has been submitted, is it possible for them to see/respond to this via CRS.
All exceptions are available to supervisors within CRS. Any supervisor on the system can filter to any particular exception and add their notes and outcomes accordingly.
Custom roster views and reporting insights
Read specialist insight pieces from some of the health sector's leading experts – or download brochures, case studies and reports from our extensive library.
Downloads and useful resources