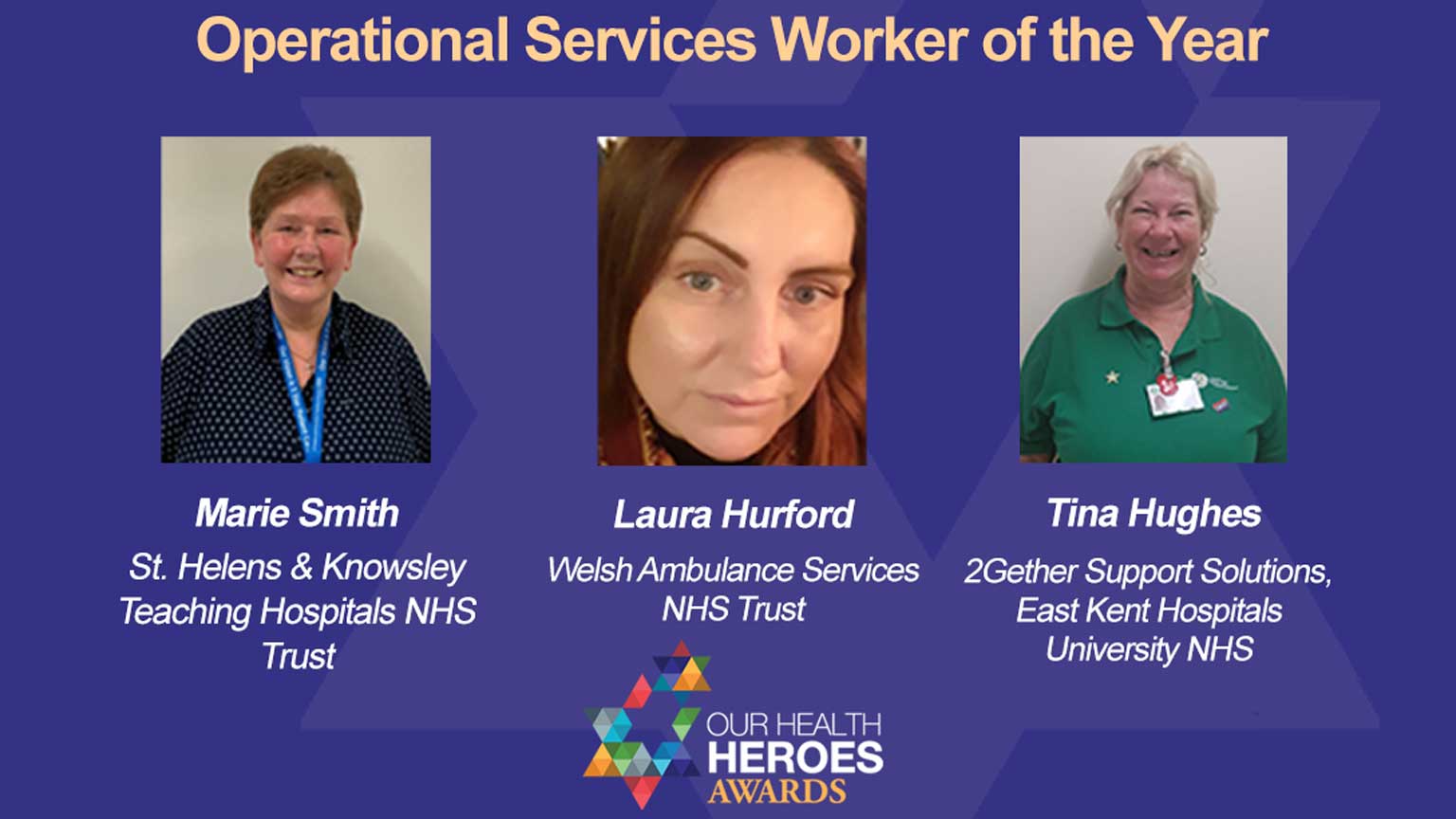 16–19 MINS
A hospital domestic assistant, an ambulance trust administrator, and a hospital ward clerk are all finalists in this year's Our Health Heroes Awards. Find out who will take home the UNISON Operational Services Support Worker of the Year national trophy by booking your free place at the March 23 virtual ceremony today.
The last twelve months have well and truly confirmed how fortunate the NHS and the UK are to have so many staff, in such a wide range of roles, dedicated to working as one healthcare team, delivering exceptional, compassionate care to millions of people every day.
Over the years, there have been numerous metaphors used across the media to describe our NHS workforce. Junior doctors have been dubbed the 'backbone' of the NHS, nurses referred to as 'angels', and GPs as the 'bedrock' of the NHS. All of these are well-deserved. 'Heroes' is a description that is liberally used for frontline staff, and of course it is applicable, but it's particularly apt for those staff who work 'behind the scenes', providing vital care and support, but in less well recognised roles.
Operational Support Workers play a crucial part in our healthcare services, keeping people, systems and processes running, without whom the NHS simply could not survive. Sara Gorton, Head of Health at UNISON, sponsors of the Operational Services Support Worker category, sums up just how important it is that these 'heroes' are recognised:
"The past year has been extremely challenging for the entire NHS. Staff have been placed under extreme and unprecedented stress and, in many cases, pushed to the limit. But the pandemic has also reminded us that the NHS cannot function without the entire team. When the stakes have never been higher, the porters, cleaners, administrative staff, IT technicians, reception, and security staff – and the many other roles often overlooked for praise or awards – have risen to the challenge." 
This year's three UNISON Operational Services Support Worker of the Year Award finalists are:
Tina Hughes has worked for the East Kent Hospitals University NHS Foundation Trust for over 14 years.
As a Domestic Assistant for 2gether Support Solutions, on the Rainbow Ward at Queen Elizabeth the Queen Mother Hospital (QEQM), her passion for this role is clear. But it was during the early stage of the pandemic when Tina's passion for helping others shone through.
When a colleague's 94-year-old grandfather had been an inpatient in QEQM for just over two weeks, and the family were unable to visit him due to the pandemic, Tina helped the family keep in contact with him, during this very emotional and distressing time. Initially, Tina communicated verbal messages, but when he contracted COVID-19 and had not much longer to live, and when no one in the family had seen him for nearly three months, Tina went to long lengths to enable video calls for numerous members of the family, using her own phone. Tina's support gave the family an opportunity to say a final goodbye they will never forget.
Tina's colleague said: "I have known Tina for years, and she has always been a positive presence on the ward for staff, children and their families, but this time her personal help to me and my family has totally gone beyond all expectations. I have told Tina how much her help means to us."
Trudy Gleeson, Director of Facilities Solutions for 2gether Support Solutions said: "The whole team are delighted that Tina has been recognised by the Our Health Heroes Awards for her outstanding commitment and dedication. Tina is an excellent role model to staff across the whole organisation. However, she is very humble about what she does, and perhaps doesn't realise the incredible positive impact she has on the people she works with, as well patients and their families."
In January 2019, Tina took part in making a short video about her role. When she heard about her shortlisting she said: "I am very proud to be recognised with this award. I am humbled, as I consider myself just part of a role within the NHS. I'm overwhelmed – I believe that we are all heroes and part of the NHS family. Thank you!" 
Laura Hurford fulfils the role of Learning and Development Senior Administrator for Welsh Ambulance Services NHS Trust (WAST). Despite significant personal challenges, Laura recently successfully completed the Level 4 Diploma in Business and Administration. Having never enjoyed school and feeling "not clever enough" to achieve high grades, Laura rebelled against learning, leaving school with two GCSEs and no idea what she wanted to do for a career.
In 2004, Laura gained employment at WAST in the role of Administrative Assistant. Demonstrating great potential and capability, Laura was later promoted to Senior Administrator. Given Laura's previous attitude to learning, she was keen to prove to herself that she could achieve this qualification and in turn, improve her confidence on both personal and professional levels. Being based at the National Ambulance Training College, Laura is surrounded by education on a daily basis and took the initiative to source a meaningful and relevant programme of study to undertake.
Laura was recently afforded the opportunity to take on additional responsibility within her role; she grasped this with both hands and continues to exceed expectations. Laura used the opportunity to really apply theoretical learning to make improvements in the workplace and enhance her professional practice.
Laura said: "My professional and educational journey has only been possible with the guidance, mentorship and support of my colleagues. I endeavour to continue sharing my learning experiences and champion the value and importance of our corporate services and skills."
An excellent example of Laura's application of newly acquired knowledge, skills and confidence is significant financial savings. Laura recently worked with a colleague to plan alternative education delivery that resulted in a saving of c.£30,000 in hotel costs, a success that was celebrated across the organisation and a method that is now replicated continuously.
Laura is responsible for the management and supervision of the Trust's national Learning and Development administrative Hub. As part of her studies, Laura undertook a process mapping exercise of Hub processes and used the findings to introduce methods of reducing duplication of work, minimising errors and omissions and ensuring timely reporting of compliance data. This greatly improved reporting processes, enabling more timely and accurate reporting to the Executive Team and Welsh Government.
Laura is a kind and compassionate colleague and leader, who is always willing to go the extra mile to support team members both professionally and personally. Demonstrating her leadership skills and abilities, Laura introduced monthly Hub meetings, providing the team with the opportunity to discuss and resolve issues, celebrate success, and monitor performance. She is a highly valued member of the Education and Training Team and is well respected throughout the organisation.
Laura said: "For the past 17 years I have had the privilege to work for the Welsh Ambulance Services NHS Trust within the Education & Training Team. This year I am particularly humbled and even more proud to be a part of Team WAST as we continue to face the challenges of COVID-19, keeping our patients and our people safe."
In addition to her role, Laura has volunteered her time and skills to support WAST's Administrative and Clerical (A&C) Professional Development Initiative. As part of this, Laura led the design and facilitation of an organisational Training Needs Analysis of the A&C workforce, utilising valuable knowledge and skills acquired during her studies.
Having overcome her own limiting beliefs and numerous obstacles, Laura inspires others to follow her lead and invest in their personal and professional development, championing the value and importance of A&C services and skills.
Andrew Challenger, Assistant Director Professional Education & Training, WAST said: "We are so pleased to see Laura's dedication, work ethic and compassion formally recognised. She is such a key member of our team. Laura continues to juggle home and work responsibilities whilst continuously developing herself, despite the challenges presented by the pandemic. Administrative and clerical colleagues are some of the unsung heroes of the NHS, and it is so important that we recognise the contribution of this hugely valuable workforce. Well done on this fantastic achievement, Laura!"
Laura adds: "To be nominated for Our Health Heroes is an honour. To be a finalist is unexpected but absolutely amazing, especially in this category. It's so important we promote, recognise, and celebrate all our corporate support colleagues who are without doubt a key function in any organisation."
Marie Smith has been a valued member of the St Helens & Knowsley Teaching Hospitals NHS Trust since 2013 and plays a crucial role as Ward Clerk within the Intermediate Care Unit team. Marie helps to co-ordinate discharges, acting as a vital link to bring many different services together.
Marie goes above, beyond, and out of her way to help patients. Her ability to adapt to changes in the workplace brought about by the pandemic, and her commitment to ensuring patients and their relatives can stay in touch during this time has been incredibly valued by her team. Since COVID-19 halted visiting, Marie's job of answering the phone to relatives increased dramatically, yet she took this on, in her usual cheery manner. She makes the take time to check-in with patients as to how they are and is forever running up and down the ward with mobile phones so patients can still communicate with their families.
Sue Redfern, Director of Nursing, Midwifery and Governance, said: "Marie's unwavering commitment, along with her enthusiastic and compassionate nature, is highly praised by her colleagues. She is always willing to go the extra mile in supporting the delivering of a quality service and has further improved the hospital experience for our patients and their families at a very stressful time. Marie is an excellent example of what it means to deliver 5-star patient care, and she is an absolute credit to the Trust."
Marie collects and records information on a ward database to support clinicians with NHS benchmarking, service review and maintaining a quality service. This data is essential for informing recruitment business cases. Marie is happy to help anyone, staff, and patients alike, and her colleagues feel they would be lost without her.
Marie said: "I was incredibly surprised when I heard about the Our Health Heroes award, as I feel I am just doing what my colleagues, patients and families should be able to expect from any person in my position. However, I feel extremely honoured that my colleagues took the time to nominate me, and that I got through to this next stage. I love my job and I am extremely passionate about working for the NHS and just try to do the best for my colleagues and –more importantly – for the patients. This award means so much to me after the difficulties of the past year working throughout the pandemic."
Voting has now closed for the UNISON Operational Services Support Worker of the Year category, winners will be announced at the Our Health Heroes Awards ceremony on March 23. The winner will be announced by Sara Gorton, Head of Health at UNISON.