Introduction
The National Wound Care Strategy Programme (NWCSP) commissioned the development of this core capabilities framework for health and care staff involved in wound care in England. The framework describes the required skills, knowledge and behaviours to improve wound care in three clinical areas (Pressure Ulcers, Lower Limb and Surgical Wounds).
Background
Wound care in England is thought to cost approximately £8.3 billion per annum. There is marked unwarranted variation in treatment of wounds, with underuse of evidence-based practice and overuse of ineffective interventions. Non-healing or delayed healing of chronic wounds is a major factor in care costs and many of these wounds could be prevented or healed more quickly.
The NWCSP is established to enable care that is organised and research-informed, to achieve improved healing rates, better experience of care, greater cost-effectiveness and prevent incidence and recurrence. Education forms a major part of this national programme with one of the aims to develop core capabilities for health and care practitioners that will both improve care and promote self-care.
In 2021, in partnership with Skills for Health, the NWCSP published the National Wound Care Core Capability Framework for England. The purpose of this multi-professional, multi-level framework was to support the development and planning of the workforce who provide wound care and to inform the design of education, training, and development programmes.
Since then, the NWCSP has worked with eLearning for Health to develop a suite of online free-to-access education resources and this, along with requests and suggestions from interested health and care professionals, has led to an updated version which has been renamed the NWCSP Wound Care Workforce Framework. The original capabilities are unchanged but additional material has been added to signpost to resources to address gaps in knowledge and skills and a 'career framework' has been added for those seeking a career specialising in wound care.
Purpose and scope of the framework
The Core Capabilities Framework identifies and describes the skills, knowledge and behaviours required to deliver high quality, person-centred, wound care.
People with wounds are cared for across health and care settings and services. There is currently variation in wound care related knowledge and skill across the health and care workforce, with pockets of expertise found in specialist and community services. To ensure that someone with a wound receives the care they need it is necessary for all health and care practitioners to have wound care related knowledge and skill.
The Core capabilities are described in three tiers and a practitioner working in a health or care setting, may move between these tiers depending on their role, setting or circumstances.
Development of the framework
Project management was provided by Skills for Health and Health Education England. Preliminary desk research was undertaken to identify key references, resources and significant themes or issues for consideration. An initial iteration of the framework was developed based on the findings of the desk research.
Further development and iterations of the framework were guided by an Expert Group of representatives from a range of key stakeholder organisations.
A wider reference group of stakeholders was also established to include a more diverse range of organisations and individuals who wished to be updated on the development of the framework and to provide comments or feedback as part of the consultation process.
Download the framework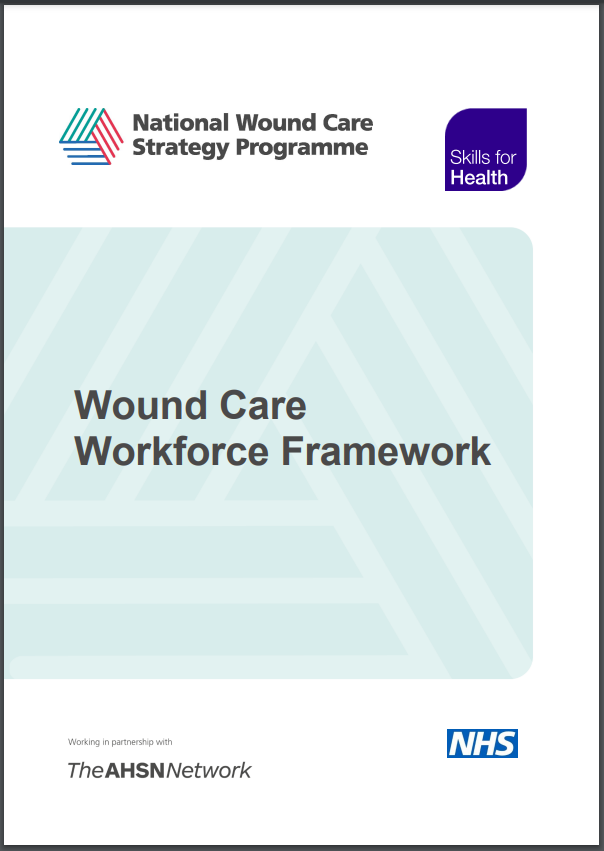 Click here to download
the framework
Tier 3 of this framework also aligns with the Multi-Professional Advanced Capabilities Framework for Lower Limb Viability / Capability A3. Condition management, treatment/therapy and care (Health Education England 2021): www.skillsforhealth.org.uk/LowerLimb-framework
Sign up to receive updates from Skills for Health
By signing up to our monthly newsletter, HealthView, you can hear all the latest news and developments on our work – including framework updates, consultations or launches.