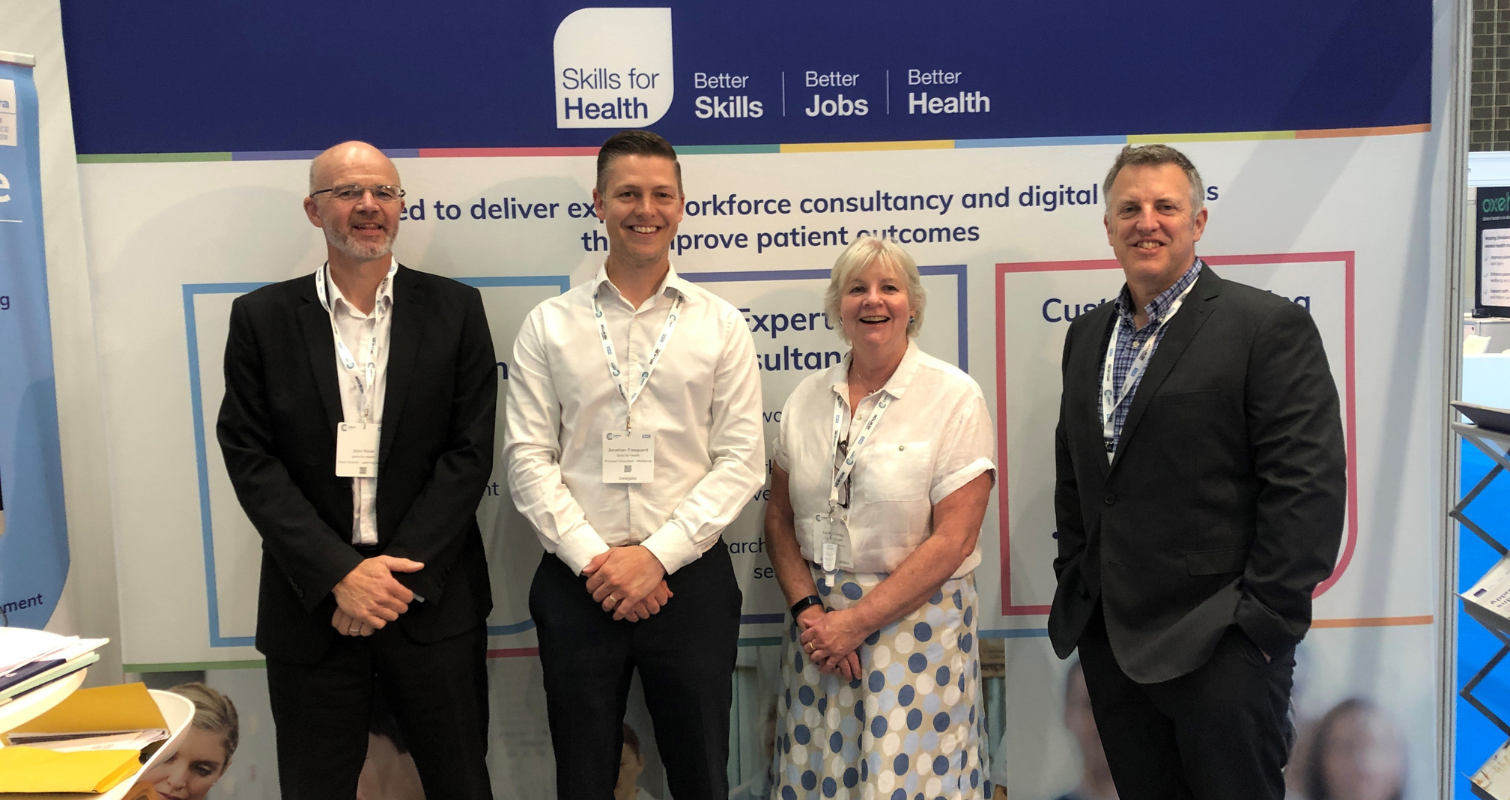 5 MINS
By Skills for Health | 29 June 2022
This month, NHS Confederation, NHS England and NHS Improvement united to bring 6,000 healthcare leaders together at a time of immense transformation and recovery. 
Held at ACC Liverpool, NHS Confed Expo provided a platform for NHS employers, suppliers, charities and more to network and exchange ideas on how to build a health service fit for the future. 
With that in mind, we take a look at the key themes of this year's conference. 
1 – It's great to be back! 
After a two-year absence due to Covid-19, there was a sense of excitement about being back in person once again, but more fundamentally there was an appreciation of why this was possible – the NHS. 
In his opening address, NHS Confederation Chair Lord Adebowale took a moment to thank the "hard work and heroics" of NHS staff who battled through the pandemic, before praising the enduring principles and values that underpin our NHS. 
His message was clear: the NHS remains an institution that can be relied upon to get us through the darkest of times. 
2 – Recovery and resilience 
Having experienced arguably the toughest period in the nearly 74-year history of the NHS, recovery and resilience were at the forefront of delegates' minds. 
The past two years have had a significant physical, mental and psychological impact on the NHS workforce. 
With staff health and wellbeing a key priority, a raft of innovative and impactful health and wellbeing programmes, interventions and systems were showcased throughout the Expo. 
Staffing to cope with future service demand was another key topic of conversation. 
Opening up career pathways, widening participation and recruiting to shortage occupations – have all been brought into sharp focus since the lifting of social distancing restrictions. 
3 – Sustainability 
A dedicated zone on the main floor of the exhibition hall hosted a series of talks on sustainability throughout the 2 days in Liverpool. 
Having become the world's first health service to commit to reaching carbon net zero, NHS leaders are gearing up to reduce 80% of scope 1, 2 and 3 carbon emissions by 2032. 
2040 is the NHS's evidence-based target for achieving net zero. 
4 – Digital and data transformation 
Digital technologies are increasingly central to the delivery of healthcare services. 
Skills for Health were among a significant number of exhibitors who are developing innovative digital solutions to improve the delivery of healthcare services. 
What's more, a dedicated 'Digital and data transformation zone', saw speakers from NHS England and NHS Improvement, NHS Digital and more take an in-depth look at how to make the best use of digital technology to support the delivery of efficient, effective and safe care. 
5 – Whole person, whole population approach to health 
"We should be asking patients not 'what is the matter with you?', but rather 'what matters to you?" was CEO of NHS England Amanda Pritchard's message on day 1 of the conference.  
A message which was echoed throughout. 
The shift to a whole person, whole population approach to healthcare was in razor-sharp focus, with Integrated Care Systems moving to a statutory footing from July.