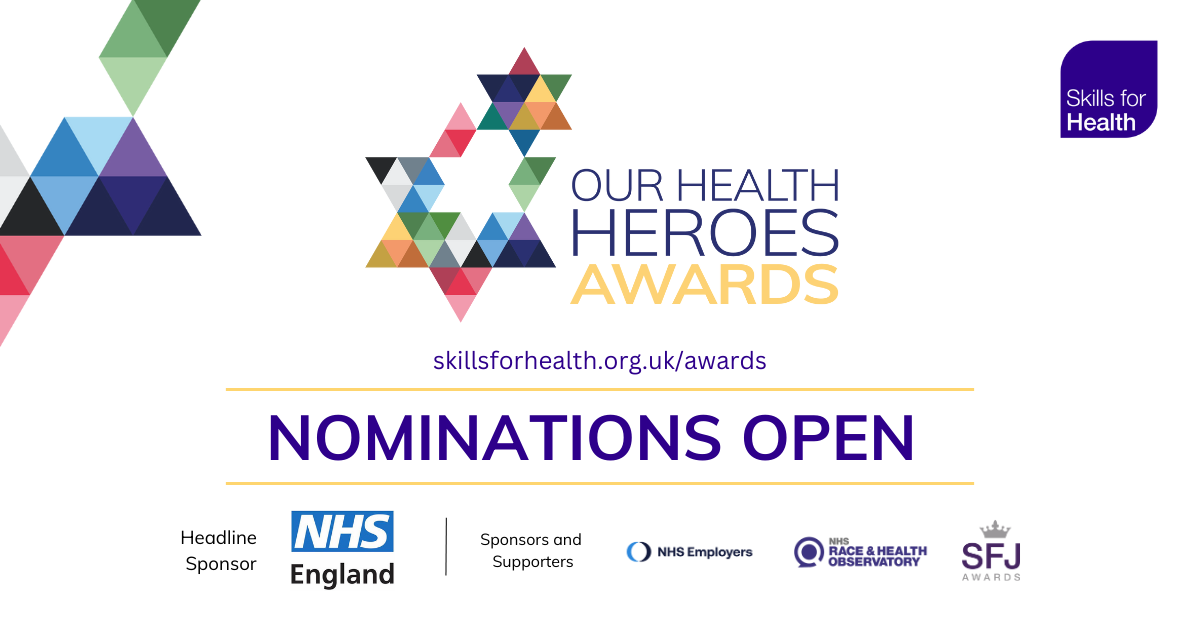 4 MINS
By Skills for Health | 13 November 2023
Nominations are open for this year's Our Health Heroes Awards, delivered by Skills for Health.
Our Health Heroes celebrates the wider healthcare workforce that supports NHS doctors and nurses on the frontline. From porters and cleaners to receptionists, gardeners and security guards, these often unsung heroes make up roughly 40% of the NHS's million strong workforce.
Our Health Heroes Awards is a national celebration of their achievements and an opportunity to give thanks for the important role that they play in keeping the health service functioning.
New for 2024 is the Healthcare Volunteer of the Year award, which recognises the valuable contribution of volunteers who give their time freely to support our healthcare system. With more than 300 voluntary roles in the NHS, we invite nominations for those who go above and beyond in their free time to brighten the lives of not only patients and services users, but also staff.
Our Health Heroes 2024 award categories
Apprentice of the Year
Best Healthcare Workforce Collaboration
Best Healthcare Initiative in a Justice Setting
Best Healthcare Support by a UK Charity
Clinical Support Worker of the Year
Dedication to a Lifelong Learning Culture – sponsored by SFJ Awards
Equity, Diversity, and Inclusion Champion – supported by NHS Race & Health Observatory
Healthcare Volunteer of the Year
NHS Improvement through Digital Innovation
Operational Support Worker of the Year
Outstanding Lifetime Contribution to Healthcare – sponsored by NHS Employers
Nominations close at midday on 7 December 2023. An expert panel of judges will then decide the finalists in each category, before a public vote opens on 13 February to determine the gold, silver and bronze award winners of the five individual awards (highlighted in bold).
The results of the public vote and overall winners of the team awards will be announced at a glittering ceremony held at the QEII Centre in London on 16 April 2024.