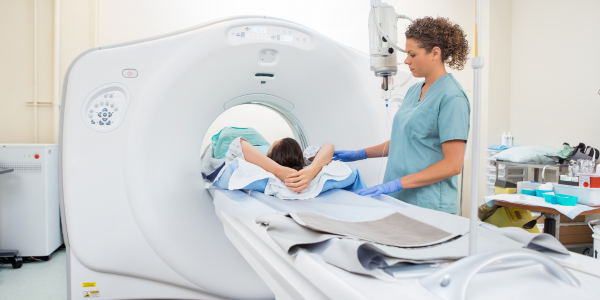 4 MINS
By Skills for Health | 3 August 2023
Facing a local and national shortage of Therapeutic Radiographers, University Hospitals Dorset NHS Foundation Trust (UHD) has embarked on an ambitious project to boost their recruitment and retention with the support of Wessex Cancer Alliance. 
Working with Skills for Health and Health Education England South East it has developed a new structured clinical career pathway for Therapeutic Radiographers focused on breast cancer that will enable progression through to advanced and then consultant level of practice.
It is hoped that expanding and enhancing career progression routes will make a career in therapeutic radiotherapy more attractive to new recruits and help with the retention of existing staff.
Breast cancer is the most commonly diagnosed form of cancer in the UK; it is therefore a top priority to boost to the workforce says UHD Head of Therapy Radiography David Frost.
At UHD we needed to think differently and look at new ways of doing things within therapeutic radiography. Introducing this new clinical career pathway enables a Therapeutic Radiographer to progress all the way through advanced to consultant level which is an exciting prospect both professionally and also for the trust to encourage recruitment and retention and to support improved outcomes for patients.
David Frost, Head of Therapy Radiography, University Hospitals Dorset NHS Foundation Trust
The Wessex Cancer Alliance is providing initial funding over a two-year period to support the advanced progression into Consultant Therapeutic Radiographer roles.
At a consultant-level of practice, those qualified will spend at least 75% of their time seeing patients and will be able to refer a patient for radiation, something which would otherwise be done by a doctor. Furthermore, there is scope for Consultant Therapeutic Radiographers to progress onto doctorate level in the future.
The new pathway also sees the development of additional Advanced Practitioner roles.
Starting at Band 7, undertaking a relevant accredited clinical Master of Science (MSc) over a 2-year period enables progress into the Band 8a role of Advanced Clinical Practitioner in Therapeutic Radiography.
In this role, the practitioner will see new patients, triage for treatment, conduct follow up reviews and more, before moving onto the Consultant role after the necessary education, support and consolidation of competence.
This pathway has an estimated timeframe of five years depending on the candidate.
Dawn Probert is a Senior Consultant at Skills for Health and has been working with Health Education England South East to identify areas of good practice in the cancer and diagnostics careers pathway.
These higher-level roles help establish a full career pathway for Therapeutic Radiographers to progress from registration all the way through the new enhanced practitioner role to advanced practice to the role of Consultant Therapeutic Radiographer.
Having the workforce structure to allow for progression is key to boosting the workforce overall. Recruiting to these roles will therefore improve patient experience, enhance the clinical treatment pathway and support the clinical oncologist team to deliver the service in a timelier way, as well as being an attractive option for attracting Therapeutic Radiographers to the Trust and retaining them.
With a national shortage of Consultant Clinical Oncologists, this career pathway offers NHS trusts and cancer alliances nationwide an opportunity to overcome some of their challenges in recruiting, retaining and developing staff, and to meet the increasing demand for cancer services and improve patient care into the future.
Dawn Probert, Senior Consultant, Skills for Health
Skills for Health, in collaboration with Health Education England (HEE) South East, have been growing the understanding of new and emerging routes into the Cancer and Diagnostics workforce. Find out more >
About Skills for Health
Skills for Health is a not-for-profit organisation committed to the development of an improved and sustainable healthcare workforce across the UK. Established in 2002 as the Sector Skills Council for Health, they are the trusted provider of rostering solutions, eLearning, skills development, research, apprenticeship support, and national standards and frameworks for NHS and private healthcare organisations.