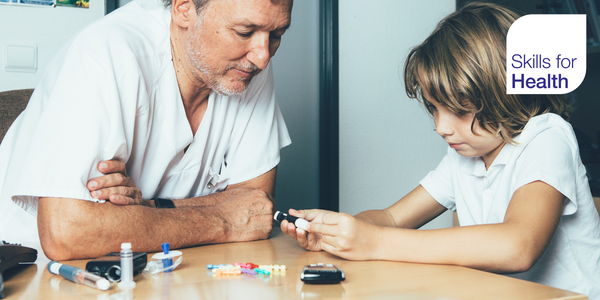 4 MINS
By Skills for Health | 14 November 2022
To coincide with World Diabetes Day on 14 November, Skills for Health and HEAL.med have launched a new eLearning course to aid healthcare professionals to treat and manage under 18-year-olds with Type 1 Diabetes.
The 'Type 1 diabetes management in children and young people course' provides an introductory framework to enable those with no prior knowledge of the disease to treat patients effectively.
By the end of the course, learners will be able to explain the diagnosis of Type 1 and Type 2 diabetes, how to use insulin safely, the monitoring and assessment of blood glucose control, the role of diet in the management of Type 1 diabetes and how carbohydrate counting relates to the correct dose of insulin.
Developed in partnership by clinical experts from University of Leicester Hospitals NHS Trust and HEAL.med, a social enterprise specialising in diabetes education, the course is available now via the Skills for Health eLearning Platform.
Dr James Greening is a Consultant Paediatrician and Director of HEAL.med – the not-for-profit behind NHS's Diabetes Education App for children.
Speaking about the launch of the 'Type 1 diabetes management in children and young people' eLearning course Dr Greening said:
"Type 1 diabetes is the most common form of diabetes diagnosed in children across the UK. Of the estimated 35,000 children and young people with diabetes, around 95% of those have Type 1.
"The UK has the fourth highest rate of children and young people with diabetes in Europe and has historically been one of the worst performing countries in terms of blood glucose control.
"Over the last 10 years the need to improve the delivery of paediatric care has been recognised and it is now well understood that a full system approach is needed.
"Against this background, we have developed this comprehensive eLearning course, which is tailored to the specific needs of children and young people with Type 1 diabetes, to enable the wider health and care sector manage their disease effectively."
Paul Walker is CIO of Skills for Health – a registered charity which offers the 'Type 1 diabetes management in children and young people course' via its Skills Platform eLearning website. Paul comments:
"Through our Skills Platform we have made this eLearning course ultra accessible, not only in terms of offering learners flexibility, but also through affordable pricing.
"We are proud to be able to play our role in developing the skills of multi professional health care teams as we support ongoing efforts to young people affected by this chronic health condition."
The 60 min CPD eligible course has 7 modules and is followed by a multiple-choice assessment with a pass mark of 80 out of 100. To find out more visit Skills Platform.
About Skills for Health
Skills for Health is a not-for-profit organisation committed to the development of an improved and sustainable healthcare workforce across the UK. Established in 2002 as the Sector Skills Council for Health, they are the trusted provider of rostering solutions, eLearning, skills development, research, apprenticeship support, and national standards and frameworks for NHS and private healthcare organisations.
About HEAL.med
HEAL.med is a Not-For-Profit Social Enterprise in the form of a Community Interest Company which aims to bring innovative education to people who have had a lifechanging diagnosis in the form of diabetes, type 1 in particular.
We provide education and training to assist in managing this diagnosis to both hospitals and patients.