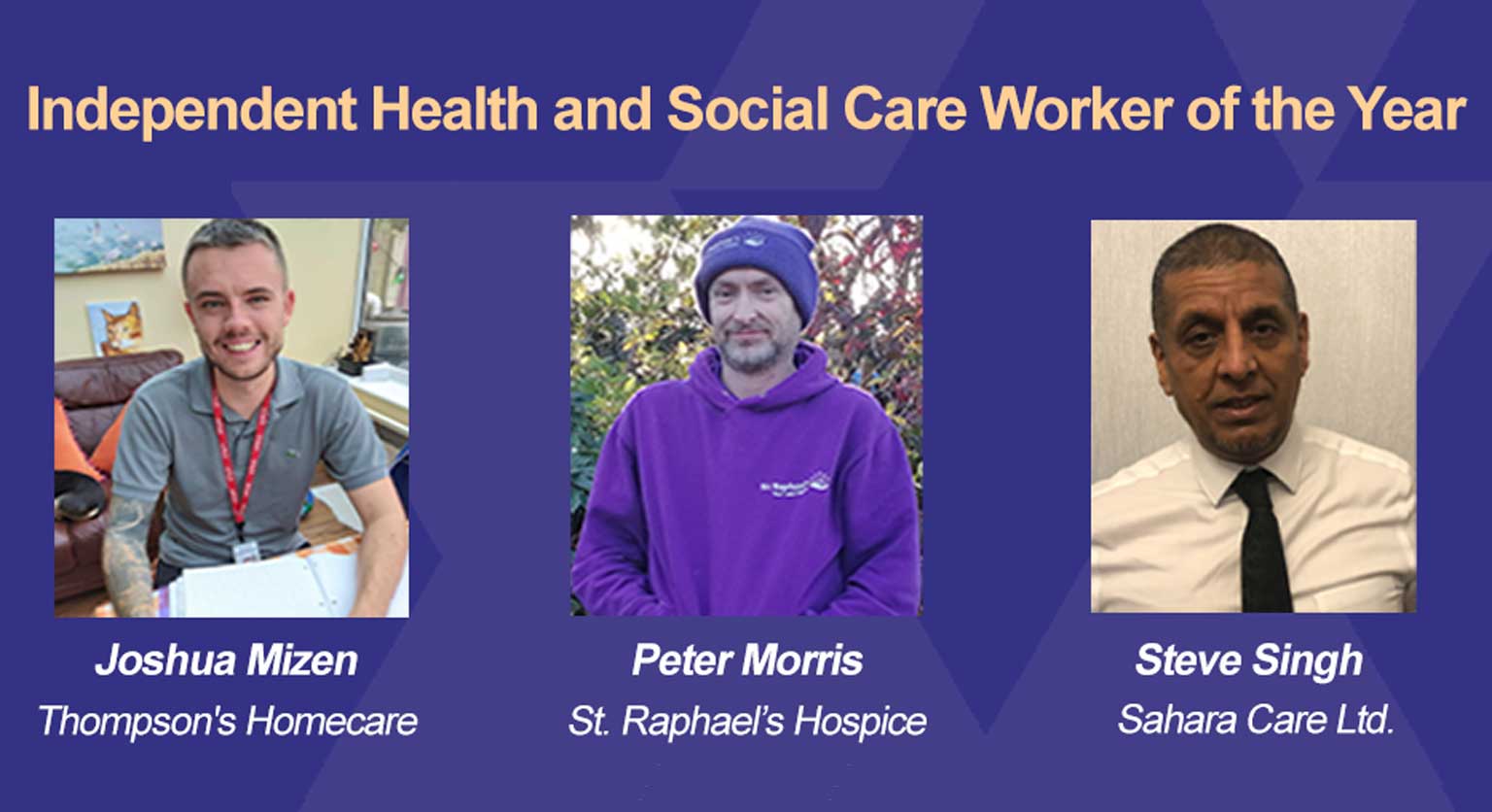 19–23 MINS
A Hospice gardener, a specialist Home Care Support Worker, and a Care Home Support Worker and driver are all finalists in this year's Our Health Heroes Awards. Find out who will take home the national Independent Health and Social Care Worker of the Year crown by booking your free place at the March 23 virtual ceremony today.
Here at Skills for Health we are committed to working with, and championing the entire health and social care workforce, celebrating those who work outside of NHS settings just as much as those who work within them. Which is why this year, we thought it vital to include a new Our Health Heroes Awards category, exclusively dedicated to recognising individuals working at any level in non-NHS health and social care settings, all who deliver impeccable care and support to those who need it most.
This often hidden workforce make-up a crucial part of the health and care system in the UK, caring for patients and services users who may need full-time or specialist care in a Hospice, Care Home, private residence, or part-time care for specialist procedures. Their contribution, through numerous roles within the sector, is critical to the national effort to improve health and wellbeing for thousands of individuals across the country, and without them our most vulnerable would be at risk.
This year's three Independent Health and Social Care Worker of the Year Award finalists are:
When people are at the most vulnerable part of their life, to see a lovely garden, to hear birdsong, and see local wildlife from bed, can be a joy that is immeasurable. Peter Morris, a gardener at St Raphael's Hospice, has transformed the gardens and grounds of the Hospice from a basic corporate landscape, to a green, bright, and welcoming vista, bringing such joy to their patients. This has been a big job and at the start a seemingly thankless one, as there was just so much to do.
Over the past eighteen months Pete has remained focused and committed and has worked tirelessly to improve the grounds around the hospice building, cutting back self- directed bushes and trees, and planting seasonal flowers in newly created beds, as well as unexpected nooks and crannies. This has created swathes of colour across the seasons and has had a positive impact on patient and staff well-being alike. Pete said: "The holistic approach to care is vital, and I am privileged to be a small part of that care by looking after the gardens, which help to bring the patients closer to nature."
Last October, Pete ran a campaign to engage with staff, volunteers, and the local public to give a couple of hours of their time on a Saturday to plant spring bulbs around the grounds and in the patient gardens. The response was really gratifying. Pete had meticulously organised bulb collections and sites for planting, and duly sent everyone off with the said supplies to plant in the designated areas. In the spring the display was just beautiful, with a wonderful array of crocus daffodils and tulips.
In recent months, a number of volunteers have joined Pete to maintain the gardens and grounds. Pete has the ability to direct people with his gentle, warm demeanour and manages to get great mileage from his band of happy volunteers. Pete has even bigger plans for this autumn and is planning a planting of 10,000 crocus bulbs at the front of the hospice which will provide a carpet of lilac in the spring. A vison of purple.
Nick and Gail, joint CEOs, St Raphael's Hospice said: "The landscape was a corporate vista, yet Pete and the team of volunteers who now work alongside him, have begun transforming our grounds into an inviting, colourful and beautiful space. This is so important for the people who are admitted to our hospice, as many of them have a very limited life expectancy. Creating and providing a green space, filled with beautiful flowers and shrubs, and being able to watch the birds and squirrels that have been enticed into the garden, has such a positive, uplifting effect on patients."
In an organisation where the focus is on supporting dignity at the end of life, enabling living plants to create their natural beauty and scent can enable people to connect with the wonder of nature and delight their senses. Pete is the gardening magician who delights in and supports this to happen in St Raphael's, whose patients, their families, and staff are very glad he does.
Nick and Gail added: "We are absolutely delighted that Pete has been shortlisted for this Our Health Heroes Award. Pete joined the Hospice at the start of 2019, and since he took over the maintenance of our gardens, he has managed to create areas of order and beauty, which can be enjoyed by our patients, their families, and our staff. Pete's contribution to the wellbeing and the quality of life of our patients is invaluable, and this is why it is so important his efforts are recognised and acknowledged."
Pete said: "It is a real honour to receive this award, and to be recognised for the work and impact that I and the team of volunteers have made in the grounds of St Raphael's Hospice. To receive this award for doing that makes me very proud of the work we've done, humbled that it's been recognised in this way, and provided me with the determination to keep going. Thank you."
Joshua Mizen joined Thompson's Homecare, fresh out of college as a stop gap between college and working as a personal trainer. He was employed as a Specialist Support Worker to escort a young blind man and his guide dog to college. While working with the man, he came into contact with the man's brother, a man who has profound learning disabilities and severe autism, who can be unpredictable and very aggressive.
Joshua was often physically attacked by the man's brother, resulting in physical injury, but he always reacted to him with kindness, compassion and understanding. He never moaned, was never late, and arrived at work happy and enthusiastic. In fact, quite the opposite. Josh began arriving at work early and leaving late to enable him to actively seek out the company of the man's brother, and over the following months he gained a trusting relationship with him, and was able to bring the brothers together, engaging them in different activities, significantly improving their lives.
Shelagh Thompson, Manager, Thompson's Homecare said: "Independent Heath and social care workers, employed directly by the person or family of the person they care for, carry a heavy burden on their shoulders. They provide bespoke care and support, mostly at minimum wage, and are a lifeline enabling people to be cared for with their family or in their own homes. They must have cool heads, warm hearts, and outstanding communication skills." 
Josh now helps to write and review support plans for both men in his care. Due to his in-depth knowledge of the family he supports, he was able to identify problem areas that would set off a spiral of behaviour and aggression, and with some really innovative thinking, and trial and error, he has made some really positive changes.
Josh confidently teaches new recruits and is an integral part of his team. He works closely with his manager, the pairs mother, and the other team members to ensure every day is a good experience for all. He also actively supports other staff to work positively with them, with a "can do" attitude and a lot of patience.  Those he cares for and works with say: "Josh is a remarkable and very committed young man."
Josh said: "I'm committed to caring for the guys. It is the best job in the world and being directly employed means I get hands on everyday experience, working side by side with the family as well as accredited formal training. This has allowed me to form a strong trusting relationship with guys I support, which has aided my ability to communicate with them, leading to a more meaningful experience for them."
Josh is innovative and creative with the different activities he coordinates and has gone the extra mile to improve the lives of two young men, enabling them to remain living with their family at home and enjoy their lives. He is not afraid to tackle the harder tasks when something goes wrong and is a strong role model.
During the onset of the pandemic, Josh dropped everything and moved in with the family, so he could help keep them all safe as the brothers went into shielding. Shelagh said: "The pandemic shone a light on how many support workers made sacrifices to enable them to continue caring and supporting their employer. In our case Josh moved into the family home and shielded with us, sacrificing his own warm bed and free time and his life with his girlfriend. It is vital to champion the role of these incredible people, and to recognise their outstanding contribution, because even though they are not given any priority whilst shopping, or on public transport, or even for the vaccine, they carry on regardless."
Josh has a strong sense of justice, but he has seen for himself how caring, compassion and empathy can positively impact the quality of life of a person with extra needs. He is a committed and competent team member who instils confidence in his colleagues, those he cares for, and their family. He truly goes above and beyond his duties and has made a whole world of difference to the lives of the family he is a part of.
Shelagh said: "We are all delighted Josh has made the shortlist for the Our Health Heroes 'Independent Health and Social Care Worker of the Year Award'. He has made such a difference to the lives of the young men he supports. He is committed to ensuring they have very positive fulfilled lives and is a very caring and compassionate young man. It is a pleasure to work with Josh and we feel very blessed to have found him."
Josh added: "Being a finalist in the Our Health Heroes 'Independent Health and Social Care Worker of the Year Award' is a huge pat on the back for me. All carers and support workers in the community, are the real hidden heroes and an essential lifeline for the people we support. I was over the moon to even have been nominated for this award, but to find out I have made the shortlist is a real honour and it makes me happy."
Steve Singh has been employed as a Support Worker and Driver for Sahara Care since 2007. A typical day sees him spend a great deal of it ferrying service users to their day centres, or appointments in a minibus, as well as offering support with activities and personal care. Steve is a true unsung hero for the things he does when he does not know anyone is watching.
Steve works in a care home for younger adults with a range of needs including learning disabilities, autism and mental health, and a number of people he cares for have complex needs including physical disabilities.
He can often be found encouraging residents to use the in-house gym, and he personally leads a regular yoga session. Steve's laughter yoga session is a joy to behold with both staff and residents alike taking part and having fun.
On a number of occasions, colleagues have witnessed Steve voluntarily walking elderly parents to the tube and have noted the care and tenderness with which he has ensured their comfort when they visit their loved one at his home. If there is an in-house event, such as a bake off competition or fashion show, Steve will always be willing to buddy with someone who would be reluctant to take part, in order to ensure that they have a wonderful time. He isn't scared to have a go himself in order to encourage others. If a resident needs to get something that is important to them, Steve will ensure that they are fully supported to do so.
The pandemic has been a challenging time for all, with 'normal' routines being impossible. For service users who do not understand the pandemic this has been particularly challenging and unsettling. Steve has stepped up to help ease the tension by taking residents for drives out in the van whilst ensuring social distancing and infection control protocols were upheld. Everyone commented they "loved his mystery tours!"
Throughout the pandemic Steve has been assisting other services with shopping runs when usual routes were impossible, or food was hard to obtain. Nothing has been too much trouble for Steve, and he has always assisted colleagues with a smile. Steve is never too busy to help a colleague, relative, or service user, and he is a positive role model to the people he supports. His less experienced colleagues will seek his advice and guidance when needed. Steve's peers all feel his dedication and commitment is worthy of recognition and they feel deeply privileged to have him as a colleague.
Voting has now closed for the Independent Health and Social Care category has now closed, winners will be announced at the Our Health Heroes Awards ceremony on March 23. The winner will be announced by David Hare, Chief Executive of the Independent Healthcare Providers Network.