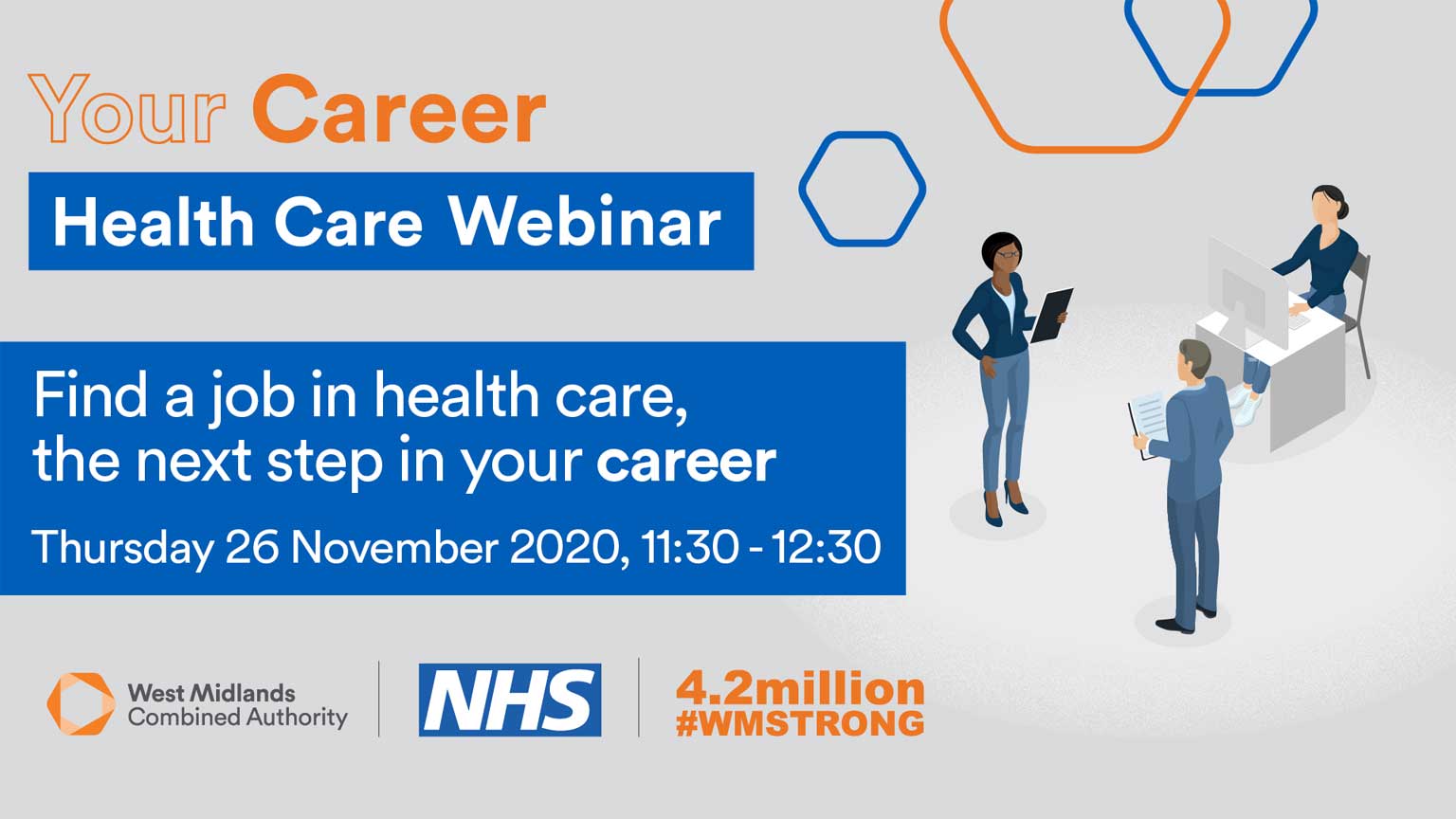 7 MINS
As unemployment across the UK continues to rise, so too does the demand on our healthcare workforce. There has never been a more vital time to champion the rewarding careers that our NHS can offer, with such a wide variety of job roles and different pathways available, many that are non-clinical positions, and a lot of people do not even know exist.
There are more than 350 careers in our NHS, and with more than 1,500 jobs currently available in the West Midlands, while COVID-19 has seen unemployment double in the region and redundancy rates reach the highest in the country¹, the West Midlands Combined Authority (WMCA) is helping to raise awareness of these hundreds of different roles available.
Established in 2016, by the seven metropolitan councils in the region (Birmingham, Coventry, Dudley, Sandwell, Solihull, Walsall and Wolverhampton), the WMCA are currently funding a range of training courses to equip local people with the skills they need to gain new jobs in growth sectors. To support the region's economic recovery from the pandemic, WMCA are urging local people to join their online careers fair, offering two webinars providing information about jobs in health and social care on Thursday 26th November 2020.
As the Sector Skills Council for Health, with 20 years' experience in the development of the healthcare workforce, we're thrilled to be invited to join this event, demonstrating our shared commitment with the WMCA in recognising the importance for shining a light on the variety of roles in our NHS. Not to mention, highlighting the number of career pathways available, not only through traditional recruitment routes, but also apprenticeships, vocational qualifications, conversion courses and on the job training.
Jacqueline Pugh, Careers Intervention Partnership Lead, WMCA said:
"The Health and Social Care sector offers a variety of career pathways, both clinical and non-clinical. The health webinar has been developed to raise awareness of the different types of roles in the NHS and the current vacancies that are available and there has never been a more important time to join the NHS, whether that is a first step into employment, a return to the sector, or a change of career. The opportunity to collaborate with Skills for Health has been instrumental in strengthening the message and in amplifying the ambition of the webinar".
Featuring local employers that are recruiting now, together with experts advising on the benefits, rewards and career development offered in the NHS, our Client Director, Anne Clarke, is hosting 'Your Career: Health Care Webinar'. Working in healthcare for over 25 years, involved in hundreds of learning and education programmes, Anne has extensive sector knowledge and is dedicated to supporting the development of our future NHS workforce across all roles, each one vital to making the system run effectively.
Anne Clarke, Client Director, Skills for Health said:
"Although the focus is often on doctors and nurses, in fact the health sector offers over 350 different job roles and provides exciting opportunities for career progression and a rewarding work life. During this challenging year, when the spotlight has been so firmly focused on our essential keyworkers in health, I'm delighted to be part of this event. It is so important to provide high quality information, advice and guidance to all those in our communities who may be interested in pursuing a healthcare career, from frontline clinical staff to those providing support services, every role contributes a vital part of the system."
Attracting not only those in the unfortunate position of being made redundant due to COVID-19, but also school leavers, and those wanting to transfer into a healthcare career, the webinar is providing a free platform to give local people access to current and future job opportunities, and it could help to reduce huge shortages in key operational professions across our NHS.
Now, more than ever, it's vital we continue to champion the entire healthcare workforce and the sharing of knowledge and best practice to encourage our local people to find their next career in our NHS, for better skills, better jobs, and better health.
The 'Your Career: Health Care Webinar', Thursday 26 November, 11:30 – 12:30, is free to attend and aimed at those interested in a career in healthcare. Register here.
Sources: ¹Office for National Statistics – Labour Force Survey, Figure 20.