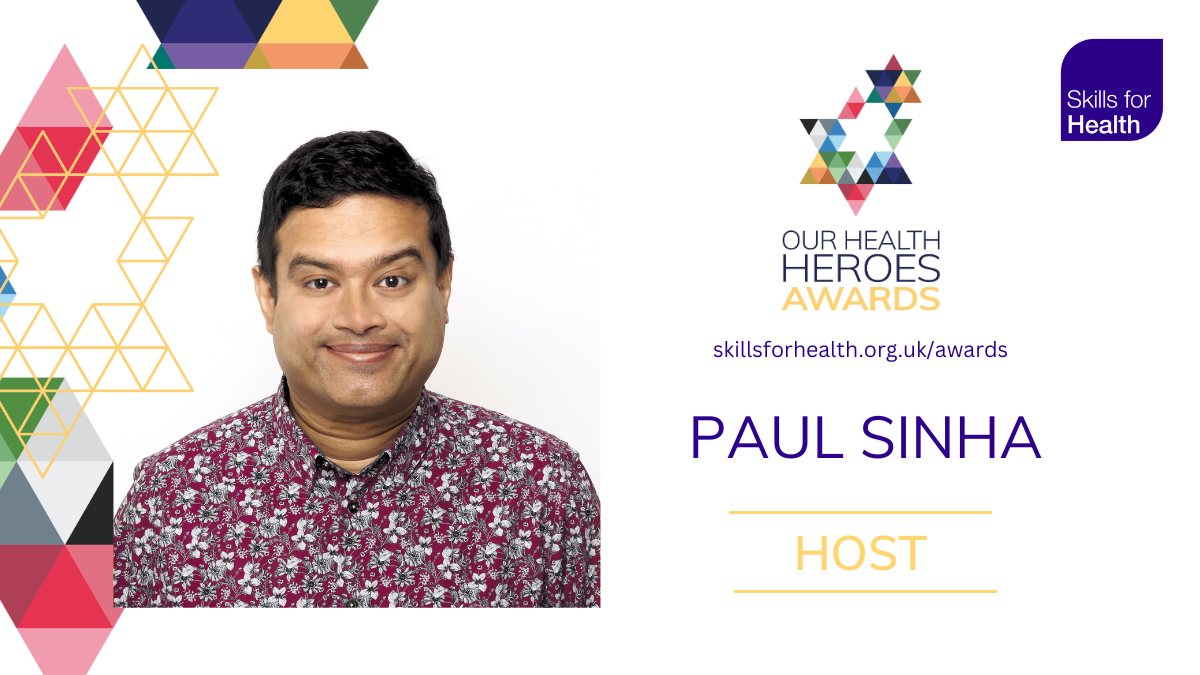 4 MINS
By Skills for Health | 18 May 2023
With less than a month to go until the 2023 Our Health Heroes Awards winners are revealed, ceremony host and comedian Paul Sinha fills us in his journey from locum GP to daytime TV and what guests can expect at the QEII Centre in London on 7th June.
---
Paul, you are perhaps best known as 'The Sinnerman' on ITV's hit quiz show The Chase. Readers might be surprised to learn that before you hit our TV screens, you actually trained as a medic and worked as a GP at a number of practices in London, is that right?
That is correct. After finishing my vocational training in 2000, I locummed for a number of years, until the smell of the greasepaint eventually proved irresistible. I ended up disappointing my parents by choosing to pursue my dreams.
When you were a practicing GP, you saw patients by day and wrote and performed comedy by night, even starring on BBC Radio 4 and selling out shows at the Edinburgh Fringe. Strangely, you are not the only medic-cum-comedian to combine a successful medical career with a life on stage and screen. Adam Kay and Dr Phil Hammond come to mind as other notable examples. What do you think draws the likes of you, Adam and Phil to comedy and the performing arts? Is it escapism or does working in healthcare help you to appreciate the lighter side of life?
Having met a number of comedians with a medical background, I'm not sure that there is necessarily a defining factor in common. I think that we were creative people who happened to be doing a degree course where there was plenty of opportunity to write funny stuff for medical revues. So by the time we started on stage, we'd experienced what it felt like to make others laugh. But other than that, we are hugely different people, approaching a comedy career from different angles.
Speaking of Adam Kay and Dr Phil Hammond, on 7th June you will follow in their footsteps in presenting the seventh annual Our Health Heroes Awards, delivered by Skills for Health. The awards recognise the outstanding teams and individuals working behind the scenes in our NHS. As someone who has witnessed their hard work and dedication first-hand, what does it mean to you to be presenting the awards?
Especially given the current pressure placed on health professionals, it always feels good to give something back. So much of the good work goes unheralded and unrewarded, and it's an honour to help in any way to reversing that trend.
And how will you make the day one to remember for the finalists?
My first priority is to ensure that the event runs professionally and smoothly. If people enjoy my comedy as well, that would be delightful, but I'm not so narcissistic as to not realise that the nominees and winners are the stars of the show.
As a man of many talents, what's next for Paul Sinha? Comedy, healthcare or quizzing?
I couldn't possibly presume to know. Life can be very unpredictable.