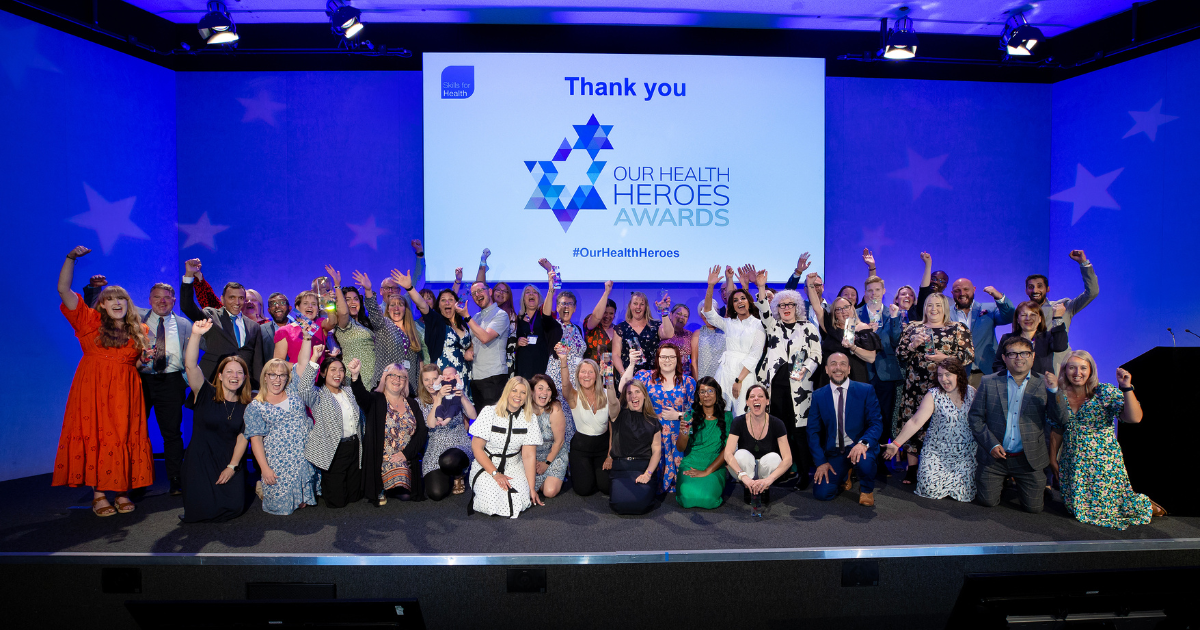 8 MINS
By Skills for Health | 9 June 2023
The winners of the seventh annual Our Health Heroes Awards were announced yesterday (7 June) at a glittering awards ceremony held at the Queen Elizabeth II Centre in London.
Supported by NHS England, UNISON, NHS Employers, SFJ Awards, NHS Race & Health Observatory and National Health Executive, Our Health Heroes Awards celebrates the wider healthcare workforce that supports our NHS doctors and nurses on the frontline.
From porters and cleaners to receptionists, gardeners and security guards, these often unsung heroes make up roughly 40% of the NHS's million plus workforce; Our Health Heroes Awards is a national celebration of their achievements and an opportunity to give thanks for the important role that they play in keeping our health service functioning.
This year's gold, silver and bronze winners (listed below in that order for each category) are as follows:
Outstanding Lifetime Contribution to Healthcare, sponsored by NHS Employers:
Toni Starr, Neonatal Sister, Great Western Hospitals NHS Foundation Trust
Salli Jeynes, Chief Executive Officer, The End of Life Partnership
Sandra Hands, Cluster Manager for North West Prisons, Spectrum Community Health CIC
Apprentice of the Year, sponsored by UNISON:
Joe Maslen, Radiotherapy Assistant Practitioner, Imperial College Healthcare NHS Trust
Rochelle Sampson-Clarke, Estates Project Officer, Solent NHS Trust
Hailei Petersen, Apprentice Nurse, Devon Partnership NHS Trust
Operational Support Worker of the Year, sponsored by UNISON:
Mary McElroy, Integrated Care Team Admin Support, Southern Health & Social Care Trust
Laura Cavina, Involvement Volunteer Coordinator, South West London and St George's Mental Health NHS Trust
Katie Whittam, Coordinator/Trainer, South West Yorkshire Partnership NHS Foundation Trust
Clinical Support Worker of the Year:
Karen Read, Breast Cancer Support Worker, Royal United Hospitals Bath NHS Foundation Trust
Edelle Brown, Associate Practitioner, City Health Partnership CIC
Helen McGowan-Thomson, Recruitment and Education Support Assistant, Bedfordshire Hospitals NHS Foundation Trust
Team award category winners:
The Sleep Charity (Dedication to a Lifelong Learning Culture – sponsored by SFJ Awards)
Brighter Futures, Great Western Hospitals NHS Foundation Trust (Best Health and Care Initiative by a UK Charity)
Royal Berkshire NHS Foundation Trust (NHS Improvement through Digital Innovation)
Bridgewater Community Healthcare NHS Foundation Trust (Best Integrated Care Workforce Programme)
Southern Health NHS Foundation Trust (Best Emergency Services Collaboration)
Coventry and Warwickshire Partnership NHS Trust (Best Healthcare Initiative in a Community or Criminal Justice Setting)
Practice Plus Group (Equality, Diversity and Inclusion Champion)
John Rogers, Chief Executive of Skills for Health, said:
"A huge congratulations to all Our Health Heroes finalists. Without the wider healthcare workforce that Our Health Heroes Awards aims to recognise and celebrate our NHS would grind to a halt. Now more than ever, it is important to raise awareness of the valuable contribution that these inspirational teams and individuals make to the health of the nation and to thank them publicly for the sacrifices they make."
Sarah Gorton, Head of Health at category sponsors UNISON, said:
"Huge congratulations to all the Our Health Heroes finalists and winners. The NHS simply could not function without the whole team. These awards shine a light on outstanding individuals whose work helps keep quality patient care at the core of the NHS. The hard work, dedication and expertise of health staff deserves to be recognised. These accolades give everyone the chance to celebrate the entire team."
Danny Mortimer, Chief Executive of category sponsors NHS Employers, said:
"NHS Employers is proud to support the Our Health Heroes Awards Outstanding Lifetime Contribution to Healthcare category for 2023.
"I would like to pass on my sincere congratulations to all the winners of this year's awards and to thank them for their contribution to the NHS.
"It is great that we can recognise the efforts of these individuals and teams through these awards and to celebrate the huge difference they make to patient care."
Dr Habib Naqvi, Chief Executive of the NHS Race & Health Observatory, said:
"We were delighted to support this year's Our Health Heroes Awards and the new Equality, Diversity and Inclusion Champion award category. Warmest congratulations to Faisal Zaman, and all finalists of the Equality, Diversity and Inclusion champion award, on your well-deserved efforts and recognition. We are so proud of the hard work you are undertaking in ensuring your organisation actions commitment towards a diverse and inclusive workplace where all staff can thrive. EDI initiatives are crucial; not only do they benefit the healthcare workforce, but they also positively impact on the care and outcomes for all patients."
The Our Health Heroes Awards 2023 is delivered by Skills for Health and supported by NHS England, UNISON, NHS Employers, NHS Race & Health Observatory and National Health Executive. To find out more visit: www.skillsforhealth.org.uk/awards