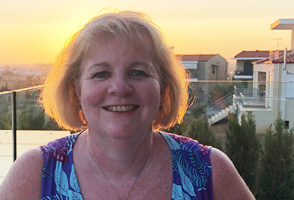 7 MINS
Skills for Health's Rostering Consultant, and former Nurse, answered the call from the NHS and Government to support the nation's efforts and has returned to the front-line.
Sarah Connelly, formerly an NHS Surgical Ward Sister, has continued to live and breathe the NHS ever since. Currently working with NHS Scotland and NHS Trusts across England, she now uses her frontline knowledge to develop proven rostering strategies for managing shifts. Sarah is a leading expert in Junior Doctors rota compliance and the EWTD (European Working Time Directive) and worked as part of the team to develop DRS (Doctors Rostering System) and Realtime Rostering, the total workforce rostering solution.
As soon as coronavirus hit the UK, Sarah felt compelled to do whatever she could to help fight the battle and play her part. Drawing on her years of NHS nursing experience, she reached out to the service to offer her support, and was welcomed, along with the thousands of other healthcare professionals, who rapidly responded to 'Stand up. Step forward. Save lives.'
"I have been working in a PMART operation (Pandemic Multi Agency Response Team) in London, a team who are responsible for all non-suspicious deaths in the community which might be COVID-19 related."
Sarah has been a member of the team at Skills for Health since 2015 and is a true advocate for the healthcare profession. In her current role she uses this expertise to support NHS Trusts to find the best rostering and working patterns to meet demand and maintain contractual obligations with the Junior Doctors Contract and EWTD.
"What has struck me the most about joining the PMART operation to help fight Covid-19, has been the incredible sense of camaraderie and teamwork with partner organisations. I have either been working at a specific Hub, alongside the Metropolitan Police, British Transport Police, and the London Fire Brigade, or I have been based centrally at Bishopsgate Police station where we follow up on each patient who we see.
"There, I have been working with City of London Police and local authority staff. At both locations I have been so welcomed and involved, but also so impressed with the dedication and professionalism of staff. The team I've been working alongside are supporting bereaved relatives, which they do with such compassion and respect."
We all have a part to play in this pandemic, and Sarah's experience as a Nurse and a specialist in the healthcare eco-system, is ideally suited to work alongside fellow public sector departments including police, fire and local authority, to help fight coronavirus in London, the epi-centre of the outbreak in the UK.
This work, which she has been able to do part time, whilst still supporting NHS Trusts roster their doctors in her role at Skills for Health, means that other healthcare professionals were freed up to work in hospitals and other care settings, during the peak of the virus. The health and care system is like a huge cog and by having support of people like Sarah, carrying out vital work in the community, the NHS is able to mobilise other staff working on the front-line, moving them into hospital and ICU settings, saving lives and delivering crucial services.
"While these are such strange and frightening times, there is plenty of great partner working and good will out there. It has been wonderful to see different organisations collaborating effectively for the benefit of all. The teamwork has just been incredible, and I've been honoured to be a part of the team to help the country get through this horrible virus."
Sarah will continue to support the local authorities, with her knowledge and experience in healthcare, whilst continuing to deliver rostering solutions for NHS Trusts, to meet increased demand on services.
John Rogers, Chief Executive of Skills for Health said:
"We're incredibly proud of the whole team at Skills for Health, who have gone above and beyond throughout these incredibly difficult times, to support the NHS and wider public sector in anyway they can. Sarah's demonstrated the heart of the organisation by lending her support and expertise to help her local system, mobilise healthcare staff effectively, freeing up time to work on the front-line.
"We will continue to champion our exceptional people like Sarah at Skills for Health, who dedicate themselves to delivering services for public good."
You can find out more about our coronavirus support on our dedicated Covid-19 resources page, or simply get in touch with any questions about our work.