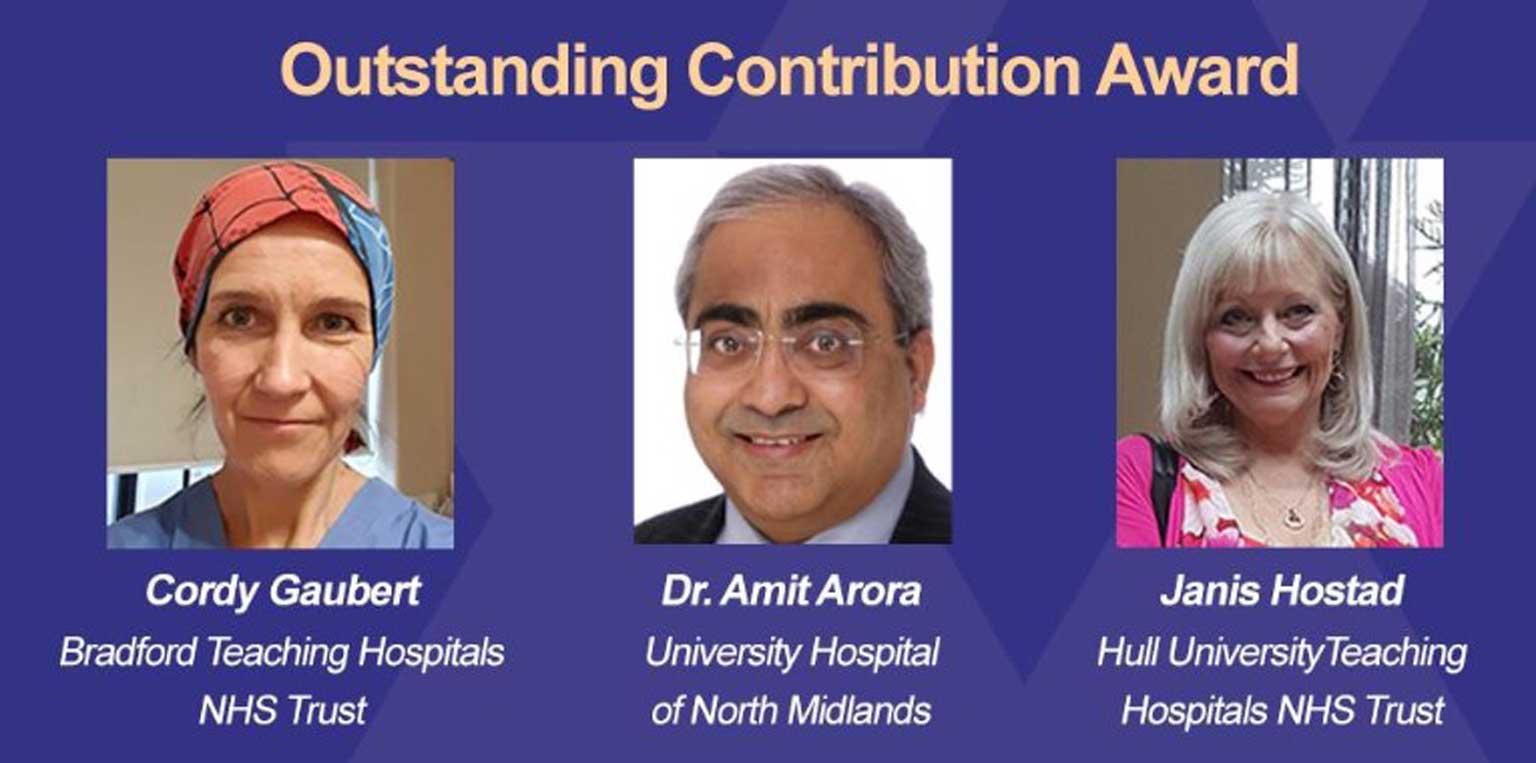 20–24 MINS
A consultant geriatrician, a cancer and palliative care nurse and educator, and an ICU physiotherapist are all finalists in this year's Our Health Heroes Awards. Find out who will take home the national NHS Employers Outstanding Contribution crown by booking your free place at the March 23 virtual ceremony today.
Over the years our NHS has often been described as a national treasure, demonstrating the real affection and respect the UK has for an institution that is vitally important to the lives of the whole population. Never has this been more fitting than in 2021.
It is abundantly clear that the key to our NHS is its people. A dedicated workforce of staff who possess a fortitude that pushes them to go the extra mile for patients and communities. A staff of Individuals who share an innate understanding that they function most effectively as a team, and whom each have a crucial role to play. While some of these roles may be less heralded than others, to colleagues, it is frequently these people whose work stands out and inspires them the most.
These 'Outstanding Contributors', not only deliver exceptional compassion and care, and improve services and experiences for better patient outcomes, they demonstrate a remarkable commitment to the wider healthcare sector through their work. They are utterly emblematic of our NHS' values and thoroughly deserving of recognition for the part they play in making a real difference to people's lives.
This year's three finalists for the NHS Employer's Our Health Heroes Outstanding Contribution Award are:
Dr Amit Arora is an internationally recognised consultant geriatrician at University Hospitals of North Midlands (UHNM) since 2004. He has served as Chair of the British Geriatrics Society (England Council) and sits on NHS England and Department of Health and Social Care committees, influencing national policy. For years, he has been successfully blurring the boundaries between primary care, secondary care, social care, housing, patient organisations, charities, and various provider trusts. Nominated for his leadership in training NHS and care staff, he has led his team to over 15 national awards as winner, or finalist.
His biggest contribution internationally, is to identify an under-recognised, under-reported, and under-treated condition, which he termed 'Deconditioning Syndrome', leading him to launch the 'National Deconditioning Awareness and Prevention Campaign: Sit Up Get Dressed Keep Moving' in 2016. He gained support of the British Geriatrics Society, NHS England and NHS Improvement in this, and has also lectured at over 30 meetings about deconditioning.
Dr Arora said: "The key to better care for patients is to keep on improving the knowledge and skills of the people caring for them. Our 'Sit Up, Get Dressed and Keep Moving' campaign aims to help healthcare professionals recognise the long term effects of deconditioning, implement simple measures to prevent it and educate patients and carers about the importance of remaining active during hospital admission and following discharge."
During the pandemic, he refreshed and relaunched the campaign, with his campaign material widely available and distributed free for patient benefit worldwide. This is raising awareness amongst health and care staff, patients, and families, changing mindset and culture in hospitals globally. Patients are benefitting from that widespread awareness and subsequent action.
Realising the gap in frailty education, in 2017 he founded the Midlands Frailty Academy (soon to be National Frailty Academy) providing free frailty related training to any health and care staff. The training equips individuals with the fundamental core learning required to deliver a consistent approach to frail patient care and reduce variations in care standards in patient's homes as well as care homes.
Dr Arora said: "The Frailty Academy course has been developed with extensive input from experienced medical, nursing, therapy staff, carers, nurses, doctors, therapists, and many others. It offers a virtual training experience for anyone who works with frail older people and is open to NHS staff, care home staff, carers and anyone interested in improving care of older people."
The Academy also aims to raise skills levels amongst families, starting with school children and to teach them about how to look after a grand-parent, promoting family values and also to encourage future recruitment into the NHS and care professions. The faculty has already trained over 600 health and care workers and presented the programme to a further 450 delegates in neighbouring areas.
In the first wave of the pandemic, Dr Arora acted quickly, personally delivering virtual training about managing COVID-19 illness to over 700 community staff. He was also involved in developing guidance on COVID-19 ward rounds, self-help, and community rehabilitation pathways. These were shared widely via British Geriatrics Society and NHS Improvement platforms. Working with the National Institute for Health Research, he was involved in developing educational videos for BAME communities to participate in research and further recruiting patients to the vaccine research trials, providing hope for the future.
Dr Arora said: "I am extremely proud of what we have achieved through collaborative team working. We want to keep improving care as much as we possibly can, and we have made lots of progress in this area. Just to be nominated for the Skills for Health award is an honour, but my work is largely credit to the organisations and people I work with and I would not be where I am now without them. My huge thanks go to them for their support."
Dr Arora does not wait for funding. Instead, he starts by motivating teams, believing funding will follow eventually once results start to speak for themselves. This is how both the Midlands Frailty Academy and the National Deconditioning Awareness and Prevention Campaign were developed. With a helpful attitude, he always has time for his teams and has developed many careers and future leaders just as a true leader would do.
Aideen Walsh, Deputy Medical Director, UHNM, said: "We're really proud of Dr Arora's work, which is continuing to benefit elderly patients in a tangible and meaningful way. It's essential that we continue to recognise and reward outstanding achievements, especially during these tumultuous times. We are one big team, and we have to stick together and let one another know when we've done well. Ultimately a happier team means happier patients who are well cared for in a productive and uplifting environment."
Janis Hostad is a Lecturer/Education and Development Coordinator for cancer and palliative care, at Hull University Teaching Hospitals NHS Trust. As an experienced nurse and educator in cancer and palliative care for over 40 years, she has gained a great deal of expertise, knowledge, and skills at both academic and professional levels. She has co-authored three books with a colleague that are unique in the field of palliative care, called 'Dimensions of Palliative Care Education'. They are the only published books nationally that focus solely on aspects of palliative care education, with how, where, when and what to do, underpinned by the relevant theory.
Wendy Krstenic, Nurse Director for the Clinical Support Health Group, Hull University Teaching Hospitals NHS Trust said: "Janis is incredibly driven and remains just as committed to, and passionate about, nursing and making things better now, as she was when she started out 40 years ago. Janis has made a positive difference to the lives of so many people through education, training and promoting the values of care, compassion, and empathy."
Janis was instrumental in setting up the National Association of Palliative Care Educators, which operates as an excellent supportive umbrella organisation for those offering teaching and education in various roles and disciplines, across the country. She chaired this exceptional group for many years, hosting and organising national events and conferences as part of this.
In addition to extensive clinical experience in the cancer and palliative care field, Janis also has a huge amount of proficiency in leadership and management of different clinical and educational teams, which has led her to helping the Trust develop its Coaching and Leadership Programmes. She provides clinical supervision to a lot of staff and is also an invaluable support to many, around issues relating to work, personal life, worries and anxieties, which has enabled them to be resilient through difficult times in their lives.
Janis said: "At the moment staff are suffering like never before, yet are still so courageous and brave, coming into the frontline, utterly dedicated to their work. At the end of my career, being able to provide support to these colleagues, when they need it most and to feel like you're still making a difference and able to help other people is quite a privilege."
Janis is trained as a facilitator to deliver the National Advanced Communications Skills training. She is adamant that enhanced communication is essential to help deliver high quality care in cancer patients and is committed to up skilling all staff at all levels. During the first wave of the pandemic, she co-ordinated and developed the bereavement telephone line and support, for relatives whose loved one had died. Almost overnight she created protocols, guidelines, scripts, and job plans, with the amount of content and detail that could have taken other people months to pull together. This service truly demonstrated that we can improve support for the bereaved through good communication and compassion, and the stories she shared from this were utterly moving and inspiring.
Janis said: "At the moment, working with so many people who are grieving, simply listening to their stories, and thinking that your conversation and giving them the chance to be able to share, might make a difference, is reason enough."
Janis has never shied away from addressing difficult topics with staff, patients, or relatives, her sensitive approach guiding people through difficulties of expressing their anxieties and helping them to relax and share their concerns. This is no more evident than in the six-week Bereavement Support Group she set up in the Queens Centre, aimed at supporting those whose loved one has died of cancer. She runs the weekly sessions in her own time, one evening every week, from 6:00pm to 8:00pm, and the feedback from the relatives has been incredible, two individuals who met at the group even got married.
Janis said: "I was so surprised, overwhelmed and thrilled to be nominated for this award. I am surrounded by so many amazing colleagues who are all heroes within the NHS, it's very humbling. I've loved every minute of my career. I love being a nurse, I love working for the NHS, and I love working for the Trust. Having the opportunity to work with other people, who together you know that everything you do you're helping patients and relatives, what's not to love."
Wendy concludes: "From providing clinical care to patients to professional support for colleagues and personal support to families who have lost a loved one to cancer, Janis has always put others first. Thoughtful, kind and considerate, she would be a worthy winner of the 'Our Health Heroes' Outstanding Contribution award. She is an asset to our hospitals and to East Yorkshire, and she continues to be a true inspiration to us all."
Cordy Gaubert, a Clinical Specialist Physiotherapist at Bradford Teaching Hospitals NHS Foundation Trust (BTHFT), has worked tirelessly alongside her medical colleagues, to implement changes in service to accommodate the huge numbers of COVID-19 hospital patients. Throughout the pandemic, as lead ICU physiotherapist, she has worked above and beyond her contracted hours, ensuring appropriate equipment is available to meet the needs of patients. She has spent endless hours checking novel uses of CPAP machines, to allow patients to be treated, and to make certain the hospital would not run out of oxygen.
During this time, Cordy has also provided unrelenting support to the wider Multi-Disciplinary Team within ICU and Neuro Physiotherapy, provided respiratory teaching to the huge numbers of staff redeployed to the medical wards, and worked closely with those picking up discharged ICU patients. Meanwhile at home, she developed pathways of care to try and prevent complications of long-stay ICU patients, effectively bringing respiratory, musculoskeletal, and neuro-physiotherapy teams together in a unified way.
Cordy said: "This year has been the most challenging of my career, both physically and emotionally, but has also demonstrated to me the incredible human resilience in my physiotherapy, nursing and medical colleagues, and also in our patients."
Cordy shows great compassion for her patients and treats them with a seemingly endless energy. She is always happy and keen to share her knowledge and learning about her experiences with patients with peers and wants to hear back in return. She has spearheaded collaboration between a wide cross-section of the therapy department, like never before, yet she would deny this and say it was a total team effort.
On the back of this work, Cordy has also submitted a business plan for ongoing roles working in Critical Care Rehabilitation, in order to enhance the ongoing care that ICU-leavers get once discharged and back on the long road to recovery. She has also led on the acquisition of equipment to aid patient recovery in ICU, which has also benefitted the Stroke and Neuro teams in their rehabilitation efforts.
Cordy is an unassuming force to be reckoned with and throughout the pandemic has led a uniformed endeavour where clinicians felt supported, patient care has been excellent, and services have developed for good.
Cordy said: "I was extremely overwhelmed and humbled to hear I was nominated for Our Health Heroes award for Outstanding Contribution. This nomination means a huge amount to me personally but is also a reflection of many people's hard work and the collaboration between multi-professional teams. I am very lucky to work with such brilliant, supportive, and innovative colleagues within our Therapy department and on Critical Care at BTHFT."
Nicola Sheehan, Head of Therapies at Bradford Teaching Hospitals said: "We are extremely proud that Cordy has been nominated for this award. She is an inspirational physiotherapist who goes over and above in the care and support of her patients and her team. COVID-19 has brought many challenges for health services, patients, and staff, and Cordy truly has made an outstanding contribution in the ongoing fight against this disease. We wish her all the best for this award."
Voting has now closed for the NHS Employers Outstanding Contribution category, winners will be announced at the Our Health Heroes Awards ceremony on March 23. The winner will be announced by Michelle Wayt, Assistant Director, NHS Employers.