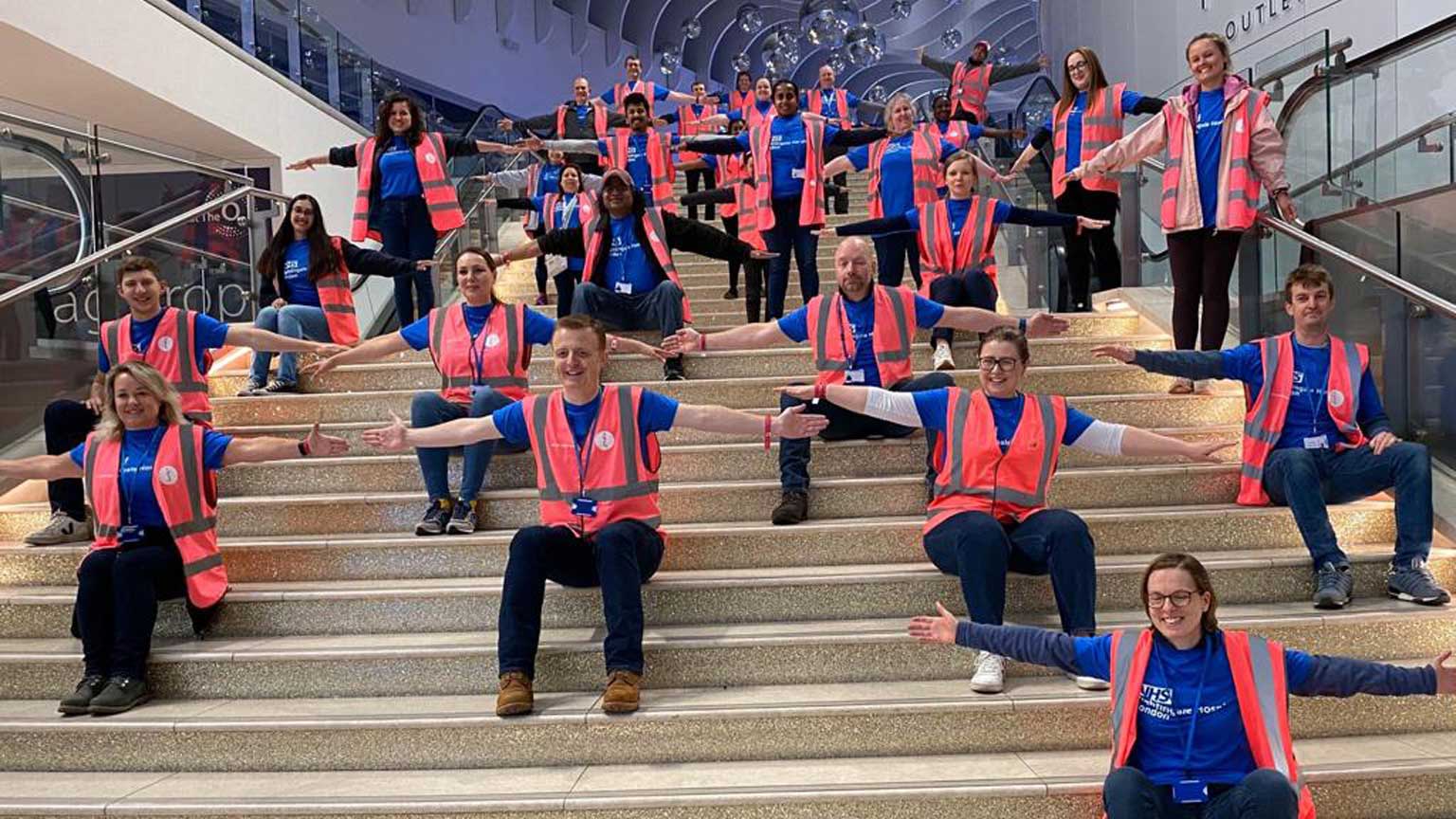 10 MINS
The outpouring of support for our NHS and wider health and care services across the nation, since the outbreak of coronavirus, has been extraordinary. We've seen campaigns launched by Government bodies, independent organisations and charities alike receive an overwhelming response from all corners of the country, allowing for the mobilisation of armies of volunteers, all willing to give up time to work towards the same goal – providing assistance to help protect our communities and save lives, when and where we need it most.
It was clear from the offset that London was going to be hit hard by COVID-19 and whilst our country's capital has been through tough times in the past and seen Londoners pull together in a crisis, the effort required to fight this pandemic, was going to be on a level like no other.
We watched as ExCel London was repurposed and transformed incredibly, in a mere matter of weeks, to reopen as the NHS Nightingale hospital, dedicated solely to the treatment of hundreds of coronavirus patients. However, the subsequent need to welcome, train and induct an entire new workforce was the next mammoth task ahead of our NHS and the Mayor of London knew just who was up for the job.
Sadiq Khan issued a request to volunteers on the Team London programme, which was started when the city hosted the Olympic Games in 2012, and they were ready to answer the call. This included the 'London Squad', who had enlisted to support the now postponed Euro2020 tournament.
This band of volunteers, who have long played a key role supporting events throughout the capital, have always had the ability to ignite a community spirit, and now, as they help our NHS begin this crucial work at this vital new hospital, they are rekindling this like never before.
Their key role is helping to induct NHS staff at the new hospital's education centre at the ExCeL centre. This includes checking in new staff, providing directions, supporting the distribution of uniforms and assisting NHS induction staff. They don't have any contact with patients, relatives or treatment areas of the hospital and all volunteers must be deemed fit and well, with no symptoms of coronavirus. Those in higher-risk groups are not able to volunteer.
One of our own, Andy Doyle, who is Membership Operations Manager, at our sister organisation, People 1st International, is a member of Team London, and gave up his own time last week to complete his first shift on the ground at NHS Nightingale. We caught up with him to hear about his initial experiences.
Andy, giving up your own spare time like this, whilst still very much driving People 1st's response to the crisis, is absolutely inspiring to us all. What made you volunteer?
When the opportunity arose to become a volunteer for Team London for Euro2020, I decided it would be a good way to support the UK to 'put on a great show' for visitors and an opportunity to feel involved in the whole month of celebrations. Obviously, the onset of the current pandemic has delayed the planning and training for this event as well as an ultra-walking challenge for charity I was training for.
The amazing creation of the NHS Nightingale London Hospital in such a quick turnaround inspired me to consider how I, with no medical skills or training, could play my small part and the opportunity to volunteer with Team London supporting with the registration and logistics on the induction training for the future staff of the hospital was an obvious way for me to get involved.
What have your first shifts entailed?
Initially, at the Excel Centre Training Facility and latterly at the O2, I have been supporting the induction of the clinical staff for the hospital. I and my fellow volunteers have been supported by representatives of Team London to ensure smooth registration and running of the day – helping the faculty with hundreds of people a day in getting the key induction they need to prepare themselves for their shifts at NHS Nightingale.
At a time when we are seeing so much devastation caused by this virus, not only potentially on our health, but the resulting wider impact it's having on society as a whole, how has the mood amongst the Team been so far?
I have been struck by the calm, positive and professional demeanour of all those involved and there is a really strong sense of camaraderie & confidence in their ability to lead the fight against this awful virus whilst providing the compassion & support that the NHS is renowned for.
Whilst NHS staff, across all roles, continue to work so selflessly at this challenging time, seemingly putting their patients before themselves, what sort of support have you seen offered to the workforce to help with their wellbeing?
We're all aware that this is a very traumatic time for all involved, especially those on the front-line, and I am comforted by the fact that, within the training, all inductees are supported & encouraged to consider their own well-being (physically & mentally) not only now but post-pandemic – this is something that we will need to consider for many people post-COVID-19 as I think the scars of this pandemic will be apparent for a long time after the physical virus is brought under control.
What impressions have your experience left you with so far, in terms of this very much collaborative approach to beating the pandemic and what may lay on the other side for our magnificent, yet challenged at the best of times, health and care sector?
I am proud to say I am doing my small part and really encouraged to see such a diverse group of individuals coming together under the Team London banner to support the NHS in getting ready for a storm that we hope and pray never materialises. I am confident however, that if the NHS Nightingale hospitals in London and around the UK are needed to support the rest of the NHS & Care sector, we are all in very safe hands and applaud all those who have volunteered to provide the care we need at this terrible time
Are you currently offering your time, voluntarily, to help support our NHS, wider health, or care sector, ensuring they can continue to deliver high quality patient care across the country? We're interested to hear your insights into your experience and share your story with the nation here. Contact us today.