Primary Care & General Practice Nursing Career & Core Capabilities Framework
Background
General Practice Nursing (GPN) teams are a key component of the general practice and primary care workforce. Every member of the nursing team has a vital role in delivering care and treatment across the life course.
The General Practice Forward View published in April 2016 pledged a major expansion of the primary care workforce. In addition, in March 2017, Health Education England (HEE) published the General Practice Nursing Workforce Development Plan – Recognise, Rethink and Reform. This included a series of recommendations for organisations that can influence the general practice nursing workforce. General Practice – Developing confidence, capability and capacity: a ten-point action plan for General Practice Nursing responds to both these documents supported by the £15 million investment described in the General Practice Forward View. It is designed to provide a highly skilled GPN/Primary Care workforce that includes both registered nurses and non-registered healthcare support workers.
Purpose and scope of the framework
The Primary Care and General Practice Nursing Career and Core Capabilities Framework will support Health Education England to achieve the aims of the ten-point action plan. The Framework provides a standard and greater clarity on the scope of practice for nurses working within primary care and general practice settings. As more care is being managed and delivered in the primary care setting there are opportunities for a wider range of nursing knowledge, skills and attributes including nursing associate, mental health, learning disabilities and children's nursing. The NHS needs a workforce that is fit for the future and nurses can play an integral part in the multi-professional team.
This will be particularly relevant to employers such as Primary Care Network (PCN) Clinical Directors, GPs and Practice Managers, commissioners, (e.g. for workforce planning), education providers (e.g. to inform the design and delivery of curricula) and to patients, nurses and colleagues in multi-disciplinary teams.
Structure of the framework
The framework is made up of two components:
Career framework – this provides a summary of 6 career levels for nursing within primary care/general practice.
Core capabilities framework – this details the knowledge, skills and behaviours at different levels practice, presented in 4 Domains:

Domain A. Personalised collaborative working and health promotion
Domain B. Assessment, investigations, and diagnosis
Domain C. Condition management and treatment
Domain D. Leadership and management, education, and research
Download the framework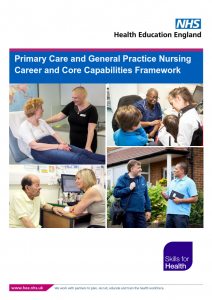 Click here to download
the Framework.
Sources of Information
To support utilisation of the Framework a helpful video has been produced which sets out its purpose and aims. The video can be located on YouTube here: https://www.youtube.com/watch?v=24lPJ1SHj-w
Sign up to receive updates from Skills for Health
By signing up to our monthly newsletter, HealthView, you can hear all the latest news and developments on our work – including framework updates, consultations or launches.