The Paramedic Specialist Core Capabilities Framework comprises the following capabilities, grouped into four domains:
Domain A. Person-Centred collaborative working
Capability 1. Communication
Capability 2. Person-Centred care
Capability 3. Working with families and carers
Capability 4. Referrals and integrated working
Capability 5. Law, ethics and safeguarding
Domain B. Investigation, assessment, advice and clinical impression or diagnosis
Capability 6. History-taking and consultation skills
Capability 7. Physical and mental health assessment
Capability 8. Investigations and diagnosis
Domain C. Condition management, treatment and prevention
Capability 9. Treatment and care planning
Capability 10. Pharmacotherapy
Capability 11. Health promotion and lifestyle interventions
Domain D. Leadership and management, education and research
Capability 12. Leadership and management
Capability 13. Education
Capability 14. Research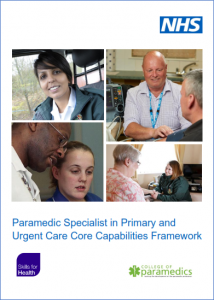 Download the framework from
Health Education England (HEE) here.
Registration of interest
By registering your details, you will be informed of any future activities to support implementation of the framework (e.g. development of resources, evaluation or updates).