Career and Competence Framework for the Children and Young People's Complex Needs Pathway
Introduction
This Career and Competence Framework was commissioned by Health Education England, South East and NHS England and NHS Improvement. It is based on the needs of the NHS Long Term Plan 2019 which makes a commitment to invest in additional support for the most vulnerable children and young people, between the ages of 0-18, who have complex needs and can be described as presenting with high risk, high harm behaviours and high vulnerability.
This is supported by the need to offer a pathway which aims to support and strengthen services for children and young people who have such complex needs, currently not being met in both community and secure settings. The Framework for Integrated Care-community developed by NHS England and NHS Improvement 2021 and the Framework for Integrated Care for the Children and Young People Secure Estate (CYPSE) (SECURE STAIRS) outline the aim is to build a trauma-informed care and formulation-driven, evidence-based, whole system approach to providing integrated support and creating change for the most vulnerable and support those who deliver them.
Aim
This Career and Competence Framework and the accompanying ten role profiles aim to underpin and align with both of the above frameworks. Both have been developed to articulate the range of cross sector roles and demonstrate the key competences, knowledge, skills and behaviours required to promote quality services to meet the needs of children and young people in the complex needs Health & Justice pathway.
Download the framework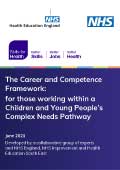 Click here to download
the framework
User Guide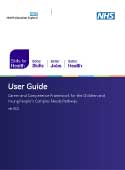 Click here to download a helpful guide for Service Managers
Role Profiles
Please click below to download each of the following role profiles:
Registration of interest
By registering your details, you will be informed of any future activities to support implementation of the framework (development of resources, evaluation or updates).