Introduction
This Career and Competence Framework was commissioned by Health Education England, South East and NHS England and NHS Improvement. Providing healthcare in secure, sensitive, and complex environments requires a wide range of roles and specific expertise. Ensuring that health and justice sector healthcare providers can recruit and retain staff, within both clinical and non-clinical roles, is vital in the delivery of an effective service.
Creating an attractive career pathway, raising the profile of roles, and supporting the movement of staff across health and justice commissioned services to enable greater flexibility within the workforce, are increasingly becoming key priority areas nationally and locally.
Aim
This Career and Competence Framework, and the accompanying nine role profiles, aim to underpin this work. They have been developed to articulate the range of cross sector roles and demonstrate the key competences, knowledge, skills and behaviours required to promote quality services to meet the needs of adults in secure and detained estates.
Download the framework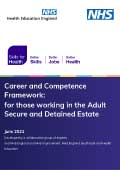 Click here to download
the framework
User Guide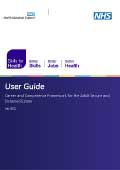 Click here to download a helpful guide for Service Managers
Role Profiles
Please click below to download each of the following role profiles:
Registration of interest
By registering your details, you will be informed of any future activities to support implementation of the framework (development of resources, evaluation or updates).