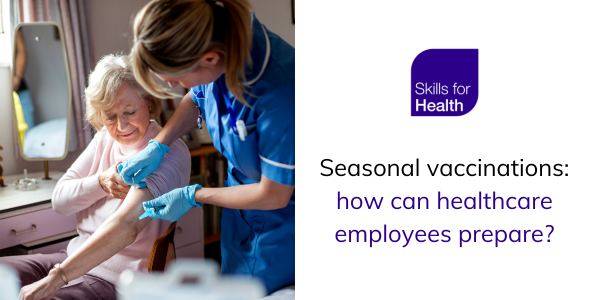 8 MINS
By Skills for Health | 15 September 2023
What are seasonal vaccinations?
The UK government's annual flu programme covers seasonal vaccinations for influenza (flu) and COVID-19, under the Autumn/Winter 2023-24 campaign. 
The current seasonal vaccination programme is being started earlier, beginning on 11 September (moved up from October 2023), due to the risk of a new covid variant.  
You can see NHS information about the flu vaccine such as who is eligible and where they are administered for adults and for children, and about the COVID-19 vaccination.  
Other vaccines that are routinely administered are for things like measles, mumps and rubella (MMR), shingles, hepatitis B, HPV, meningitis, diphtheria, and tetanus. The complete routine immunisation schedule is kept up to date by the UK government.  
There are also other vaccines administered across the UK, for instance when a person is travelling or has a greater risk of infection due to certain health conditions. These can be for things such as for rabies, encephalitis, yellow fever, or typhoid. (Oxford University Vaccine Group). 
About the national vaccination programme
The national immunisation programme refers to the ongoing routine vaccination schedule – which aims to inoculate the population against certain infections – and the seasonal vaccination drives, which aim to reduce the severity of illness in patients and reduce seasonal pressures on NHS services. 
It is subject to continual evaluation and review by the Joint Committee on Vaccination and Immunisation (JCVI) in response to new and emerging evidence, resulting in regular changes to vaccine policy. The routine immunisation schedule was, for example, updated recently to reflect changes to the HPV and shingles programmes.  
Seasonal vaccinations for flu and for COVID-19 are also governed by the green books for each – these provide information, including updates, for healthcare professionals. You can see Influenza: the green book, chapter 19 and COVID-19: the green book, chapter 14a.  
In recent years the programme has undergone significant expansions, and the schedule has become more complex. 
Who needs training on vaccination and immunisation?
A wide range of healthcare professionals are involved in vaccinations – for example nurses and doctors or other clinical staff, but also non-clinical staff such as healthcare support workers. They can take place in a variety of settings, such as general practice, schools, hospitals, prisons, occupational health, maternity and neonatal services, paediatric services, pharmacies, sexual health clinics or long term care. 
Everybody who is involved in vaccination and immunisation needs to be trained effectively so that they understand their role in the process.  
There are currently two National Minimum Standards for Immunisations Training in the UK – one for Registered Healthcare Practitioners and one for Healthcare Support Workers.  
Healthcare staff who have completed their foundation immunisation training require an annual update to training, to maintain their knowledge of the process and schedule. 
What are the core learning outcomes under the foundation immunisation training?
As per the National Minimum Standards and Core Curriculum for Immunisation Training for Registered Healthcare Practitioners (2018) the core areas of immunisation knowledge are: 
The aims of immunisation, national vaccine policy and schedules.
The immune response to vaccines and how vaccines work.
Vaccine preventable diseases.
The different types of vaccines, their composition and the indications and contraindications.
Current issues in immunisations.
Communicating with patients, parents and carers about vaccines.
Legal issues in immunisation.
Storing and handling of vaccines.
Anaphylaxis and adverse reactions.
Documentation, record keeping and reporting.
Strategies for optimising immunisations uptake.
The National Minimum Training Standards for Healthcare Support Workers (HCSWs) core areas of immunisation knowledge are largely the same as the above, but there are extra core areas to understand the role of the HCSW as an immuniser (role limitations, the roles of others in immunisation) and support for the HCSW (eg supervision, mentorship and reflection).  
These are the minimum standards – healthcare organisations need to consider whether the provision of extra skills and knowledge is needed to ensure safe and effective vaccinations procedures are in place. For instance, specific training in basic life support and anaphylaxis recognition and management should also be taken annually (or in line with employer stipulations). 
What should annual update vaccination training cover?
The same National Minimum Standards also cover regular update training learning outcomes: 
Current issues in immunisation.
Recent epidemiology of vaccine preventable disease.
Any changes to vaccine recommendations or national policy.
Update on vaccine ordering, storage and administration.
Any changes to legislation relevant to vaccination.
Review of current practice, recent vaccine incidents and identification of areas for improvement.
Q&A session for problems encountered in practice.
---
If you or your staff are looking for vaccination refresher courses ahead of the seasonal vaccinations, you can look at Skills for Health's Immunisation and Vaccination course. Volume discounts are available if booking for multiple employees – make an enquiry with our team to find out more.