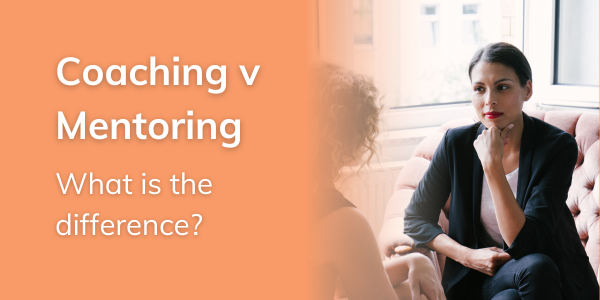 7 MINS
By Skills for Health | 17 July 2023
Both coaching and mentoring are valuable resources for professional growth, especially in the public sector. But what is the difference between the two approaches and why might you choose one over the other?
What is coaching?
Coaching is a partnership between an individual or group and a coach. The aim is to empower the participant to creatively consider – and put into practice – in what ways they can maximise their personal and professional potential.
How can coaching support the workforce?
We live in a VUCA world, where things change fast and are hard to predict. VUCA stands for volatility, uncertainty, complexity, and ambiguity. This term was coined in the 1990s, but it is still relevant today – especially for public-sector organisations having to work with partners in complex and regulated systems. To cope with this changing world, they need to provide their employees with opportunities to learn and find solutions.
One way to do that is through coaching. Coaching is a powerful tool for personal, team, and organisational growth. It can help people improve their skills, confidence, communication, and relationships. These are all essential for succeeding in today's context. According to a survey by the International Coaching Federation, more than 70% of people who receive coaching report positive outcomes.
Coaching can strengthen success and employee experience in the following contexts:
Leadership development
Organisational behaviour
Wellbeing initiatives
Here are some of the key characteristics you might expect to see from coaching:
Professional coaches are informed by contemporary evidence-based practice.
Coaching is non-directive and a coach will empower the participant to explore their own way forward.
It typically involves a one-to-one relationship, however team and group coaching are on the rise.
It can focus on individual, team and organisational goals.
A coach will ask powerful questions and create a safe space to pause and identify ways to stretch capabilities to reach development goals.
Professional coaches will have the appropriate experience and credentials.
Predominately delivered in short sharp sessions with a higher degree of flexibility.
What is mentoring?
Mentoring is a process where a more experienced colleague (the mentor) provides advice and support to a less experienced person (the mentee) in following a career path. This relationship is built on trust, respect, and communication. Mentors do not need to be professionally qualified as their advice is based on personal experience, however there are qualifications that can be valuable in such a role.
Mentoring is often associated with a professional journey, presenting an opportunity to build connections and learn from experienced others in their chosen field of work.
Mentoring relationships also tend to be more successful when there is mutual learning between both the mentor and the mentee, rather than just the mentor providing the direction and advice.
Here are some of the key characteristics you might expect to see from mentoring:
Mentors provide advice to mentees informed by their personal and professional experiences.
The mentor and mentee(s) build a long-term relationship.
Mentoring relies heavily on mutual trust and respect between the mentor and mentee.
Clear and efficient communication is key to the success of a mentoring programme.
The effectiveness of mentoring relies on having a mentor who is consistent.
Mentoring can sometimes be fluid and lack structure so employers should check QA procedures and policies are up-to-date and align to key activities.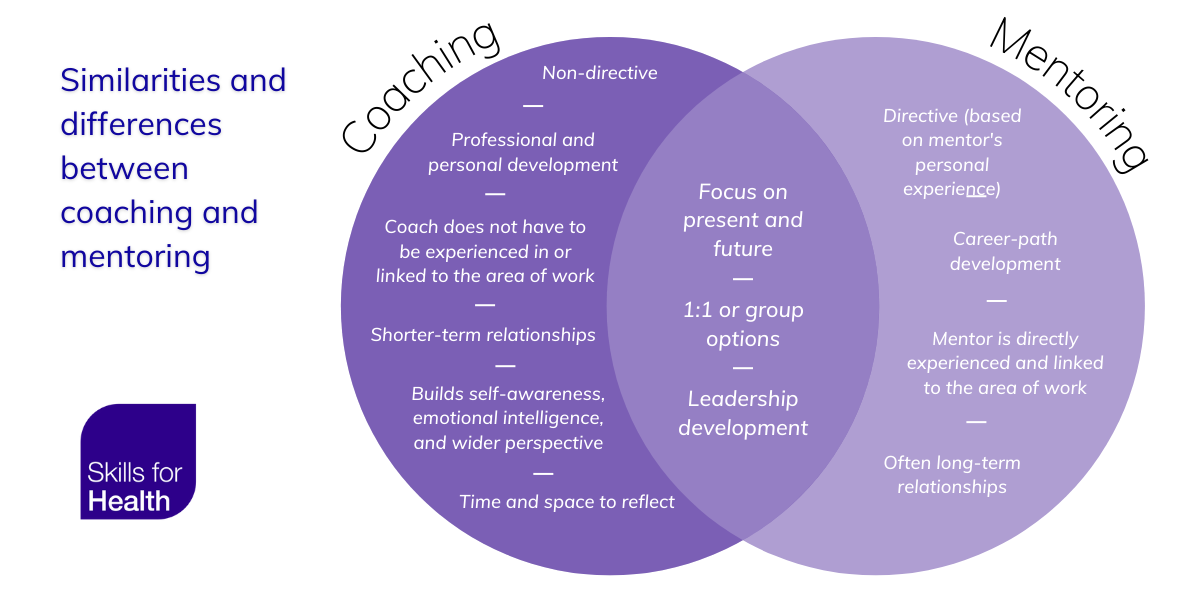 Leadership and management coaching with Skills for Health
To help develop your or someone in your team's leadership and management skills, it's important to ensure you have the right resources and services available to you. Skills for Health offer leadership and management coaching, and have a network of experience coaching professionals that we can match based on best-fit.
Contact us about our coaching services