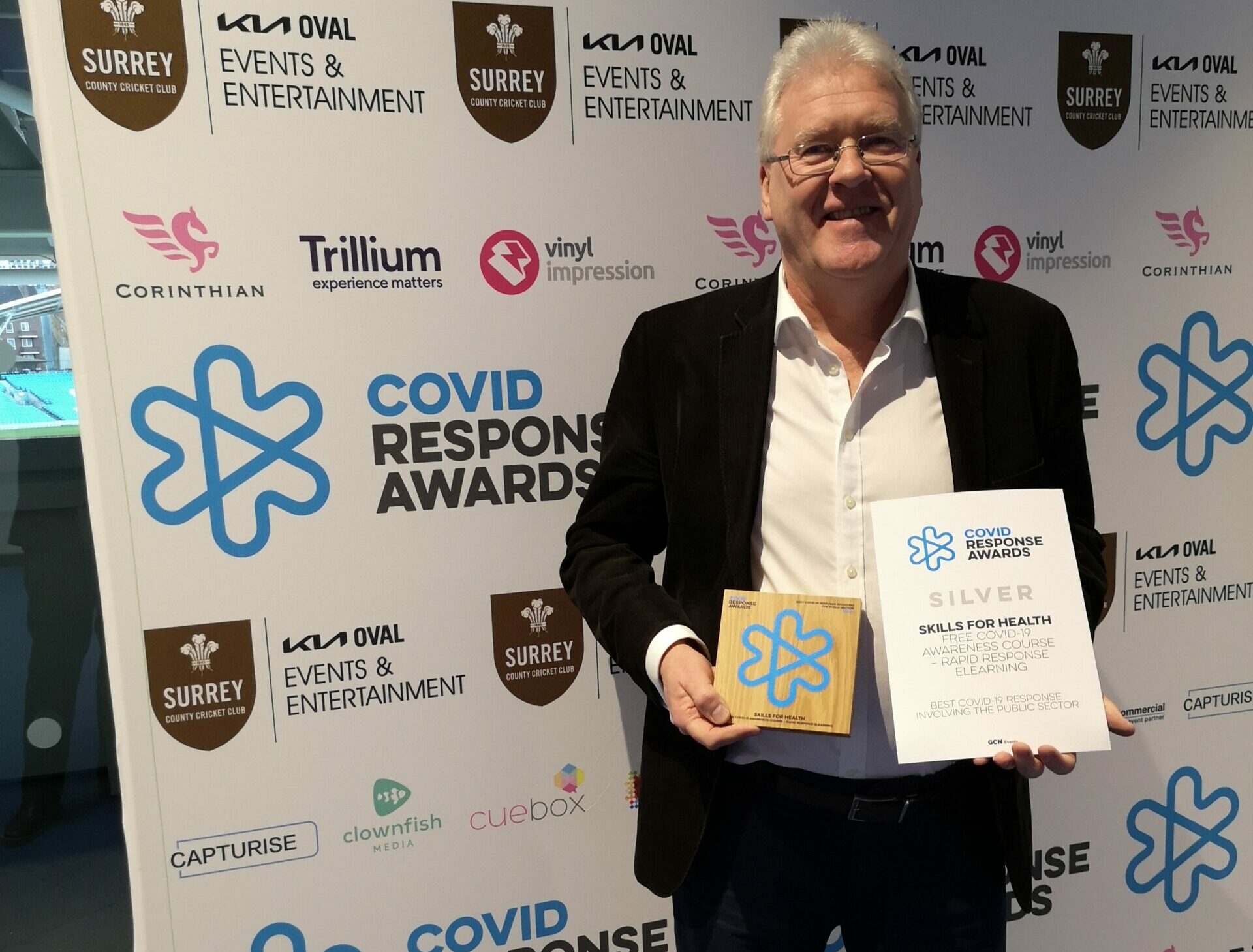 3 MINS
By Skills for Health | 30 November 2021
We are delighted to have been recognised by the national Covid Response Awards for our Covid-19 Awareness Course, which has received over 58,000 registrations from NHS, health, care and wider public sector professionals since the course launched on 25th March 2020.
Winners were revealed on 25th November 2021 at a ceremony held in London, where the judges awarded us second place in the Best Covid-19 Response Involving The Public Sector category.
The awards featured 18 categories, all designed to recognise the best responses to Covid-19 and to shine a light on the extraordinary work that organisations have undertaken to alleviate the impact of the pandemic. Other categories in the Covid Response Awards included Outstanding Leadership During Covid-19 and Best Covid-19 Response in Healthcare.
Winning the silver award acknowledges the rapid efforts of our learning team to create a mobile and interactive training solution to meet the increased demands on our key workers, who were faced with Coronavirus challenges. When Covid-19 broke out, we knew we could support our health and care workforce by providing timely and valuable training on a broad range of crucial topics including: Respiratory Hygiene, Effective use of Personal Protective Equipment (PPE), Recognising signs and symptoms, Hand Hygiene, Infection Prevention & Control and more to help staff acquire the skills and knowledge needed to stay safe and reduce the spread of the virus.
The training has been extremely well received, with over 95% of learners saying the course was very useful, informative, engaging, and vital to ensuring Covid-19 and warning signs were recognised and understood.
The awards were judged independently by a panel of Chief Experience Officers from a wide range of market sectors. The judges conclude that we provided a "Fabulous and rapid response to a clear need from front-line NHS staff." They particularly commended us for delivering "A difficult project that involved rapidly changing guidance at speed to thousands of skilled professionals longing to use their skills to help."
Our Covid-19 Awareness Course is still available free of charge and can be accessed here. If you have any questions about our online course or any other eLearning materials, please get in touch. Our learning experts are happy to assist you.