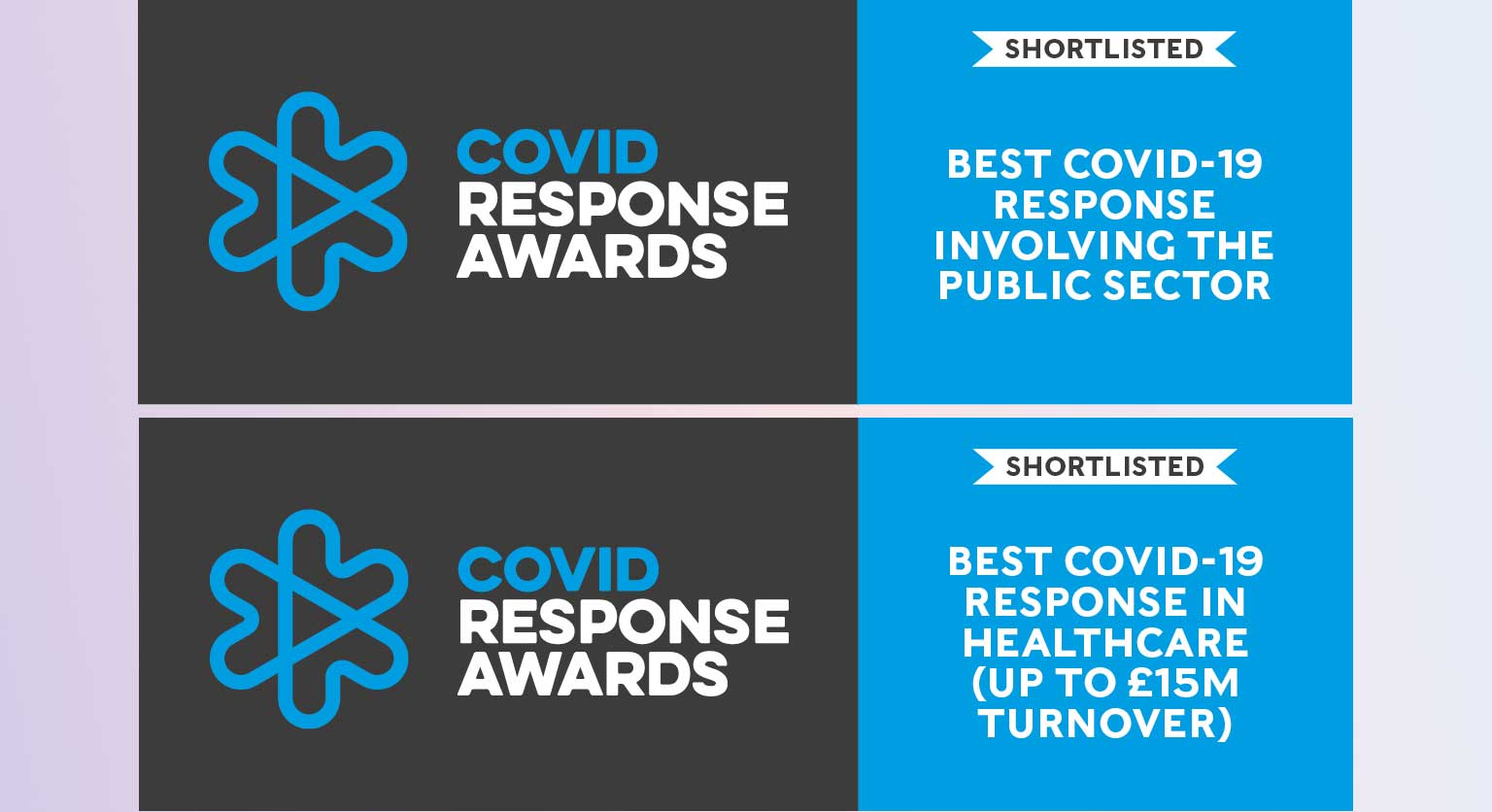 5 MINS
We are delighted to have been shortlisted as finalists in the Covid Response Awards in the following categories:
Best Covid Response in Healthcare (up to 15M Turnover)
Best Covid Response involving the Public Sector
The Covid Response Awards pay tribute to the resilience, resourcefulness and tenacity that have been the hallmark of our organisation's response to the Covid-19 pandemic.
Both nominations acknowledge the efforts put in by our Learning team to achieve the previously unthinkable. When Covid-19 broke out, life as we knew it changed forever, overnight. Everyone had a part to play, and we knew we could support our NHS, health and care workforce with the rapid response needed.
As the Sector Skills Council for Health and one of the UK's leading healthcare online learning providers, we created a mobile and interactive training solution at pace to meet the increased demands on our key workers, faced with Coronavirus challenges.
The training was extremely well received and subsequently we had the opportunity to support many other sectors in the next mammoth task of returning to work in a Covid-19 landscape. Since its launch on March 25, 2020, the Covid-19 Awareness Course had registrations from over 58,000 professionals from our NHS, health, care and wider public sector workforce.
"Really informative, with hyperlinks to underpinning areas very helpful. Latter sections are useful even in a non-hospital setting. Overall a very useful tool to help make our workforce more aware of the virus."
Service Manager and Trainer, Care Trust
We clearly defined areas in the course to cover a broad range of crucial topics including respiratory hygiene, effective use of Personal Protective Equipment, recognising signs and symptoms, hand hygiene, infection prevention and control, and more to help staff acquire the skills and knowledge needed to stay safe and reduce the spread of the virus.
Key benefits of this solution included:
Structuring the learning to re-energise static text into an engaging experience, aiding retention of knowledge
Enabling free open access to reach the widest audience possible
Ensuring the course was available on any device so that all staff could access it easily and efficiently wherever they are
"Launching our Rapid Response service to help our NHS through this difficult period was extremely humbling to see the amount of people who signed up to lend their skills and experience. Expanding the recruitment at a scale to include such a variety of in-demand roles and positions that are all essential to providing patient care during the pandemic isn't without its challenges, so we are extremely proud of the NHS Professionals (NHSP) team and our friends at Skills for Health working so hard behind the scenes to pull everything together with this vital training."
Project Manager, NHSP
Awards Ceremony
The awards ceremony will take place in the brand-new events space at The Kia Oval, London on Thursday 25 November 2021. We look forward to celebrating our team members for their astounding efforts and wish the best of luck to all finalists. For the full list of categories and finalists, please click here.
Our Covid-19 Awareness Course is still available free of charge and can be accessed here. If you have any questions about our online course or any other eLearning materials, please get in touch. Our learning experts are happy to assist you.