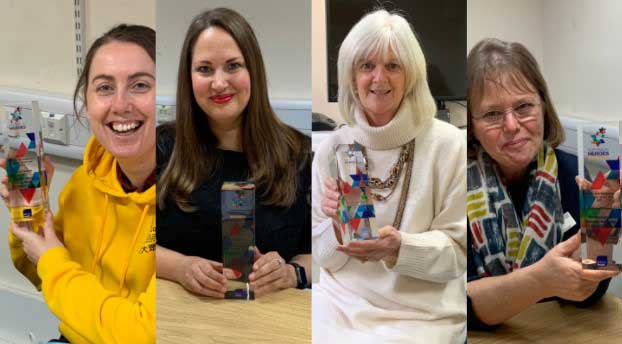 10–12 MINS
Northampton General Hospital NHS Trust (NGH) has been crowned Health and Wellbeing Employer of the Year, at the fifth Our Health Heroes Awards, for its comprehensive staff well-being services that have supported the workforce, both physically and mentally, during COVID-19 and beyond.
More than 300 NHS and Social Care staff came together virtually on March 23, with sector and government leaders for the ceremony, where NGH's Health and Wellbeing Staff Support Services team were presented with the coveted award by Prerana Issar, Chief People Officer at NHS England and Improvement.
Healthcare professionals submitted more than 600 nominations across nine award categories, including those in the Health and Wellbeing Employer of the Year Award, judged by NHS England and Improvement. On announcing the winner, Prerana said: "The focus on health and wellbeing is crucial for all employers and staff, now so more than ever, with the additional challenges faced by our NHS people due to the pandemic. And it is a key focus within our NHS People Plan. By recognising those who are going above and beyond to implement wellbeing strategies that are making a real difference to staff, we will hopefully inspire other organisations to do the same."
Delivered with the help of our partners NHS Employers, UNISON, SFJ Awards and Bevan Brittan, the annual Our Health Heroes campaign shines a light on the extraordinary efforts of thousands of healthcare support staff who work hard behind the scenes to keep the system running. After a year in which the NHS faced its toughest ever challenges, the first anniversary of the first UK lockdown was an apt day to be recognising, reflecting, and celebrating the difference to people lives these unsung health heroes continue to make, day after day.
Bronwen Curtis, Director of HR and OD at NGH said: "Providing support to our staff is our shared passion and their health and wellbeing is our focus. Our team practices of sharing insights, researching evidence, innovative thinking and collaborative working mean we can provide a wide range of services that meet the diverse and changing needs of our staff. We feel extremely proud that our contribution has been valued."
The award-winning Health and Wellbeing Collaborative; comprised of a Staff Psychology Service, Health and Wellbeing Service, Occupational Health Service, Support our Staff (SoS) Service, Organisational Development (OD) and Human Resources (HR) Team are truly multidisciplinary in their approach; applying the skills of experienced clinicians alongside those of non-clinical and voluntary staff, to deliver exceptionally diverse, preventative, and responsive effective outcomes for the entire workforce.
Anne-Marie Dunkley, Health and Wellbeing Manager at NGH said: "Our staff have been under immense pressure over the past twelve months. It's important to make sure that they are fully supported, engaged, and feel valued, no matter what their job is. Winning this award is incredible, especially after such an awful year. I feel so proud to be a part of this amazing team and that we are able to offer such a comprehensive range of support to help keep our staff physically fit, emotionally well, and that they know help is available should they need it."
The numerous initiatives offered by the Health and Wellbeing Services focus on maximising the emotional, physical, and practical resources available to care for all staff, at every stage of their NGH journey.
Claire Brown, Occupational Health Manager at NGH said: "From day one we support each worker with their health by adjusting their job role or equipment to help them whatever their personal challenges. There have been so many health and wellbeing improvements and facilities on site and off, that we have many more options for care pathways for staff. This amazing award shows the achievement and improvements that working as a wider health and wellbeing team can accomplish."
Key innovations include the "Our Space" project, which provides quiet "time-out" space, green space access and resources for relaxation, and the Health and Wellbeing Service, which offers the provision of mental health first aid intervention, self-help materials, financial advice resources, lifestyle management, musculoskeletal and menopause support. One Health and Wellbeing Service user commented: "The mental health awareness workshop was the start of me really realising I need to look after myself, I'm no good to others if I'm not managing myself."
More personalised and tailored health and wellbeing care comes from the SoS Service, a team of NGH staff volunteers, who work as a traumatic clinical incidents team to provide Trauma Risk Management. Together with the Staff Psychology Service, that offers psychotherapeutic support for those with complex emotional needs, these services work collectively to support both individuals and teams to adapt, cope and work with critical incidents, violence and pandemic based events.
The team's 'Return to Work Toolkit' for shielding staff was produced collaboratively with the Staff Psychology Service, the Organisational Development Team and the Health and Wellbeing Service, maximising both psychological and practical support for frontline and managerial staff returning to work. This has been invaluable over the last year, with one staff member saying: "My SoS practitioner had great credibility because she has walked the walk and really understands the circumstances and pressures. I was sent away with a leaflet for my partner, so he had some tips on how to support me through a difficult experience. This was unbelievably useful and was well received."
The collaborative approach the Health and Wellbeing Services take is fundamental to the effective management and delivery of agile responses it facilitates. The Staff Psychology Service currently provides consultative support for clinical directors and the executive board team, with their health and wellbeing staff planning for the next COVID phase and resetting of "business as usual services". This broader, system based service, has included developing and delivering managerial staff training to ensure compassionate and healthy workplace conversations with employees are fostered hospital wide. One staff member commented:
"I found it very useful to speak to someone who understands the pressures of what you face, and they didn't make me feel like just another number. They really took the time to get to know what was going on with me, ensuring I felt listened to and cared for. The session was supportive and non-judgmental and helped me to think about myself as a person, not only as a professional."
John Rogers, our Chief Executive at Skills for Health said: "The continuous and effective joint working and integrated approach the Health and Wellbeing Services team take to improving staff outcomes demonstrates why they are such worthy winners of the Health and Wellbeing Employer of the Year title. This award is a testament to their hard work and commitment to the entire NGH workforce, at such a crucial time." 
Dr Claire Hallas, Lead Health Psychologist at NGH said: "I'm so inspired to be part of this award winning, truly multidisciplinary health and wellbeing team at NGH. The Health and Wellbeing Services is embedded at all levels and delivers supportive services for individuals, teams and the organisation that are underpinned with a strong psychological evidence base and professional skill set. It's a fantastic team effort to deliver best care and practice. "