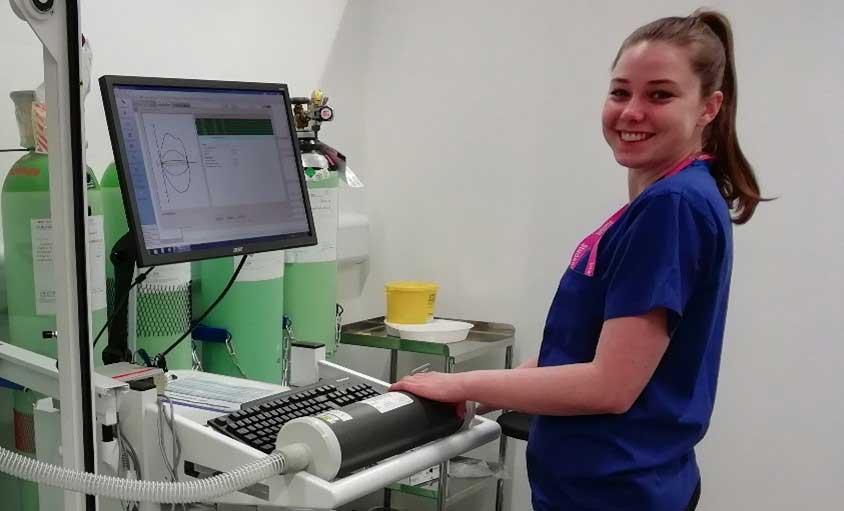 10 MINS
Janine Pring, a Respiratory Physiologist Apprentice at North Bristol NHS Trust (NBT), has been named UNISON Apprentice of the Year, at the fifth Our Health Heroes Awards, for her integral role in keeping staff and patients safe during COVID-19, with the essential fit testing of Personal Protective Equipment (PPE).
More than 300 NHS and Social Care staff came together virtually on March 23, with sector and government leaders for the ceremony, where Janine was presented with the coveted gold award by Roz Norman, Health Services Group Executive Chair at UNISON.
Healthcare professionals submitted more than 600 nominations across nine award categories, including the closely contested public vote for the Apprentice of the Year title. On announcing the national winner, Roz said: "This award is so important in continuing to nurture and develop the pipeline of talent and skills within our health and social care workforce. Janine's extraordinary efforts and hard work to cultivate the skills and knowledge to excel in her career demonstrates just why Apprenticeships are so incredibly valuable and viable paths into healthcare careers."
Delivered with the help of our partners NHS Employers, UNISON, SFJ Awards and Bevan Brittan, the annual Our Health Heroes campaign shines a light on the extraordinary efforts of thousands of healthcare support staff who work hard behind the scenes to keep the system running. After a year in which the NHS faced its toughest ever challenges, the first anniversary of the first UK lockdown was an apt day to be recognising, reflecting, and celebrating the difference to people lives these unsung health heroes continue to make, day after day.
Jonathan Hall, Non-Medical Education Manager at NBT said: "Janine is a shining example of an outstanding apprentice. Throughout this challenging year, Janine has continued to put her patients first and drive innovation to improve patient care. She has gone above and beyond supporting other areas of the trust with essential fit testing of PPE for her colleagues. Apprentices like Janine help strengthen and build the future of the NHS. This win is truly well deserved, congratulations Janine."
Since joining the Respiratory Physiology Team at NBT in September 2018, Janine has always put the patient at the centre of everything she does. Patients have commented that they like her relaxed and friendly, yet professional manner, even when dealing with challenging and difficult situations. She is always caring, empathetic and kind to both her patients and colleagues alike and brings a cheery positivity and 'can-do' attitude to all of her work.
Janine said: "Since joining the Respiratory Physiology Team, I have never looked back. Being an Apprentice Respiratory Physiologist to me means that I can do what I love best, helping patients. Be that by providing diagnostic testing to help diagnose a respiratory condition or providing reassurance and understanding to patients in times of need. Every day I have a sense of achievement where I have been able to provide a vital service for patients and put a smile on someone's face!"
When COVID-19 struck in March 2020, it was apparent that appropriate PPE would be critical to protecting frontline workers and patients. With PPE in limited supply across the UK, a national Bronze PPE Cell was established to provide clear guidelines for healthcare organisations on the correct use of PPE across different user groups, and to model and report current and forecasted demand and supply.
During this very busy and anxious time for staff at the trust, Janine, with her ability to adapt to change, stepped up and supported the PPE Bronze cell with crucial fit testing that helped stop transmission of the virus. The PPE Bronze cell Team were very impressed with Janine's professionalism and her commitment to ensuring staff safety was always put first. They commented: "Nothing was every too much trouble for Janine and she was always available to help out. She really was a truly integral part of the team."
Janine said: "Being an apprentice in the respiratory field throughout the pandemic has allowed me to be part of the wider NHS network, meeting colleagues in many different roles from across the entire hospital. Working through COVID-19, and my experience of mask fit testing many staff across the trust has been a key highlight of my learning journey. The experience has allowed me to understand and have a wider outlook on the variety of roles within the hospital, and how each is vital to keeping the one team motto of the NHS alive."
Janine's passion for respiratory medicine and apprenticeships makes her well poised to be an ambassador for both her field and this vital route into the sector. She has demonstrated this by sharing her experiences as an apprentice with others, both inside the trust and externally, by supporting careers events and giving talks to college students. Janine said: "My apprenticeship has allowed me to meet so many other different professionals working in the wider healthcare science world and understand their role in patient care, allowing me to see and experience the wider picture and vital work they do."
Janine added: "When I discovered I had been nominated for this prestigious award I was shocked and humbled. Being an apprentice gives me great pride, and the apprenticeship and respiratory team within the trust are amazing and have been my true inspiration for my journey so far and my journey yet to come. This award is for all the hard work our fantastic team here at NBT have done, and continue to do, so patients can be provided with the best care possible, and how during this pandemic there has been no exception. They are truly the real heroes that we all should aspire to be!"
Janine fought off competition from two other finalists from across the UK, yet after securing the most support via a public vote, was decided the national gold winner. Isa Khan, a Healthcare Support Worker Apprentice at Nottingham University Hospitals NHS Trust, took home the silver, and
Sofia Goodchild, a Team Administrator Apprentice at NHS Castle Point and Rochford CCG, was awarded the bronze.
John Rogers, our Chief Executive at Skills for Health said: "We will long remember the incredible contribution that our apprentices have made to the workforce this year. The integral part Janine, Isa, and Sofia, and all of our nations' apprentices have played in the health sector's ability to continue delivery of services, even under the most extreme circumstances, must be recognised, and serves to reinforce the key supporting role they play across our UK healthcare organisations every day."