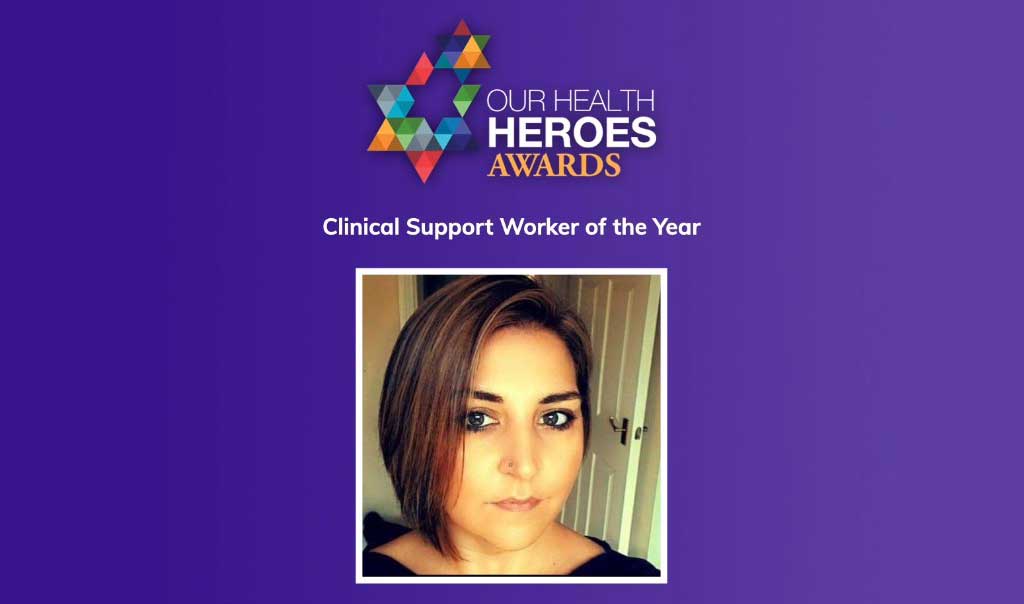 9 MINS
Claire Norton Petford, a Healthcare Assistant (HCA) in the Children's Emergency Department (CED) at Milton Keynes University Hospital (MKUH) has been named Clinical Support Worker of the Year, at the fifth Our Health Heroes Awards, for her dedicated work to making children feel safer throughout COVID-19.
More than 300 NHS and Social Care staff came together virtually on March 23, with sector and government leaders for the ceremony, where Claire was presented with the award by Dr Navina Evans, Chief Executive at Health Education England.
Healthcare professionals submitted more than 600 nominations across nine award categories, including the closely contested public vote for the Clinical Support Worker of the Year title. On announcing the national winner, Dr Evans said: "The last year has been like no other for the NHS, and for those working in clinical support roles, who have been pushed to the limit, have rallied together, and demonstrated absolute commitment, determination, and skill to the job at hand. Extraordinary individuals like Claire, do not just land into these jobs, they take years of training, experience and dedication to excel in their field, which is why it is so important we continually recognise the hard work of our incredible clinical support workforce." 
Delivered with the help of our partners NHS Employers, UNISON, SFJ Awards and Bevan Brittan, the annual Our Health Heroes campaign shines a light on the extraordinary efforts of thousands of healthcare support staff who work hard behind the scenes to keep the system running. After a year in which the NHS faced its toughest ever challenges, the first anniversary of the first UK lockdown was an apt day to be recognising, reflecting, and celebrating the difference to people lives these unsung health heroes continue to make, day after day.
The trust said: "We are delighted that Claire's work as part of Team MKUH has been recognised by winning this award. It is incredibly important to recognise the efforts of all staff, especially in this difficult period. Claire fully deserves this national recognition for her tireless efforts to improve the service to patients and their parents in our CED." 
Claire has been part of the CED since it first opened its doors many years ago. Consistently going above and beyond her job role to provide a high standard care, she frequently advises and supports members of the Multi-disciplinary Team by sharing her wealth of experience and knowledge.
Claire's colleagues said: "Claire always has a smile on her face and is always there for everyone else; putting others needs first and she truly deserves this recognition. She is an exceptional HCA, amazing colleague, and fantastic advocate for the children. She is the face of CED, and both staff and patients would be lost without her."
Improving children's experience in hospital is of the upmost importance to Claire. She creates a welcoming, safe, and caring environment to help children and their families prepare for medical procedures, and frequently takes on the role of a play specialist to keep them calm and distracted throughout. One of her responsibilities is treating minor injuries, and she has the ability to apply plaster casts and close wounds effectively on even the most uncooperative and scared patients with care and compassion.
From the onset of the pandemic Claire has played a key role in making the department more child friendly and safe in these uncertain times. Creating a large visual display in the waiting room that shows patients the faces behind colleague's masks, she has enabled children to see what staff would 'normally' look like, which has dramatically reduced anxiety. She has also designed educational boards entitled 'Snow White and the seven symptoms', displaying information on the signs of different childhood illnesses in an interesting way. Claire said: "I think it is important to not only treat our patients but educate them on their health and wellbeing – this has led to me creating education boards throughout our paediatric area." 
Being in hospital for special occasions can be a really difficult time for children and their families. Claire has taken on a leading role in ensuring the department is well prepared with extensive decoration, making it feel more welcoming and inviting. Claire also facilitates donations from several charities who generously donate to the CED, including teddy bears to give to distressed children whilst they receive treatment, and distraction boxes full of toys and activities.
Claire said: "Over my nine years of working in the CED, I have always believed that every patient and parent should feel comfortable in the hospital environment. I cannot express how grateful I am for this reward. To even be considered is a great privilege. I would like to thank my wonderful team for all their support and hard work, especially when they involve my weird and wonderful ideas, I truly believe they have made me the HCA I am today."
Claire fought off strong competition from two other finalists from across the UK, yet after securing the most support via a public vote, was decided the national gold winner. Thomas Gregory-Smith, a Community Support Worker within Oxford Health NHS Foundation Trust's City Older Adult Community Mental Health Team, took home the silver, and Eileen McCullough, a Health Care Support Worker at the Belfast Health and Social Care Trust, was awarded the bronze.
John Rogers, our Chief Executive at Skills for Health said: "Clinical Support Workers like Claire, Tom and Eileen, play a crucial role in the delivery of exceptional care to patients and service users within the NHS every day. Without them, our health and social care sector simply could not exist. All of our nominees this year have been on the front line helping to care for the most vulnerable in society throughout the pandemic, and for that I would like to thank everyone who made a nomination for these incredible individuals."