Integrated Care Systems are the future of healthcare. Integrated Care Systems (ICS) allow true multi-agency care, seamlessly coordinating multiple different disciplines and specialties. An ICS allows for smoother interaction between primary and secondary care. GPs and hospitals, mental health services, medical and surgical specialties will all fall under a regional ICS to deliver joined-up care.
Integrated Care Systems Infographic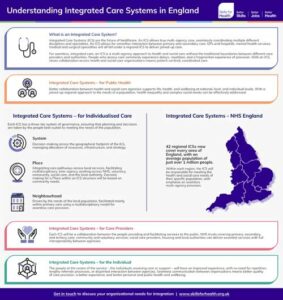 The ICS Infographic is a free resource you can find additional information regarding ICSs including:
What is an ICS
ICS landscape within NHS England
ICSs for public health
ICSs for individualised care
ICSs for care providers
ICSs for the individual
Fill in you details below and get our free resource:
Find out more about Integrated care Systems:
How integrated care systems can enhance workforce collaboration and improve patient care
Integration, Collaboration, Transformation: Our consultants address 3 key questions
Integrated Care Workforce Solutions
Leading Integrated Systems of Care
So we can keep our free resources up to date and relevant, please take part in a short 4-minute survey to provide feedback about Skills for Health and our website. Thank you for your time and contribution.