The Musculoskeletal Core Capabilities Framework is aimed at practitioners who will be the first point of contact for people with musculoskeletal (MSK) conditions.
The delivery of high quality MSK care and successfully meeting the increasing demands on healthcare services relies on developing a skilled and well-integrated multidisciplinary workforce. This capability framework aims to ensure that the range of health professionals who provide care for people with MSK problems are equipped to consistently deliver person-centred care, can play a full role in helping to manage problems appropriately at the first point of contact and help towards achieving better outcomes across the system.
The framework was commissioned by Health Education England and NHS England, building upon work previously undertaken by the national programme delivered by the Arthritis and Musculoskeletal Alliance (ARMA) and its member organisations. It has been endorsed by organisations such as the Royal College of GPs and Public Health England.
The framework comprises 14 Capabilities in four domains:
Domain A. Person-Centred Approaches
Capability 1. Communication
Capability 2. Person-centred care
Domain B. Assessment, Investigation and Diagnosis
Capability 3. History-taking
Capability 4. Physical assessment
Capability 5. Investigations and diagnosis
Domain C. Condition Management, Interventions and Prevention
Capability 6. Prevention and lifestyle interventions
Capability 7. Self-management and behaviour change
Capability 8. Pharmacotherapy
Capability 9. Injection therapy
Capability 10. Surgical interventions
Capability 11. Rehabilitative interventions
Capability 12. Interventions and care planning
Capability 13. Referrals and collaborative working
Domain D. Service and Professional Development
Capability 14. Evidence-based practice and service development
Download the framework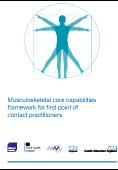 Click here to download
the framework
Sign up to receive updates from Skills for Health
By signing up to our monthly newsletter, HealthView, you can hear all the latest news and developments on our work, including any framework consultations or launches.