The Frailty Framework of Core Capabilities was commissioned by Health Education England and NHS England. Development of the framework was facilitated by Skills for Health, working in partnership with key stakeholders, including: Health Education England, NHS England, Age UK, British Geriatric Society, Royal College of GPs, and housing, local government and voluntary sector organisations.
Frailty remains a new area for much of the workforce and work is now needed to position frailty as a long-term condition and underpin it with the upskilling of the workforce.  This framework aims to identify and describe the skills, knowledge and behaviours required to deliver high quality, holistic, compassionate care and support. It provides a single, consistent and comprehensive framework on which to base review and development of staff.
The framework comprises 14 capabilities, grouped into 4 domains:
Domain A. Understanding, identifying and assessing frailty
Capability 1. Understanding frailty
Capability 2. Frailty identification and assessment
Domain B. Person-centred collaborative working
Capability 3. Person-centred approaches
Capability 4. Communication
Capability 5. Families and carers as partners in care
Capability 6. Collaborative and integrated working
Domain C. Managing frailty
Capability 7. Preventing and reducing the risk of frailty
Capability 8. Living well with frailty, promoting independence and community skills
Capability 9. Physical and mental health and wellbeing
Capability 10. Managing medication
Capability 11. Care and support planning
Domain D. Underpinning principles
Capability 12. Law, ethics and safeguarding
Capability 13. Research and evidence-based practice
Capability 14. Leadership in transforming services
As well as being a standalone resource, it complements similar frameworks for person-centred approaches, dementia, end of life and musculoskeletal care to provide an approach to training and education which is holistic and person-centred care.
Download the framework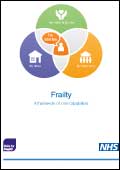 Click here to download
the framework
Sign up to receive updates from Skills for Health
By signing up to our monthly newsletter, HealthView, you can hear all the latest news and developments on our work – including framework updates, consultations or launches.