The framework was commissioned and funded by the Department of Health and developed in collaboration by Skills for Health and Health Education England (HEE) in partnership with Skills for Care. Development of the framework was guided by an Expert Group including a wide range of health and social care organisations, relevant Royal Colleges and education providers.
The framework sets out the core skills and knowledge which would be transferable and applicable across different types of service provision. It includes expected learning outcomes for training delivery, key policy and legal references and is aligned to related national occupational standards. The aim is to help ensure the quality and consistency of dementia training, and to help prevent unnecessary duplication of training.
The framework comprises the following subjects:
Dementia awareness
Dementia identification, assessment and diagnosis
Dementia risk reduction and prevention
Person-centred dementia care
Communication, interaction and behaviour in dementia care
Health and well-being in dementia care
Pharmacological interventions in dementia care
Living well with dementia and promoting independence
Families and carers as partners in dementia care
Equality diversity and inclusion in dementia care
Law, ethics and safeguarding in dementia care
End of life dementia care
Research and evidence-based practice in dementia care
Leadership in transforming dementia care
In 2018, a review of the original 'Dementia Core Skills Education and Training Framework' was undertaken, led by the original project partners; Skills for Health, Health Education England and Skills for Care. In particular, the update and review included a number of additions regarding food, drink and oral health and the updated framework was re-titled the Dementia Training Standards Framework.
Download the framework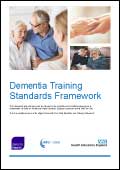 Click here to download
the framework
Sign up to receive updates from Skills for Health
By signing up to our monthly newsletter, HealthView, you can hear all the latest news and developments on our work – including framework updates, consultations or launches.