Advanced Clinical Practice (Nurses) Working in General Practice / Primary Care in England (2020)
Primary care and general practice are ever evolving to meet the increasing and more complex needs of local communities / populations. This will require new ways of working and the development of multi-professional general practice and primary care teams.
This framework provides a standard and greater clarity on the capabilities for nurses working at the advanced clinical practice level within general practice.
Structure of the framework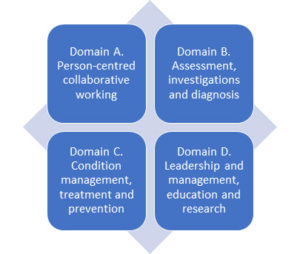 The framework comprises 4 Domains. Within the Domains, 13 Capabilities describes the skills, knowledge and behaviours required for nurses working at the advanced clinical practice level. The Capabilities are underpinned by core indicative knowledge, key clinical presentations, investigations and referrals.
A range of materials have also been developed that primary care nurses, clinical supervisors and others may find of use in evidencing achievement of the capabilities and in the development of a portfolio.
This framework aligns with the requirements for clinical practice set out in the Multi-Professional Framework for Advanced Clinical Practice in England (HEE 2017).
Development of the framework
The framework was commissioned by NHS England GPN Ten Point Plan Team and Health Education England.
Project delivery was led by Skills for Health and guided by a project steering group which comprised key stakeholders including advanced clinical practitioners, NHS Trusts, Royal Colleges, professional bodies and patient representation.
List of capabilities
Domain A. Person-centred collaborative working
Capability 1. Communication and consultation skills
Capability 2. Practising holistically to personalise care and promote public and person health
Capability 3. Working with colleagues and in teams
Capability 4. Maintaining an ethical approach and fitness to practice
Domain B. Assessment, investigations and diagnosis
Capability 5. Information gathering and interpretation
Capability 6. Clinical examination and procedural skills
Capability 7. Making a diagnosis
Domain C. Condition management, treatment and prevention
Capability 8. Clinical management
Capability 9. Managing medical and clinical complexity
Capability 10. Independent prescribing and pharmacotherapy
Domain D. Leadership and management, education and research
Capability 11. Leadership, management and organisation
Capability 12. Education and development
Capability 13. Research and evidence-based practice
Download the framework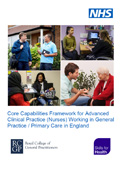 Click here to download
the framework
Registration of interest
By registering your details, you will be informed of any future activities to support implementation of the framework (development of resources, evaluation or updates).