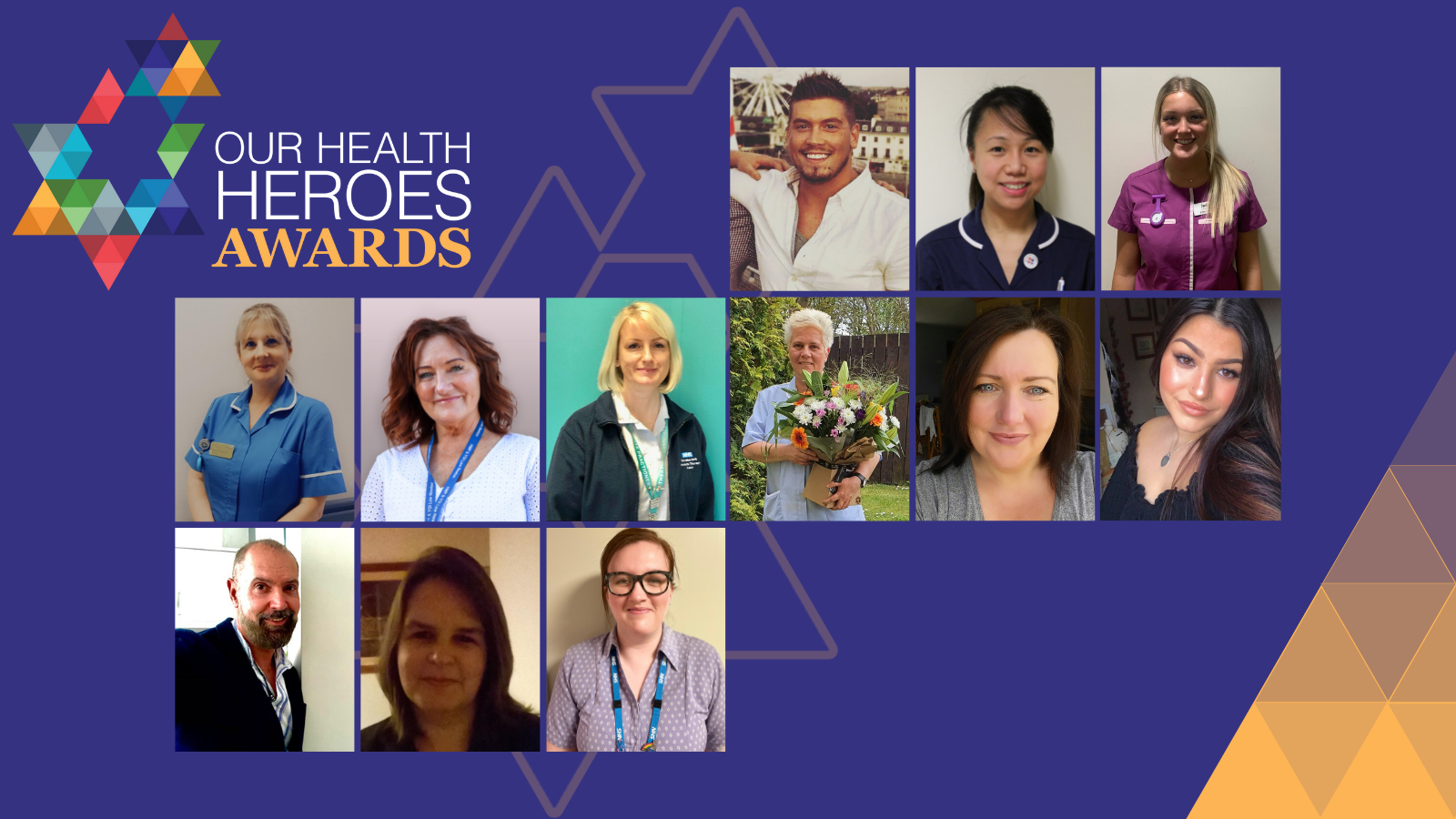 7 MINS
By Skills for Health | 17 January 2022
The finalists for Skills for Health Our Health Heroes Awards 2022 have been revealed and voting is now open!
Supported by Health Education England, NHS Employers, UNISON, Bevan Brittan and SFJ Awards, Our Health Heroes Awards celebrates the wider healthcare workers that support our NHS doctors and nurses on the frontline.
From porters and cleaners to receptionists, gardeners and security guards, these often unsung heroes make up roughly 40% of the NHS' million-strong workforce; Our Health Heroes Awards is a national celebration of their achievements and an opportunity to give thanks for the important role that they play in keeping our health service functioning.
Now in its sixth year, Our Health Heroes Awards 2022 received hundreds of nominations from fellow healthcare workers and across the community. These have now been whittled down to 12 finalists across four categories, and the gold, silver or bronze prize winners will be announced at an awards ceremony due to take place at the London Science Museum on 24th March.
Outstanding Lifetime Contribution to Healthcare, sponsored by NHS Employers:
Ediscyll Lorusso – St George's University Hospitals NHS Foundation Trust
James Shanley – NHS Lothian
Kim Hogg – Spectrum Community Health CIC
Vote here.
Breakthrough Apprentice of the Year, sponsored by UNISON:
Sharon Maywood – North West Anglia NHS Foundation Trust
Megan Nicolaou-Dance – Minstead Trust
Jade Loton – Sunrise Senior Living
Vote here.
Exceptional NHS Operational Support Worker of the Year, sponsored by UNISON:
Julie Kemp – Southern Health NHS Foundation Trust
Chris Sparks – Torbay and South Devon NHS Foundation Trust
Sarah Martin – Liverpool Women's NHS Foundation Trust
Vote here.
Inspirational Clinical Support Worker of the Year:
Lucy Clifton – East Suffolk and North Essex NHS Foundation Trust
Allison Morrison – Call-In Homecare
Mary Jackson – Southern Health & Social Care Trust
Vote here.
Voting opens today (17th January) and will run until 4th February.
In addition to awards for individuals, a panel of judges will decide the group category winners, which includes prizes for NHS Improvement Through Digital Innovation, Dedication to a Lifelong Learning Culture and Most Inspired Health and Care Support by a UK Charity.
John Rogers, Chief Executive of Skills for Health, which delivers Our Health Heroes Awards, comments:
"Without the wider healthcare workforce that Our Health Heroes Awards aims to recognise and celebrate our NHS would grind to a halt.
Now more than ever, it is important to raise awareness of the valuable contribution that these inspirational teams and individuals make to the health of the nation and to thank them publicly for the sacrifices they make."
Dr Navina Evans, Chief Executive of headline sponsors Health Education England, comments:
"Health Education England is delighted to be sponsoring the Our Health Heroes awards. In the face of the greatest challenge in the health service's history, healthcare support workers truly are the sector's unsung heroes – keeping the NHS running from behind the scenes to ensure patients receive the very best care possible.
We know that there are challenges ahead as we continue to deal with significant pressures from rising COVID-19 infections. However, the skill, determination and spirit shown by our healthcare support workers including the finalists announced today, means we face the future with confidence."
UNISON's Head of Health, Sara Gorton, said:
"The dedication, expertise and hard work of all NHS staff must be recognised, particularly at a time of such immense pressure on the health service.
The Our Health Heroes Awards shine a light on the vital work of the entire healthcare team – cleaners, porters, security staff, receptionists, medical secretaries and many more – without whom the NHS simply couldn't function.
UNISON is delighted to be sponsoring the awards once again to help recognise and give thanks for the valuable work of the whole NHS team."
Alastair Currie, Employment Partner at long-time sponsors Bevan Brittan, adds:
"We are delighted to be sponsoring Our Health Heroes Awards once again, and at a time of immense pressure on our NHS.
"Despite the hardships of recent years, the teams and individuals that Our Health Heroes Awards celebrates have remained steadfast and resolute, going above and beyond to provide excellent care day in day out.
"We thank them for their hard work and sacrifice and invite the public to cast their vote and give these often unsung heroes in our NHS the credit they deserve.