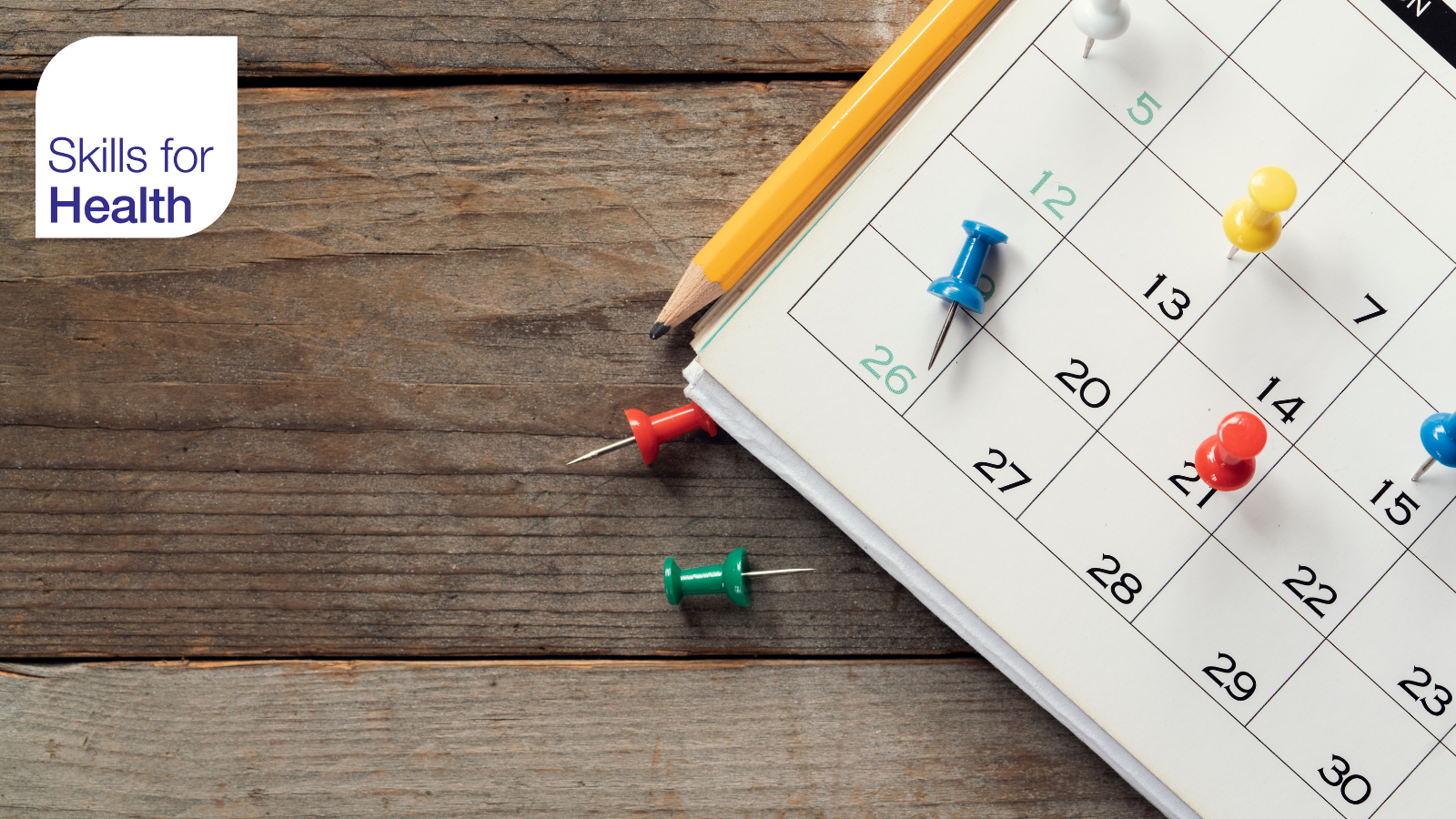 11–13 MINS
By Skills for Health | 26 January 2022
There are numerous key dates and health campaigns to look out for throughout the year, so we have put together a list of key dates and events which might be of interest to the health sector. Our events team will also be delivering a range of dedicated healthcare events throughout the year. Sign up to our newsletter to receive live event updates, as well as useful resources and additional information.
3rd February – Time to Talk Day #TimeToTalk
Time to Talk Day is a campaign created by Time to Change, a leading mental health charity. The day supports conversations about mental health and aims to break down some of the barriers to talking about how we are feeling.
4th February – World Cancer Day #CloseTheCareGap
World Cancer Day is the global uniting initiative led by the Union for International Cancer Control. They raise worldwide awareness, improving education and catalysing personal, collective and government action. The day asks us to imagine a world where millions of preventable cancer deaths are saved and access to life-saving cancer treatment and care is equitable for all – no matter who you are or where you live.
7th to 13th February – National Apprenticeship Week #BuildTheFuture #NAW22
National Apprenticeship Week is all about celebrating apprenticeships and highlighting the work done by employers and apprentices. The 15th annual week-long celebration is an opportunity for employers to promote their apprenticeship schemes and jobs. Employers from all sectors come together to present the diverse range of career options available, giving employers the chance to engage and inspire future apprentices. This year's theme is 'Build the Future' continuing on from last year.
8th March – International Women's Day #BreakTheBias #IWD2022
International Women's Day is a global day celebrating the social, economic, cultural and political achievements of women. The day also marks a call to celebrate women's achievements and raise awareness against bias.
14th to 20th March – Healthcare Science Week #HCSW22
National Healthcare Science Week, run by the office of the Chief Scientific Officer, is an annual celebration and opportunity to raise awareness of the many diverse and interesting careers in healthcare science and inspire the scientific workforce of the future.
20th March – World Oral Health Day #WOHD22
World Oral Health Day is dedicated to raising global awareness of the issues around oral health and the importance of oral hygiene so that governments, health associations and the general public can work together to achieve healthier mouths and happier lives. This and next year's campaign theme is 'Be Proud Of Your Mouth'.
24th March – Our Health Heroes Awards #OurHealthHeroes
Now in its 6th consecutive year, we will be welcoming this year's Our Health Heroes finalists at a fully covid secure awards ceremony at the London Science Museum on Thursday 24th March. The ceremony will also be streamed live for all friends, family, colleagues and members of the public to watch – register your details here.
28th March to 3rd April – Autism Acceptance Week
Autism Acceptance Week (previously Autism Awareness Week) is observed to raise awareness about autism and how it affects not only those who live with it but people around them as well. Organised by the National Autistic Society, it stands alongside World Autism Awareness Day as the flagship awareness event for Autism worldwide.
7th April – UN World Health Day #WorldHealth
World Health Day has been celebrated on 7th April annually following an agreement by countries of the United Nations. Each year a different theme is chosen to highlight a key area of concern for the United Nations body dedicated to health, the World Health Organization (WHO). This year the theme is Protecting Health from Climate Change and they will be putting health at the centre of the global dialogue about climate change.
24th to 28th April – World Immunisation Week
World Immunisation Week is celebrated every year in the last week of April – the aim is to promote the use of vaccines to protect people of all ages against disease. Immunisation saves millions of lives every year and is widely recognised as one of the world's most successful health interventions.
9th to 15th May – Mental Health Awareness Week #MentalHealthAwarenessWeek
Mental Health Awareness Week is the UK's national week to raise awareness of mental health and mental health problems. It seeks to inspire action to promote the message of good mental health for everyone. Mental Health Awareness Week is an event hosted by the Mental Health Foundation.
12th May – International Nurse's Day #InternationalNursesDay
International Nurses Day is celebrated around the world every May 12, the anniversary of Florence Nightingale's birth. The International Council of Nurses commemorates this important day each year with the production and distribution of the International Nurses' Day resources and evidence.
16th to 22nd May – Learning at Work Week #LearningAtWorkWeek
Learning at Work Week is a unique annual event to build learning cultures at work. It aims to put a spotlight on the importance and benefits of continual learning and development. Each year, thousands of organisations run vibrant, creative campaigns and activities which promote a learning culture, stimulate curiosity and engage employees in learning. This year's theme is 'Learning Uncovered'.
6th to 12th June – Carer's week
Carers Week is an annual campaign to raise awareness of caring, highlight the challenges unpaid carers face and recognise the contribution they make to families and communities throughout the UK. It also helps people who don't think of themselves as having caring responsibilities to identify as carers and access much-needed support.
14th to 20th June – Learning Disability Week #LDWeek2022
Learning Disability Week is organised every year by the learning disability charity, Mencap. It aims to improve the quality of life for individuals with learning disabilities by raising awareness about important issues, fighting stigma and discrimination, and raising funds for outreach and support programs. As such, Learning Disability Week will be close to the hearts of many teachers, parents, and other educators.
9th September – Emergency Services Day (999 DAY) #999DAY
The Emergency Services Day promotes the work of the emergency services, using the emergency services responsibly, educating the public about basic lifesaving skills, and promotes the many career and volunteering opportunities available.
10th September – World Suicide Prevention Day #WorldSuicidePreventionDay
Every year organisations and communities around the world come together to raise awareness of how we can create a world where fewer people die by suicide. Each year has a different theme and focus, to bring to light a specific aspect of suicide prevention. This year's theme, which will be the theme until 2023, is 'Creating Hope Through Action', which aims to empower people with the confidence to engage with the complexity of 'hope'.
10th October – World Mental Health Day #WorldMentalHealthDay
World Mental Health Day is an opportunity to raise awareness and advocacy against mental health stigma and for a chance to get conversations started on the importance of asking for help if anyone is struggling. This year's theme set by the World Federation for Mental Health is 'Mental Health In An Unequal World'.
7th to 11th November – International Stress Awareness Week #NationalStressAwarenessDay
Stress Awareness Week was created to raise awareness about stress prevention, an opportunity to start conversations about the importance of looking after your mental health. This year's campaign theme is collaboration, hoping to inspire dialogues about mental health issues and how to help alleviate stress.
To find out more about our own upcoming healthcare events, news, and expert insights sign up to receive updates using the form below.