Quality Mark Foundation
Answers to frequently asked questions about the Quality Mark Foundation pilot scheme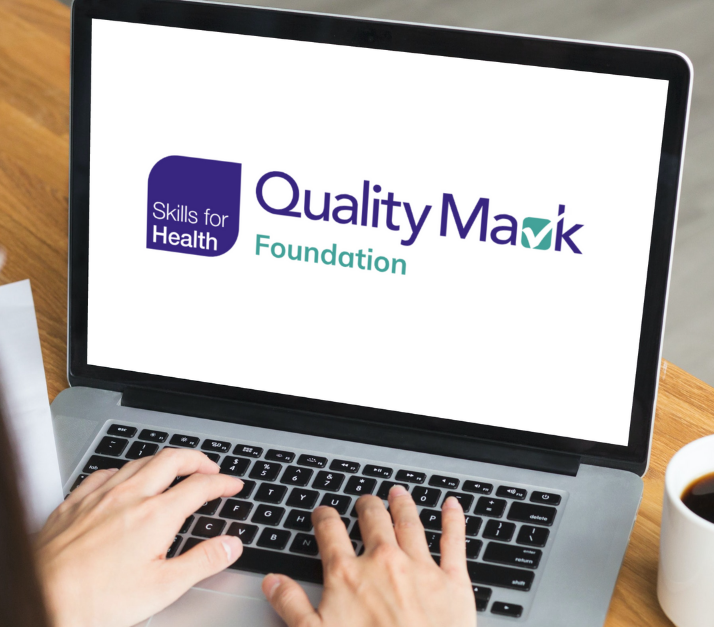 Our new Quality Mark Foundation endorsement is being launched through a pilot scheme, inviting training providers to take part and become endorsed by Skills for Health, through the online self-assessment tool. The pilot includes a 1-hour consultation with our leading training quality assurance experts. Find out more by reading the FAQs below, or get in touch to become a Quality Mark Foundation holder.
Skills for Health's Quality Mark Foundation endorsement is a training quality assurance programme that allows training providers who deliver health and social care learning to complete an online self-assessment and become an endorsed provider. Once endorsed, training companies can display the Skills for Health Quality Mark Foundation logo to demonstrate their alignment to our quality assurance criteria.
The Foundation endorsement provides a solution for small to medium providers who do not require  the  in-depth audit as outlined in our full Quality Mark programme.
The Quality Mark Foundation endorsement is just £995 + VAT per year and is delivered, via our online self-assessment service and a 1-hour virtual consultation with one of our leading quality assurance experts. Payment is only accepted online, using a credit or debit card.
Achieving the Quality Mark Foundation endorsement is simple:
Complete the online self-assessment tool within 1-week of payment purchasing
Book your 1-hour virtual consultation with one of our training experts to review your self-assessment
Upon completion, you will have successfully received the Foundation endorsement and receive all the added benefits of using the Skills for Health Quality Mark logo on your training materials, website, and marketing collateral
Renew annually by paying online and completing the latest version of the self-assessment
The Foundation endorsement, by Skills for Health demonstrates your alignment to 25 industry-leading criteria to self-assess your capabilities in delivering quality training for the health and care sectors. Employers, staff, and learners recognise the Skills for Health Quality Mark logo as a trusted kitemark for the standardisation of quality assured learning.
Benefits of being endorsed by Skills for Health:
Raising the profile of your business – you'll be instantly recognised as a quality learning provider with the Quality Mark Foundation endorsement
Quality Mark Foundation endorsed provider logo – you've proven you deliver quality learning and training, now you can feature the industry kite-mark on all your marketing materials
Quality assurance – your clients and learners will have confidence in the quality and delivery of the training you provide, aligned to the self-assessment criteria
Feature in our Quality Mark Endorsed Provider directory – employers regularly use the directory to find high quality learning
Feature in the Skills for Health newsletter – sign up to and be featured in the monthly newsletter which is delivered to over 35,000 healthcare and training professionals
Join exclusive networking events – we use our virtual networking events to promote our endorsed providers and share case studies
Receive discounted consultancy – learning providers who have achieved endorsement can get further quality assurance, learning and development consultancy at a preferential rate
Recognise your staff and celebrate their achievements – share the success of being recognised as a high-quality learning provider with your own team, aligned to Skills for Health Foundation self-assessment criteria
As the Sector Skills Council for Health, we have over 20 years of experience delivering our own learning programmes, supporting NHS Trusts and employers to upskill their workforce, and quality assuring learning to meet industry standards.
We develop and maintain the Core Skills Training Framework and countless other core capabilities and career frameworks, and standards, meaning we only endorse programmes that meet the national needs of the healthcare sector.
National bodies like Health Education England and NHS England & Improvement trust us as the leading authority on hundreds of programmes of work to substantiate skills' needs for roles within the NHS.
Plus, over 60 employers and like-minded training providers have already completed the Quality Mark endorsement, recognising that our kitemark provides clients and learners with reassurance that training meets the exceptional standards for the UK healthcare workforce.
The Quality Mark Foundation is a self-assessment endorsement based on 25 industry-leading criteria. Criteria includes consideration for your organisation's values and vision, aims and objectives, partnerships, policies, and procedures, learning methodology, learning outcomes, quality assurance processes, consideration for learners' needs and objectives, the opportunity for learners to feedback, review processes, learning management systems, assessment methods, plagiarism, and further support for learners.
Review the full online self-assessment here. Please note, you should only complete the assessment once your payment for Quality Mark Foundation has been made.
Your endorsement will be valid for 12-months and 1-week from the date of your purchase. You will be notified when your endorsement is due for renewal, approximately 1-month prior to the validation end-date. To renew your endorsement, simply purchase for a further 12-months online. You will be asked to complete another self-assessment to confirm your alignment to the Quality Mark Foundation standards.
You can discuss any areas where you have not met the self-assessment criteria within your 1-hour consultation with one of our leading quality assurance experts. The team will discuss areas for improvement and provide guidance on how to achieve the Quality Mark Foundation endorsement. Once the consultation has ended, you may be required to submit evidence to demonstrate you meet the criteria of the endorsement later. You can re-submit your online self-assessment at any time to receive the endorsement. We will discuss these options with you on the initial consultation.
Yes, once you have successfully received the Quality Mark Foundation endorsement, you are able to use the Skills for Health Quality Mark Foundation logo within your training modules, on your website, and in your marketing collateral. You can only use the Foundation logo; you are not permitted to use the standard Quality Mark logo or the Skills for Health logo in isolation.
You will be provided with the Foundation logo, and you can use this for the duration of your endorsement. If you do not renew your endorsement after 12-months, you must cease to use the logo in all content.
Yes, the Quality Mark Foundation endorsement is for all types of leaning, whether that be elearning for healthcare staff, blended learning programmes, face to face training, practical assessment, training webinars, and training that awards CPD.
The Quality Mark Foundation endorsement is recommended for small to medium training providers to align to Skills for Health's quality assurance programme.
NHS Trusts and larger health and social care organisations are recommended to complete the full Quality Mark audit (at a cost of £4250 for new providers), which includes a robust 5-day assessment of training. This is designed to ensure that learning and development teams delivering a range of complex training in-house directly to staff, meet the highest quality of standards, recognised by Skills for Health.
No, the Quality Mark Foundation endorsement is only available to be purchased online using a credit/debit card. A receipt for proof of purchase is available on the Skills Platform.
Yes, our team will contact you to confirm you have successfully completed the Quality Mark Foundation endorsement following a review of your self-assessment answers and the mandatory 1-hour consultation. Your endorsement will be valid from the date of purchase (not the date of completion).
Yes! You can share the good news with your network, on your website, on social media and anywhere else you would like to. Let us know when and how you will be sharing your achievement, and tag @SkillsforHealth on twitter.
Yes, as a Quality Mark Foundation endorsed provider you can benefit from discounted consultancy services from our leading team of training and quality assurance experts. If you have specific concerns or development needs to improve learning outcomes and enhance your training, speak to a member of the team to discuss a programme to help.
Your current Quality Mark full endorsement is valid for 12-months from the date in which you successfully completed the audit, received your Quality Mark report and certificate. During this period, you cannot gain the Quality Mark Foundation endorsement.
However, when your renewal is due, we can discuss the options with you to see if the Quality Mark Foundation endorsement is suitable for your organisation moving forward. This would entail completing an online purchase for the new endorsement and completing the self-assessment.