Case Study
Schoen Clinic UK
Within 8 weeks, LearnSpace LMS had been configured to Schoen Clinic UK's exact requirements.
Book a demo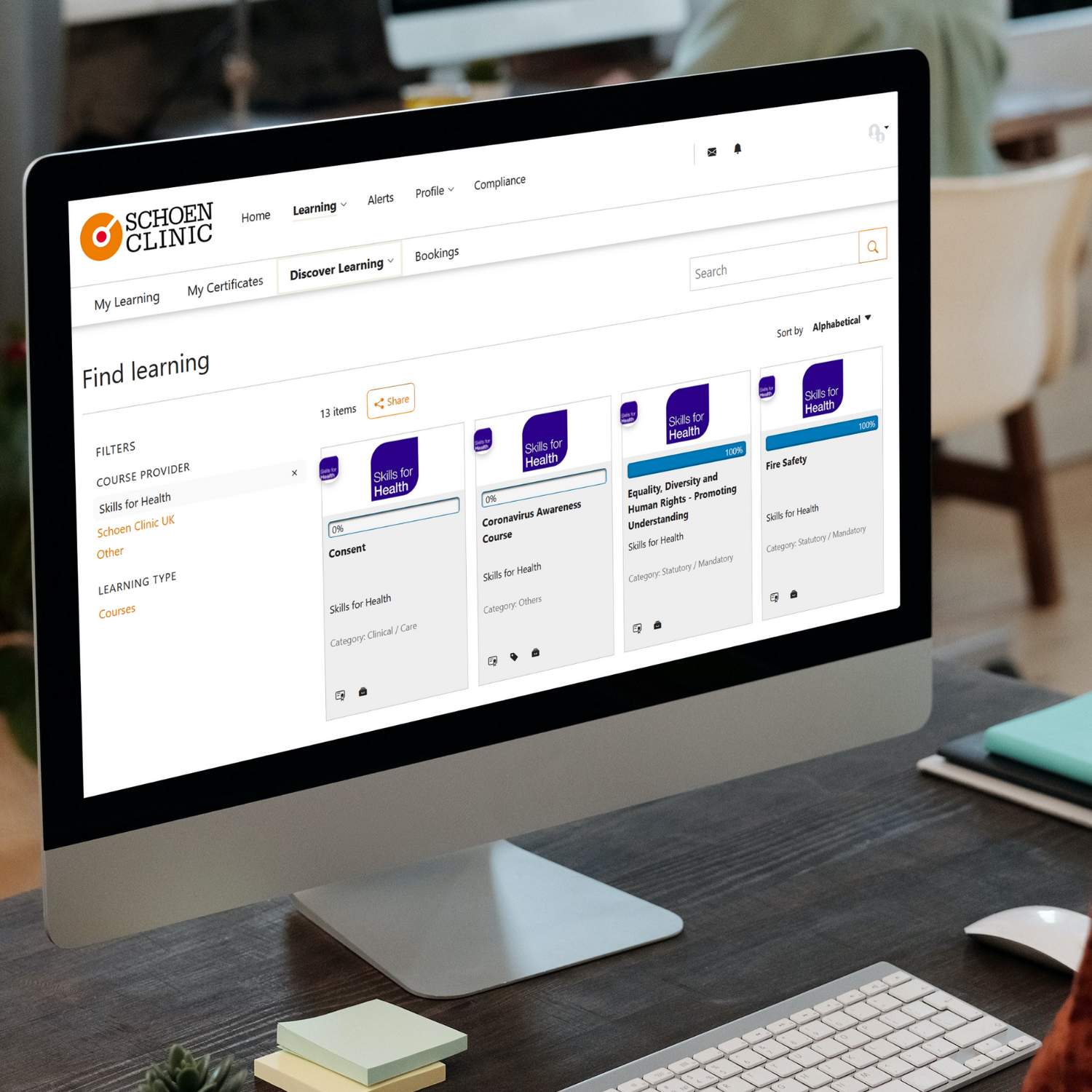 The challenge
Efficient compliance monitoring and reporting was a primary focus for Schoen Clinic. They needed a solution to: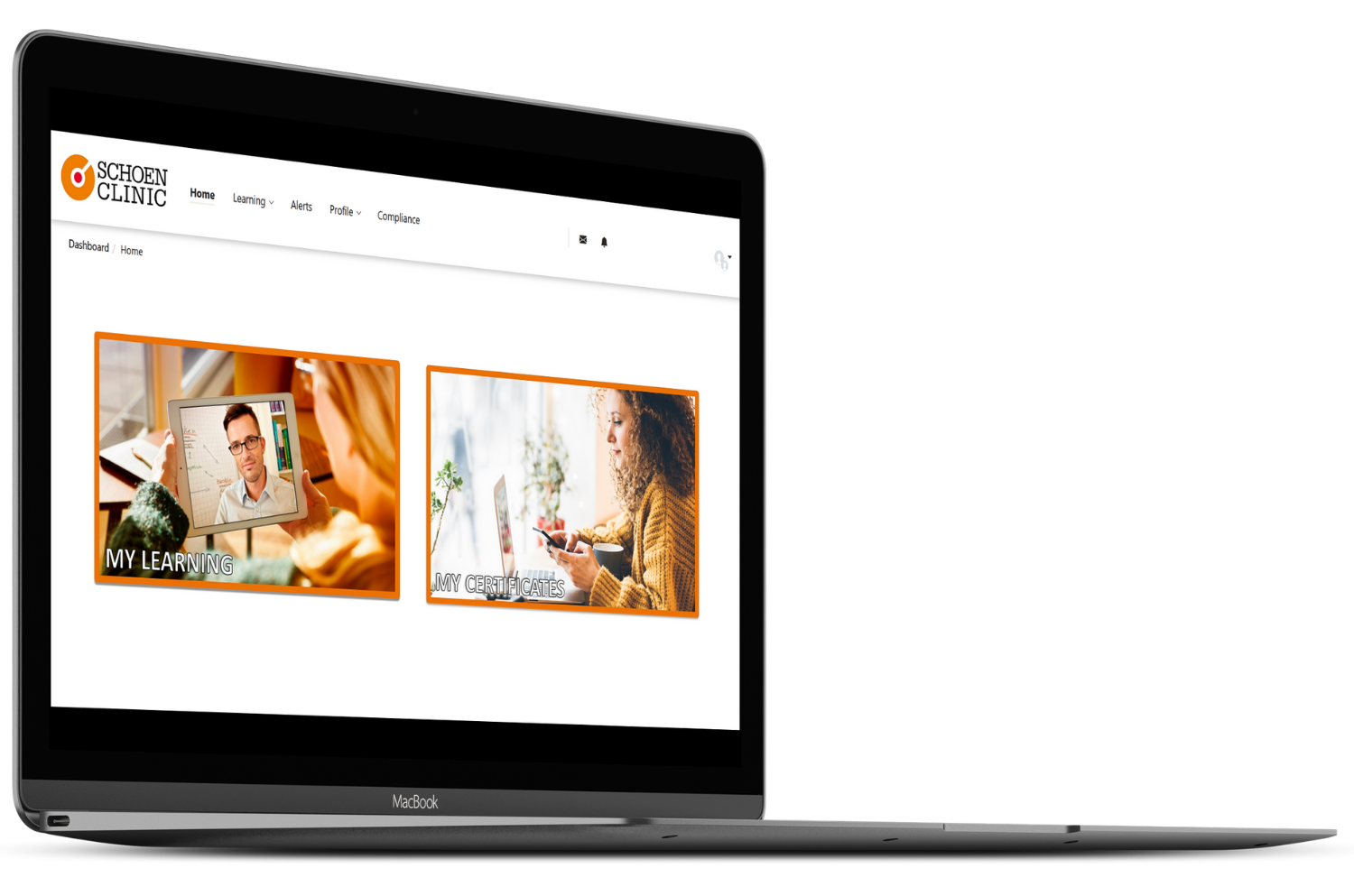 Rapidly deliver training to 500 learners, with the opportunity to add more learners in future.

Deliver the correct compliance training to each colleague.

Provide accurate reports to internal and external stakeholders.

Enable the HR team to quickly get a view on training compliance across the organisation.

Hold accurate records of compliance training for each colleague.
The solution
Schoen Clinic UK chose our bespoke LMS solution LearnSpace, which is based on the Totara platform, because they appreciated the flexibility of the solution. They needed a supplier who could really understand their business requirements, so ultimately chose Skills for Health due to our experience implementing LearnSpace and eLearning in UK healthcare organisations, and because of the ongoing support we could offer.
Having previous experience of working with Skills for Health, we were keen to engage them for our complete overhaul of eLearning for Schoen Clinic. The platform has evolved over the years and provided the solution we needed for our complex workforce."
Faye Mell, HR Director, Schoen Clinic UK
Successful implementation
To achieve successful implementation, we worked closely with Schoen Clinic and assigned them with a dedicated Project Manager and Implementation Manager. Weekly project meetings were also set up to ensure the Schoen Clinic team felt supported and reassured throughout the implementation project.
To ensure the solution would fully meet their requirements, a technical discovery workshop was held with key stakeholders such as project funders, learning managers and administrators. This included a detailed analysis of LearnSpace functionality and provided Schoen Clinic with the opportunity to ask questions – ultimately resulting in a defined scope of work and key deliverables, which were outlined in a formal project plan.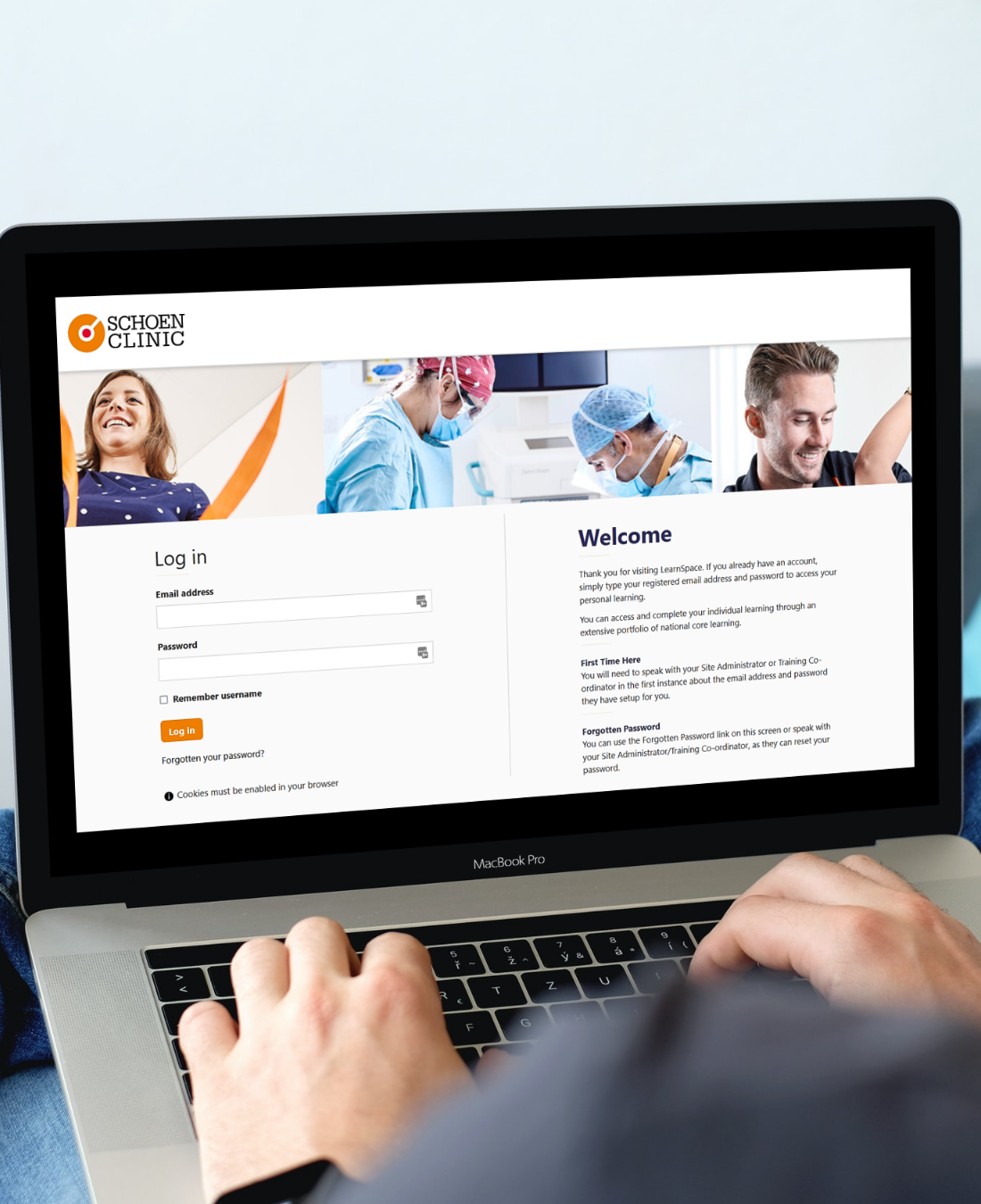 Within 8 weeks of the discovery workshop, LearnSpace had been configured to Schoen Clinic UK's exact requirements. This included:
A personalised platform with Schoen Clinic UK branding.

Access to a bespoke eLearning catalogue comprised of our Mandatory Core Skills and Clinical Care bundles, as well as courses from selected partners.

Set up of Schoen Clinic UK's organisational and position hierarchies for segmenting their learners.

Audiences for enabling the automatic enrolment of their learners onto certifications relevant to their organisation and position.

Detailed course progress reports for managers and administrators to monitor in-date and expiring training.

Notification reminders for learners and managers enabling them to proactively manage their own compliance.

Migration of their learner records including job role information and existing training records – all mapped to their Skills for Health courses to maintain their current level of training compliance.
Following the initial set up, we provided guidance on onboarding learners, scheduling face-to-face training through LearnSpace, and hosting third-party eLearning packages. Prior to launching LearnSpace, there was a period of testing which enabled Schoen Clinic to explore its features and become confident in using the new system. We then provided expert advice to support them in rolling-out the solution across the business. This included interactive Train the Trainer workshops with their administration team and access to the Totara online learning academy.
Compliance reporting
Since the initial implementation of LearnSpace, we have worked with Schoen Clinic to transform their compliance reporting. This involved adding a compliance reporting dashboard which uses certifications to monitor completion of statutory and mandatory training in real-time. This provided Schoen Clinic with visibility of their overall eLearning compliance for statutory and mandatory training for the first time. Since implementing the compliance reporting dashboard, Schoen Clinic have provided feedback that we're pleased to be incorporating into our next release of the compliance reporting dashboard.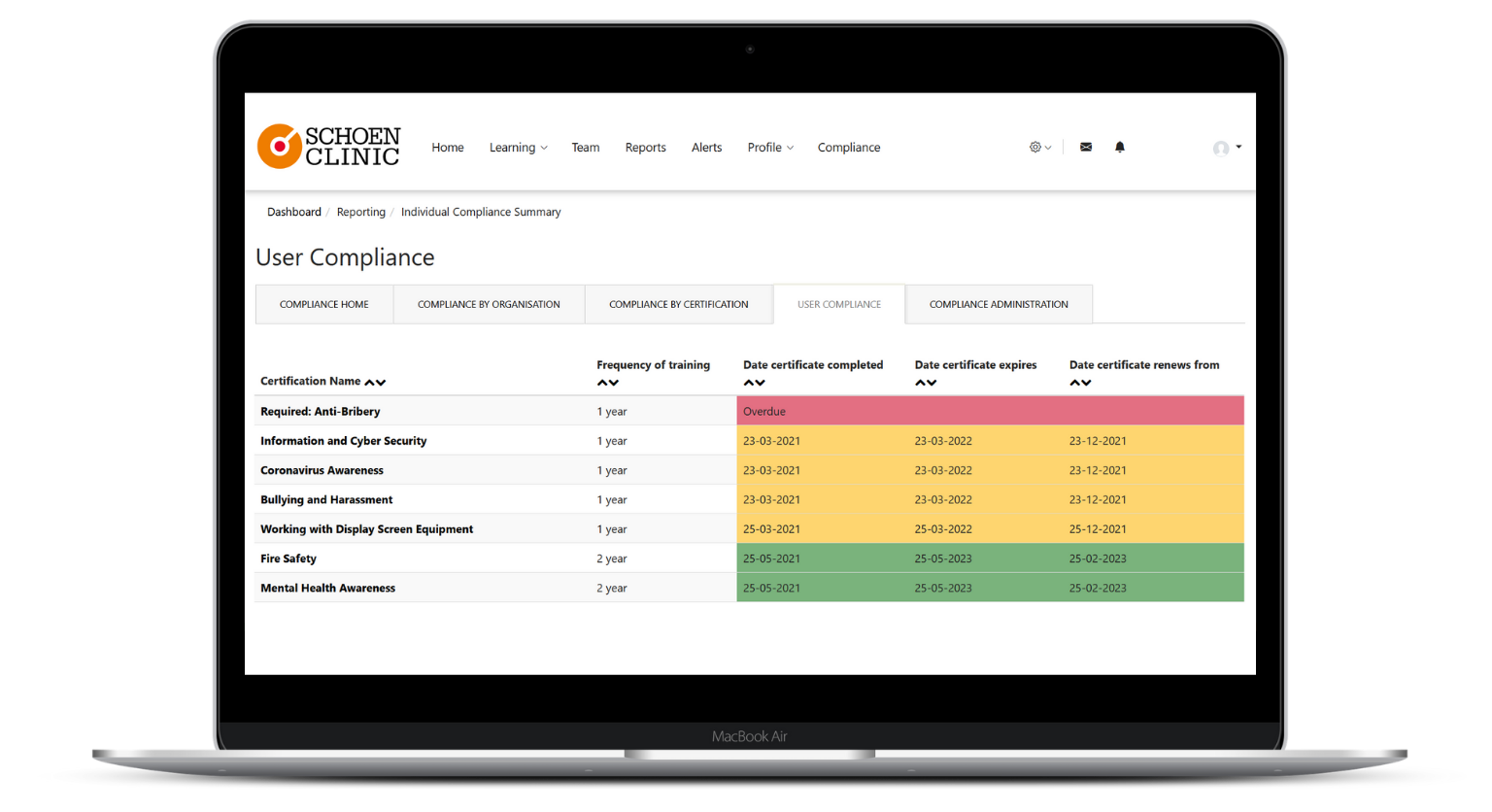 Compliance is non-negotiable for Schoen Clinic and finding a solution that met our reporting needs was critical; the project team planned and implemented with speed and professionalism and the continued support and maintenance is first class.
Faye Mell, HR Director, Schoen Clinic UK
The results
Both the system and its courses have been well received. The new system has: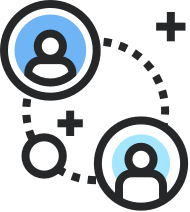 Significantly reduced administration time through automatic learner enrolment.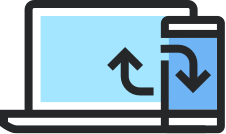 Improved the experience of learners by ensuring they always have access to the correct training.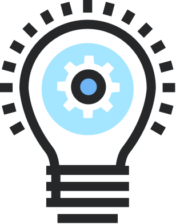 Enabled managers to track learning progress to meet organisational compliance.
With the introduction of the compliance reporting dashboard, compliance monitoring has become easier for the Schoen Clinic team and reliance on manual processes has significantly reduced.
Most importantly, LearnSpace has provided training efficiencies, meaning staff can spend more time focusing on what they are deeply committed to – providing exceptional patient care.
But this is only just the beginning. To utilise LearnSpace to its full potential, we will soon be working with the Schoen Clinic team to implement the Totara performance management module. This will enable them to harness the power of continuous performance management and boost productivity across the organisation.
Book a LearnSpace demo
Let one of our learning and compliance experts talk you through the features of our intuitive learning management platform designed specifically for the needs of the health sector.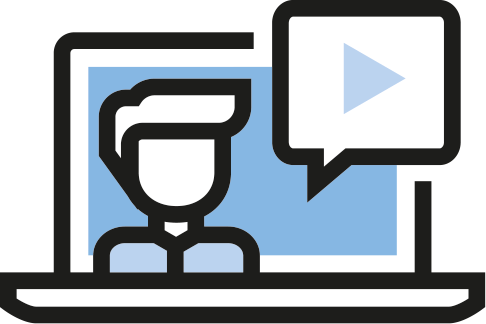 Downloads and useful resources