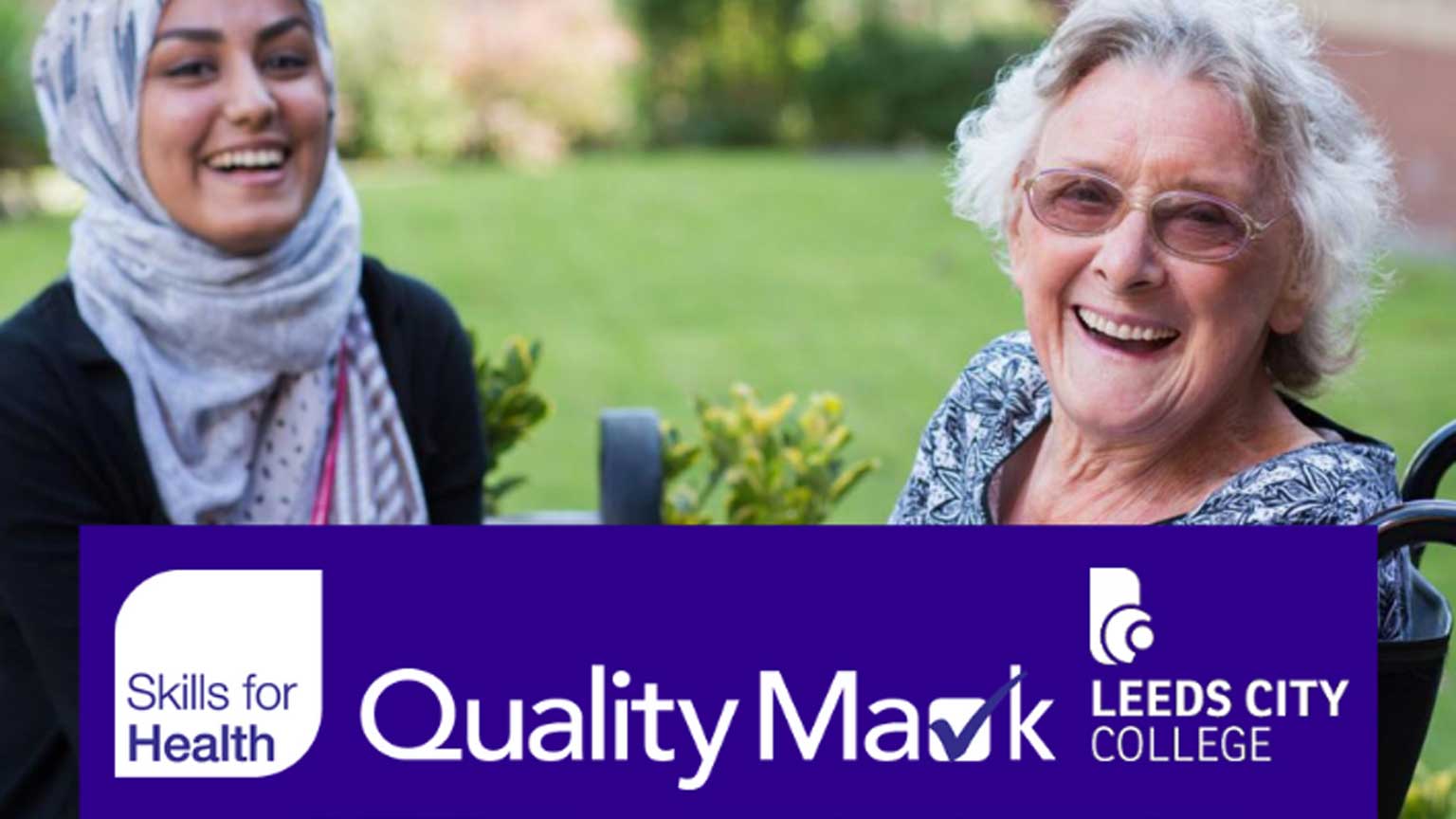 5 MINS
Leeds City College's School of Social Science were recently awarded the Skills for Health Quality Mark, recognising their provision of high quality healthcare education and training for students of all ages and levels.
The Health Science and Social Care department offers a range of vocational courses, with a focus on residential care and palliative care, and provides healthcare apprenticeship programmes across hospital, hospice, and General Practice settings. Classroom and online learning are strongly supported by practical, local work experience and placement opportunities, which aim to ensure students acquire the necessary skills to feel confident to gain work in a growing, rewarding sector.
Estelle Brewer, Deputy Head of Health and Care Apprenticeships, Leeds City College said: "We strive to nurture an experienced and caring workforce through engaging vocational courses and valuable apprenticeships. To be recognised by Skills for Health is a testament to the hard work the team has put in over the years, it validates this great work and takes this recognition of the college to a national level."
Quality Mark provides a robust process for measuring the quality of training and learning provision against a recognised standard, and gives learners, employers, and customers greater confidence that the training they offer has been independently quality-assured.
To gain Quality Mark status, employers, staff, and students at the College underwent a thorough assessment process, completing interviews and surveys, and the department also provided a portfolio of evidence to support their quality provision and delivery of training and learning.
Laura Faber, Service Delivery Manager, Skills for Health, said: "The School of Social Science demonstrated an incredibly high standard of training and learning delivery. To achieve the Quality Mark, the college went through a robust quality assurance mechanism, including a desktop review of documentation, an on-site visit, and a 24 criterion reporting system."
Estelle comments: "For an external organisation to interview students, staff and employers, look at our systems and ways of working and confirm our views that we are doing an outstanding job, is a real honour. We found the whole process very supportive, with clear guidance on the types of evidence that may meet the standards offered, making the application easier to complete."
To anyone considering Quality Mark for their organisation, Estelle concludes: "The standards link to Ofsted requirements, which was an invaluable experience in preparation for Ofsted and their expectations. It has helped us to focus on the areas for further development and feeds directly into our quality improvement plans.
"The process has enhanced the overall standing of the department with a positive impact on the team, as they feel their hard work and commitment has been acknowledged and endorsed by their Sector Skills Council for Health."
Quality Mark is just one of the many ways that we continue to champion better training for our sector's workforce here at Skills for Health. Find out more about Quality Mark here, and speak to our team about recognising your organisation's high quality training today.