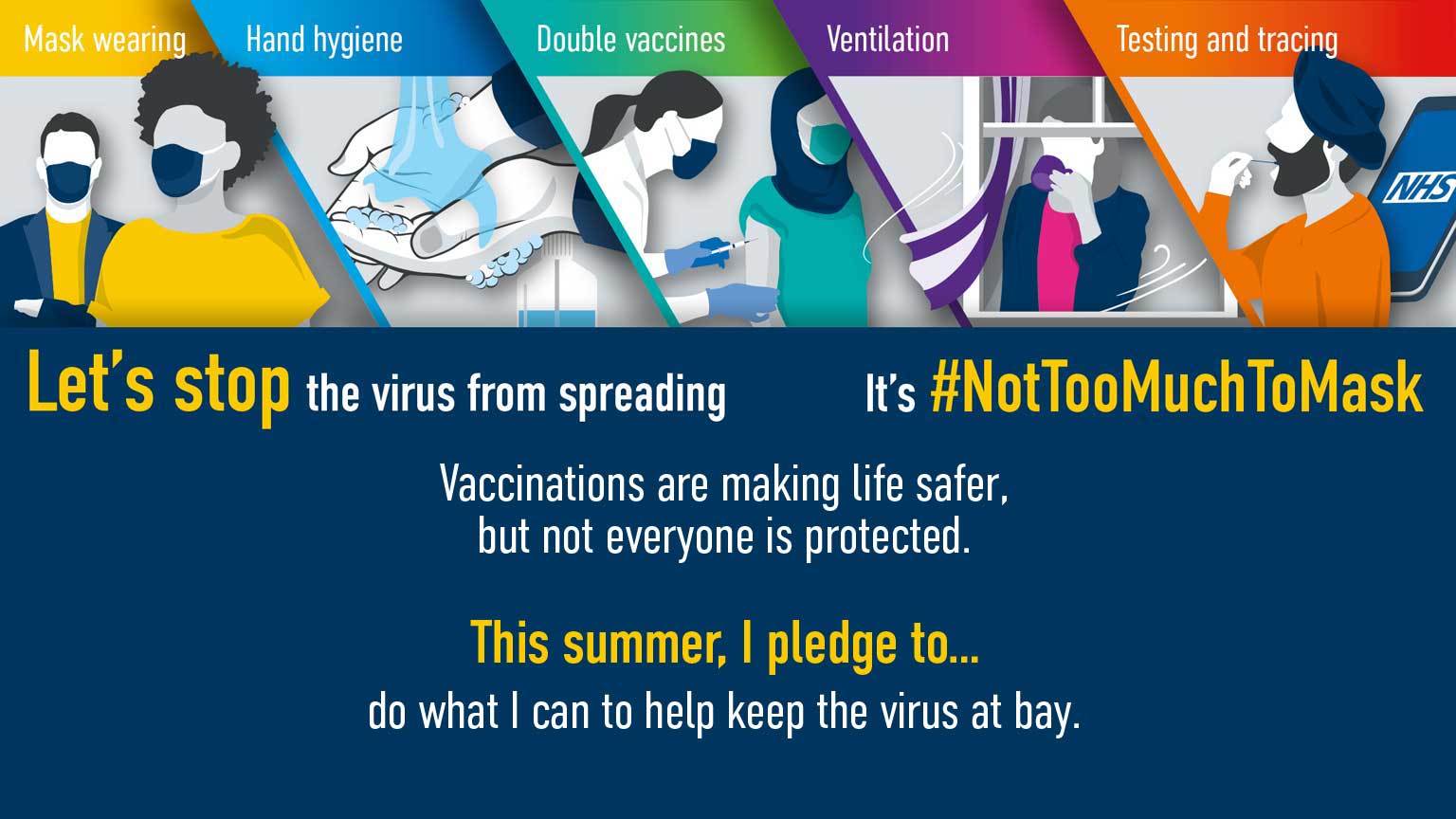 7 MINS
Today, as we contend with the lifting of all remaining COVID-19 restrictions in England, including the removal of any legal requirement to wear a face mask and observe social distancing, we are joining forces with other leading healthcare organisations, charities, unions, and medical professionals across the country, to support the public to make informed choices that can help keep us all safe from infection.
Launched today by the NHS Confederation, the #NotTooMuchToMask campaign is encouraging all of us to make a number of personal pledges which will help to keep ourselves and each other protected from catching or passing on coronavirus. At a time when cases are once again soaring, and hospitalisations are rising, we believe it's 'Not Too Much To Mask' to think collectively in making cautious choices around COVID-19 safety and responsibility, which together can drive positive individual actions.
Alongside the British Medical Association, Academy of Royal Medical Colleges, the Patients Association, NHS Providers, the Royal College of Nursing, cancer charities, Unison and numerous other healthcare and membership bodies, we recognise not only the difference the following measures make in reducing the spread of the virus, but the impact these essential infection control measures have on limiting the pressure on our NHS, and at a fundamental level, on saving lives.
Here at Skills for Health, we pledge to continue and encourage others to:
Wear a face mask or covering, including where not wearing one could make someone feel unsafe.
Do what we can to keep indoor spaces well-ventilated and opt for meeting outdoors, where possible.
Clean our hands regularly, including before and after social contact with those outside our household.
Get tested, support contact-tracing measures and self-isolation, when required.
Make sure we get both doses of the coronavirus vaccine and encourage others to do the same.
Throughout the pandemic, it has become increasingly clear that effective and clear public communication, plays a critical role in enhancing the trust and engagement at a population level. A communication culture characterised by an openness to engagement, transparency on situational awareness (seeing the bigger picture), and a deference to experience to ensure that decision-making is carried out by those who have the right expertise (subject matter experts), is the key to building a collective and individual consciousness of risk.
When the pandemic hit and we entered lockdown, the entire country came together to support one another and our key workers. It was obvious to us all that we each had our own part to play, and our individual responsibility to 'stay home, save lives, and protect the NHS' was for the most part easy to understand and follow.
Now, as the legal requirements for protecting against COVID-19 come to an end, we get the sense that a large majority of the public want to continue observing the same behaviours and actions to limit risk, help protect one another, the vulnerable, and our vital frontline services. However, for this risk to be averted, we need to continue to engage the entire country by maintaining our effective communication on why. To empower all to make sensible and informed decisions, we need to create a 'just culture', where individual responsibility and accountability prevail and we accept that errors are inevitable, but we can learn from them.
Taking what we have learnt over the last 18 months, we know that mindful leadership, involving active listening, engagement, and transparency from leaders, paired with the mobilisation of cross-sector partnerships and the open encouragement of cooperation and collaboration, are all transformational elements we want to see continue across our sector long into the future. So too then, the same approach must be taken for our communications, especially where public trust is the key for their legitimacy.
We all know the pandemic is not over yet. While there is a place for individual freedom on decisions to follow 'guidelines' to different degrees, and we cannot claim to know everyone's personal circumstances or reasoning in many situations, we do know that by creating a positive 'etiquette' around these pledges we can empower others to make informed, cautious and considered decisions in continuing to protect others and our NHS.
Let's stop coronavirus from spreading. Find out more about #NotTooMuchToMask here today and join us in pledging your continued support for making choices that reduce the risk of illness to ourselves and those around us.