The value of a person-centred approach in health and care is increasingly recognised – much has been written about what it is and why it is important. However, it is less clear how to develop the workforce to put this into practice – which is the purpose of this framework.
The framework launched in July 2017 and comprises the following subject areas:
Values
Core communication and relationship building skills
Step 1. Conversations to engage with people
Step 2. Conversations to enable and support people
Step 3. Conversations with people to collaboratively manage highest complexity and significant risk
Delivery of training, education and learning opportunities
'Enablers' for embedding a person-centred approach


Download the framework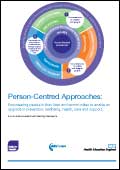 Click here to download
the framework
Registration of interest
By registering your details, you will be informed of any future activities to support implementation of the framework (development of resources, evaluation or updates).