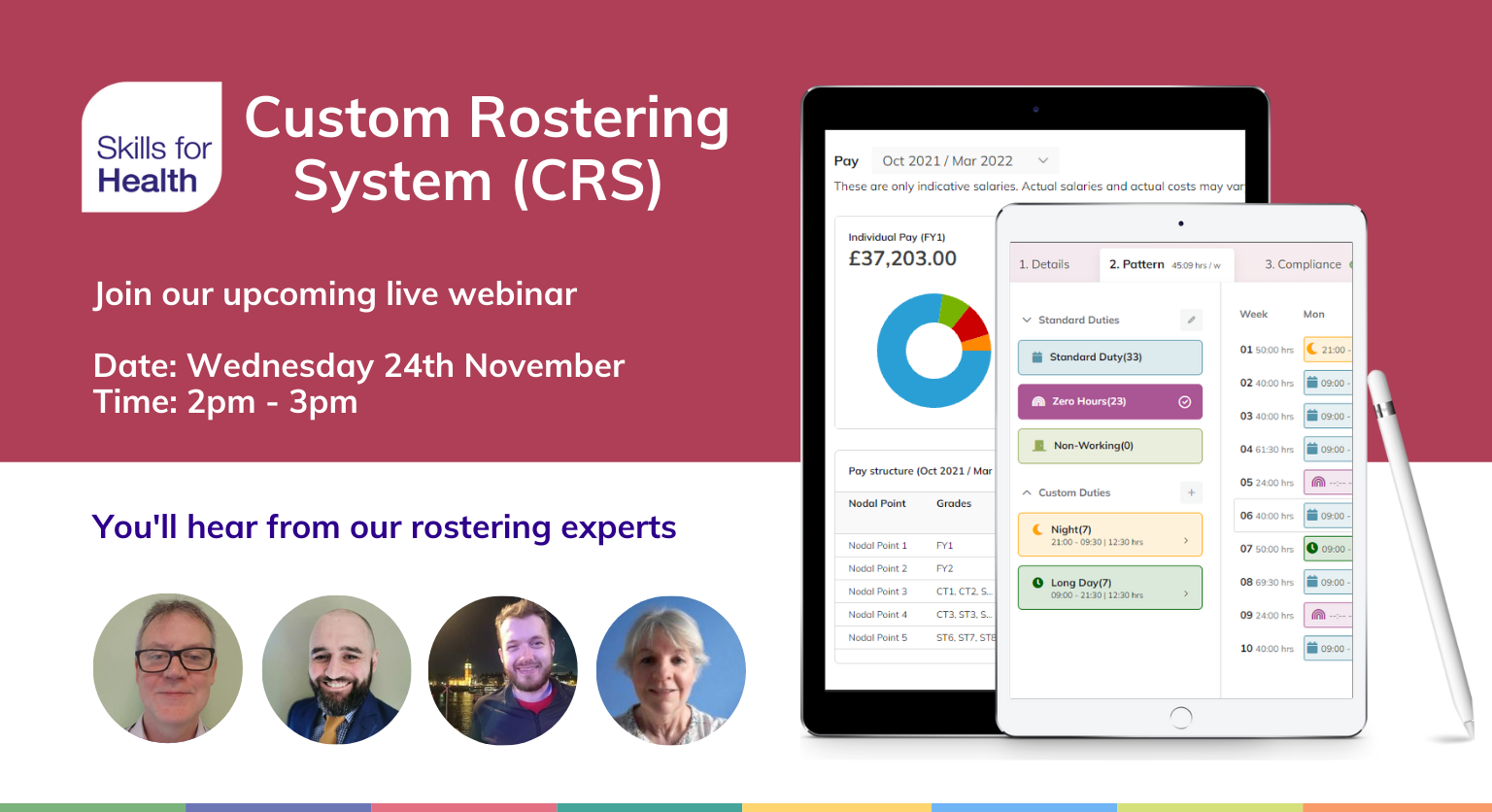 4 MINS
By Skills for Health | 19 October 2021
With over 350 roles in the NHS, we have a comprehensive understanding of variety of workforce roles, workloads and competencies. Each workforce group has a specific demand and too often, systems do not cater for the breadth and depth of these roles. We recognise every staff member deserves to have a system that works in line with their own individual contract and terms of employment.
Custom Rostering System (CRS) is our newly developed workforce planning solution designed to support all healthcare professionals maintain compliant staff schedules and improve patient care delivery. By combining our two best-in-class systems, DRS and Realtime Rostering, CRS allows workforce managers to seamlessly create and manage short and long-term staff rosters for any staff group, maintain compliant staffing levels, and ensures teams are in the right place, at the right time.
Join our CRS webinar
CRS was developed as a tool for culture change, designed to transform workforce planning roles from data entry to data intelligence. Join our webinar where our rostering experts will take you through 5 key steps to ensure all your staff members are fully operational and compliant.
Date: Wednesday 24th November 2021
Time: 14:00 – 15:00
Agenda:
Welcome and introductions
5 key steps to fully operational eRostering
Understanding your organisation
Building your plan
Ensuring your compliance
Mobilising your plan
Understanding the workforce
Panel discussion
Questions for the audience
Speakers:
Paul Walker – Chief Technical Officer, Skills for Health
Zach Kerray – Technical Account Manager, Skills for Health
Panel guests:
Ben Marchini – Product Manager, Skills for Health
Sarah Connelly – Rostering Consultant, Skills for Health
Elaine Grant – Deputy Head of Medical Staffing & Development, Cumbria, Northumberland, Tyne and Wear NHS Foundation Trust
Who is this webinar for?
Healthcare professionals involved in workforce planning and management, including but not exclusive to Medical Staffing Managers, HR Managers, Rostering Managers, Head of Medical Staffing, Workforce Directors, Medical Directors, CIO, CTO.
About Skills for Health
Skills for Health formed in 2002 as the sector skills council to support the development of the UK's healthcare workforce. For almost 20 years, that has remained our focus and we have worked with NHS organisations and private healthcare providers throughout the UK. We are the trusted provider of rostering solutions, elearning, compliance and skills development, consultancy, healthcare insight and research, apprenticeship support, and standards and frameworks. Skills for Health is part of the Workforce Development Trust, a not-for-profit organisation committed to improving people development in the sectors it serves. Other organisations within the Trust include Skills for Justice, SFJ Awards and People 1st International.
If you have any further questions regarding our upcoming webinars or our workforce planning solutions, please get in touch. Our rostering specialists are happy to discuss your organisational needs and how we can support them.