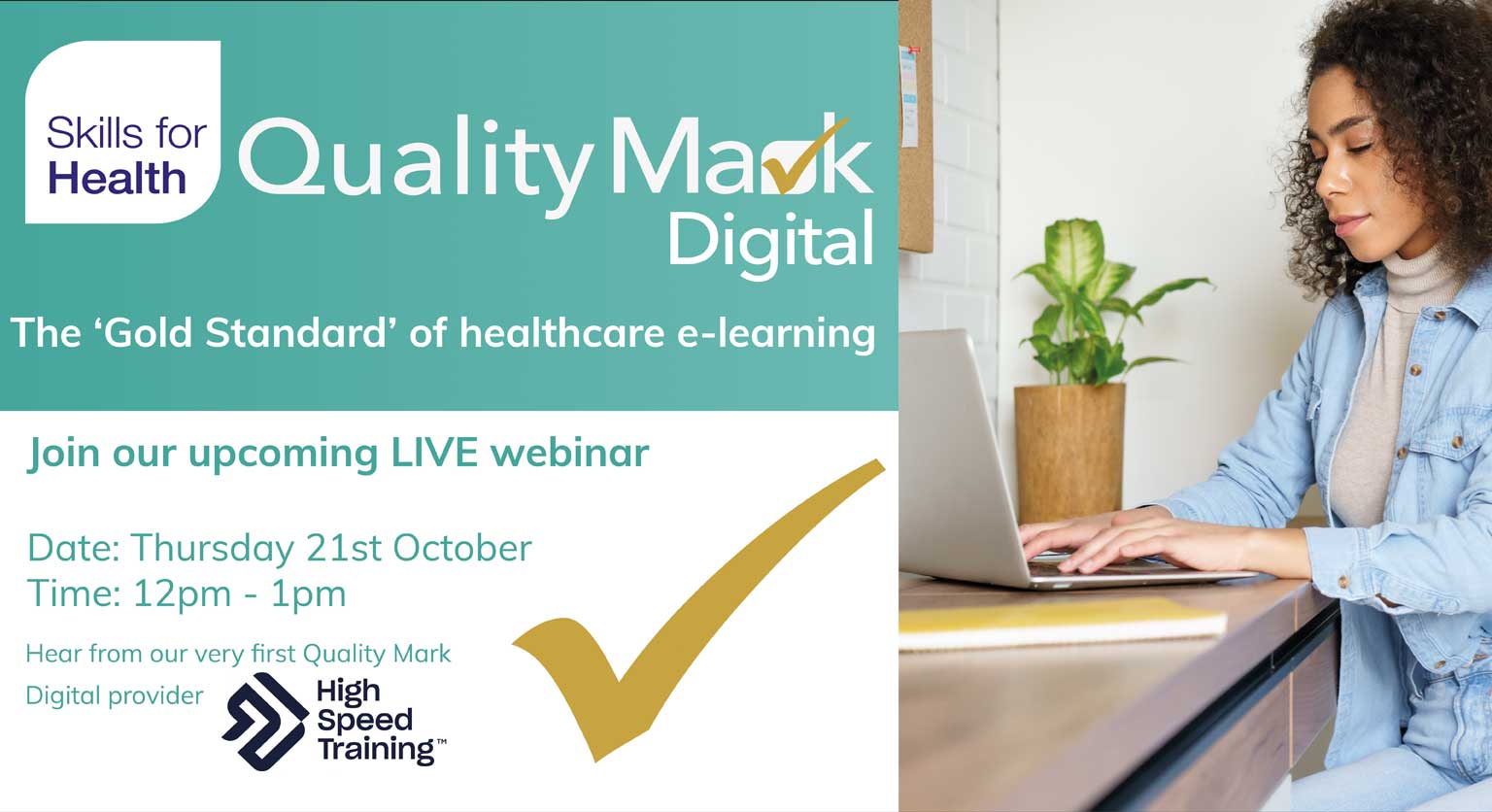 3 MINS
Quality Mark Digital is the leading eLearning endorsement standard that defines and accredits exceptional e-learning for the healthcare workforce. As we continue to evolve into a technology-driven, digital world, now is the time to assure employers, service users, and the workforce that your digital training provisions have met a 'gold standard'.
On Thursday 21st October, Laura Faber, Quality Mark Service Delivery Manager hosted a webinar exploring everything to do with Quality Mark Digital and took our attendees through the steps required in becoming a  trusted e-learning provider by the UK's Sector Skills Council for Health and also explored how having Quality Mark Digital can really make you stand out from the crowd.  Laura was joined by Richard Anderson, Head of Learning and Development at High – Speed training, the first e-learning provider in the UK to be awarded a Skills for Health Quality Mark Digital accreditation. Richard takes us through their journey with Quality Mark Digital and kindly shared the benefits of having this endorsed.  Adrian Simpson, Managing Director of the Health and Safety Group also joined the webinar to look at Quality Mark Digital in the wider sphere. He explored the current climate for training and emphasised why the healthcare sector really needs some quality assurance and our Quality Mark Digital does that job.
Click here to download the slide deck.
Watch the webinar on demand below
As the Sector Skills Council for Health, we are passionate that all healthcare staff have access to the highest quality training provisions in order to do their jobs to the best possible standard.  Here at Skills for Health we understand that there is no such 'one size fits all' when it comes to training provisions. Quality Mark Digital was developed to offer e-learning providers the same access to a robust Quality Assurance methodology as face-to-face providers, adapted to suit your online delivery.
For more information on Quality Mark Digital, get in touch to arrange a free initial consultation.